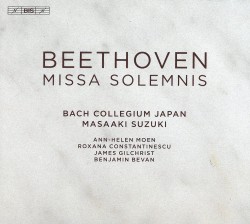 Beethoven – Missa Solemnis
Ann-Helen Moen; Roxana Constantinescu; James Gilchrist; Benjamin Bevan; Bach Collegium Japan; Masaaki Suzuki
Bis BIS-2321 SACD (bis.se)
Masaaki Suzuki has made a large number of recordings, both as a keyboard player and as the conductor of the Bach Collegium Japan. Many of these are of works by J.S. Bach (they include a complete set of the cantatas) but Suzuki has ranged further and has recorded Handel's Messiah, Monteverdi's Vespers and, more recently, Mozart's Mass in C Minor.
Beethoven wrote two masses: the Missa Solemnis Op.123 and the Mass in C, Opus 86. In the past I have much preferred the latter since the Missa Solemnis seemed to me pompous and overblown. Well, one of the advantages of being a CD reviewer is that it forces one to re-examine what is often no more than a prejudice. This is a passionate, full-blooded performance leading up to a beautiful Agnus Dei.