September is kind of an oddball month around here: the summer festivals have wound down, for the most part, and the season of regular concert series doesn't really get under way until October. So, what's a classical music columnist to write about this month? Plenty, actually: there are those exception-to-the-rule summer series and festivals to take us into the end of September (look for Colours of Music and SweetWater in our Beyond the GTA listings), and the gutsy presenters who are first out of the starting gate each year with season launches in September. See, nothing to worry about!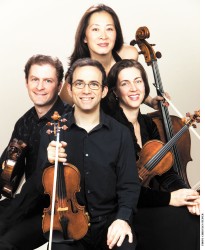 September's septet of quartets:You can't talk about quartets in Toronto without talking about Music Toronto. For 40 years, this venerable organization has consistently presented some of the most sublime, memorable and musically satisfying evenings of chamber music, many of which have involved one major, or up-and-coming, string quartet or another (in addition to outstanding trios, duos and soloists). Here's a non-exhaustive list: Juilliard, Guarneri, Orford, St. Lawrence, Jerusalem, Kronos, Tokyo, Lafayette, Cecilia, Molinari, Bozzini, Brentano and Amadeus.
The person who, with little fanfare, has been shepherding Music Toronto since 1990 — first as general manager and since 2006 as both GM and artistic producer — is Jennifer Taylor. Roman Borys, artistic director of Ottawa Chamberfest, and cellist with the Gryphon Trio (Music Toronto's ensemble-in-residence from 1988 to 2008), sings her praises during a June 12, 2012, video interview he did for The WholeNote's Conversations@TheWholeNote YouTube video series: "Jennifer Taylor, Music Toronto, there's an organization and a particular individual ... one of the great foundations in chamber music in this country ... who understands the genre, who understands the business of presenting music, presenting concerts, and who, luckily, also has great stamina!" Borys adds that Taylor gave the Gryphon "wonderful opportunties to continue to develop our own skills as chamber musicians and learn from one another."
For Music Toronto's 41st season, Taylor has assembled yet another superb lineup of quartets, trios, pianists and other soloists, with concerts at the Jane Mallett Theatre — its regular venue since its inception. First up of the quartets, on September 13, is the Brentano, with a fascinating 20th anniversary program called "Fragments: Connecting Past and Present." They have taken six fragments by great composers from the past, and invited six living composers to respond to them. In their Music Toronto concert you'll hear "fragments" of Schubert, Bach, Haydn, Shostakovich and Mozart juxtaposed with "completions" by Bruce Adolphe, Sofia Gubaidulina, John Harbison, Stephen Hartke and Vijay Iyer, respectively. Also on the program is a work by Charles Wuorinen, based on the music of Josquin and Dufay, the earliest music in the "Fragments" project.
(You can also hear — but only hear, not see — the Brentano Quartet in a film titled A Late Quartet. It's one of several featured films on offer at this year's TIFF to "use music in interesting ways," according to Paul Ennis, whose TIFF-focussed article is here.)
The Attacca Quartet was formed at the Juilliard School in 2003, (as was the Brentano in 1992 and the Tokyo in 1969), and they're the second quartet presented by Music Toronto this month. Making their Toronto debut, the Attacca will perform quartets by Haydn (Op.77 No.2), Prokofiev (No.1) and Mendelssohn (No.2 Op.13). This group also has an interesting project on the go, a multi-year performance series titled "The 68," referring to the number of string quartets Haydn wrote over the course of his life. And while the series itself takes place in New York City, we will have the pleasure of hearing the Attacca perform one of the "68" here in Toronto on September 27.
I mention the Tokyo Quartet this early in the season for a couple of reasons. First, they will perform their 45th and 46th concerts for Music Toronto on January 10 and April 4, 2013, respectively, to conclude their three-concert series of all six Bartók quartets. Second — and this may or may not come as a shock to some of you — the Tokyo will be retiring from the concert stage in June, 2013, after 43 years, and will be giving an extra special "Farewell Performance" in Toronto, in support of Music Toronto, on April 5, 2013. I wanted to give you plenty of time to arrange your schedules, accordingly — it's going to be one heck of a farewell. For the rest of Music Toronto's stellar season, please go to www.music-toronto.com
As for the rest of the the issue's "septet" of quartets, they, along with several other noteworthy concerts, are included in the Quick Picks at the end of this column.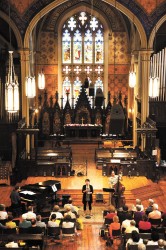 Monday Monday: Music Mondays began its 21st season on June 4, and has been treating us to an astonishing array of music and musicians, every Monday throughout the summer, at 12:15pm, at the "exquisitely tuned" Church of the Holy Trinity. And for the second year in a row, they've extended their season into the fourth week of September. Talk about gutsy!
I asked Eitan Cornfield, Music Mondays' new artistic director, to say a few things about his first year at the helm of the series, what he calls a "sanctuary in the heart of the city's commercial, financial and administrative core, a musical respite from the workaday world." (As a long-time CBC music producer, Cornfield is well aware of Holy Trinity's "rich, acoustic environment," as he puts it, having produced CBC Radio Two's Music Around Us there.)
The challenge, now, according to Cornfield, is to "develop a sharpened focus for Music Mondays ... [to] remain relevant and distinctive while maintaining the core values of Holy Trinity's inner-city mission, ... to build on Music Mondays' historic strengths ... by featuring an eclectic fusion of western classical music and traditional art music of various cultures, all the while providing a contemplative, inclusive and accessible sanctuary ... " The goal, as he looks forward to new alliances and "new programming initiatives" with his keen core team is "to be able to say you first heard it here!"
Next "first" could be as early as September 3, when Music Mondays presents Triceratonin, a young "made in Toronto" piano, oboe and bassoon trio fresh from their NYC debut at the Juilliard School, as participants in the Imani Winds Chamber Music Festival. I came upon this expression of sheer glee in someone's daily blog on the IWCMF: "Wait til you see the Triceratonin Trio perform synchronized swimming with their oboe and bassoon!" Curious? Check them out on YouTube. And don't forget to get to the church on time, September 3, for some jazz-inflected works by Poulenc, Previn and others, performed by the good-humoured, talented and very synchronized Jialiang Zhu on piano, bassoonist Sheba Thibideau, and Aleh Remezau on the oboe ... and snorkel?
The remaining Music Mondays concerts take place September 10, 17 and 24, with music ranging from Porter to Purcell to pop!
QUICK PICKS: FESTIVAL FARE AND ELSEWHERE
QUARTETS
New Orford String Quartet: September 15 and 16:
Prince Edward County Music Festival; September 12: Kitchener-Waterloo Chamber Music Society; September 11: Gallery 345.
Penderecki String Quartet: September 21 and 22:
Prince Edward County Music Festival; September 23, 26, 27, 28: Colours of Music.
Ton Beau String Quartet: September 9: Summer Music in
the Garden; September 14: Gallery 345.
Silver Birch String Quartet: September 23: Colours of Music (with the Penderecki).
TRIOS
Gryphon Trio: October 1: U of T Faculty of Music.
Amity Trio: September 22: Colours of Music.
Junction Trio: September 26: Post-Industrial Wednesdays
at St. Anne's Anglican Church.
Trio Kokopelli: October 4: Nine Sparrows Arts Foundation/
Christ Church Deer Park.
ORCHESTRAS
Toronto Symphony Orchestra: September 20 and 22:
Opening weekend with James Ehnes; September 27 and 29: Pictures at an Exhibition; October 3 and 4: Anne-Sophie Mutter.
Royal Conservatory Orchestra: October 5: with Uri Mayer
at Koerner Hall.
Kitchener-Waterloo Symphony: September 28 and 29:
Last Night of the Proms at Centre in the Square.
So, slip gently into September as you take advantage of the last vestiges of summer. And while September may be an oddish month for music, there's no real shortage of those musical threesomes and foursomes — and moresomes — ready to dazzle you. Enjoy!
Sharna Searle trained as a musician and lawyer, practised a lot more piano than law and is listings editor at The WholeNote. She can be contacted at classicalbeyond@thewholenote.com.