The upcoming Toronto International Film Festival (September 6 to 16) features several movies that use music in interesting ways. A handful deal explicitly with the (fictional) lives of performers and teachers. One touches on the therapeutic value of choir singing. In others, innovative sound design pushes the boundary of what we may think of as music but the results make for unique cinematic experiences. Here at The WholeNote, we've sifted through the 289 feature length films of the 37th TIFF program and zeroed in on those titles that we think our readers might find appealing.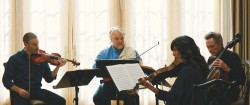 A Late Quartet may be the first fictional film about chamber music's most beloved configuration since Fabio Carpi's The Basileus Quartet (1982). It's certainly the only one built around and permeated through and through by Beethoven's Op. 131.
Christopher Walken stars as the group's cellist and founding member whose Parkinson's diagnosis puts their future in doubt. Mark Ivanir (whom we first noticed in Steven Spielberg's Schindler's List as the unscrupulous Marcel Goldberg) is the first violinist whose meticulousness and perfectionism drives the quartet's musical engine. Suppressing his character's ego, Philip Seymour Hoffman plays second fiddle, not the first time, in his long and distinguished career. As his wife, and the group's violist, Catherine Keener adds her own needs to the drama that threatens to crack the bonds that have held the quartet together for 25 years.
Musical references and performance insights abound, with the Brentano Quartet providing the Beethoven as well as a snippet of Haydn and Sarasate's Zigeunerweisen. Watch for a cameo appearance by Anne Sofie von Otter, as Walken's wife, singing Korngold's "Marietta's Song."
"This is not a retirement home," Maggie Smith's character proclaims in Quartet, Dustin Hoffman's directorial debut based on Ronald Harwood's play about a home for retired opera singers. "This is a madhouse." What's to be done when the diva refuses to sing? The show must go on, of course. According to the BBC, "Quartet is a joyous film about redefining old age and growing old with hope; demonstrating how art illuminates life and the human spirit remains undimmed even as the brightest stars start to fade."
Indeed with Billy Connolly, Pauline Collins and Tom Courtenay and Verdi in tow, Quartetseems likely to appeal to the audiences that have helped The Best Exotic Marigold Hotel become the sleeper hit of the summer. One can only hope it evokes the spirit of Daniel Schmid's fondly remembered documentary Tosca's Kiss.
In Amour, Michael Haneke's eagerly anticipated, critically acclaimed film that won the top prize at this year's Cannes Film Festival, the lives of two retired piano teachers take a profound turn as the wife suffers a series of small strokes that prevent her from playing music. Adding to their legendary status, the couple is played by French acting giants Jean-Louis Trintignant and Emmanuelle Riva, now in their 80s.
Alexandre Tharaud appears in a small role as their star pupil beginning with a recital at the Theatre des Champs-Elysees. He visits their elegant Paris apartment and plays some of Beethoven's Bagatelle Op. 126, No. 2. His recordings of Schubert Impromptus Op. 90, No. 1 & 3 and Bach/Busoni's Prélude Choral "Ich ruf zu Dir, Herr Jesu Christ" are essential in advancing the plot.
In Paul Andrew Williams' Song For Marion Vanessa Redgrave finds solace in her old age from her participation in a choir directed by Gemma Atherton. Terence Stamp plays Redgrave's husband, making this married couple at least as star-powered as the one in Michael Haneke's Amour.
TIFF's artistic director Cameron Baily put it in context: "Here's the scoop on #TIFF12 Closing Night film SONG FOR MARION: bring Kleenex, prepare to sing along."
Mika Kaurismäki's Finnish film, Road North, follows an esteemed concert pianist whose personal life is on the rocks, and the trip he takes with his trickster father, a man he has not seen for 35 years. Road North stars Finland's leading film and music icons, Vesa-Matti Loiri and Samuli Edelmann, as the estranged father and son.
In Goran Paskaljevic's When Day Breaks a retired music professor's life changes forever when the Jewish Museum in Belgrade asks him to examine the contents of an iron box recently discovered on the grounds of an infamous concentration camp.
For the more adventurous, Berberian Sound Studio, Peter Strickland's homage to 1970s Italian horror films, may prove to be rewarding. Toby Jones plays a sound engineer who edits shrieks and the blood-curdling sounds of vegetables being chopped for a low budget Italian studio. What is of musical interest is the nature of the sounds he edits. It's as if the spirits of the 1950s Darmstadt School were unleashed randomly, musique concrete-style and manipulated to produce psychic terror. Berberian Sound Studio was widely hailed after its world premiere at the Edinburgh Festival in June.
Described by Steven Dalton in the Hollywood Reporter as a "hip-hop street opera," iLL Manors is the directorial debut of Ben Drew (singer-songwriter Plan B). An outgrowth of his song of the same name about the 2011 UK summer riots, this low budget depiction of crime among the lower classes evocatively remixes Saint-Saëns' "Carnival of the Animals" in what is said by the Guardian's Peter Bradshaw to begin "with a great rush of energy and a swirl of images."
Rhythm arguably being the cornerstone of music, the end of time would radically change our understanding of music. Peter Mettler's new doc, The End of Time, brings an exhilarating sound design, dazzling natural images and stimulating ideas to one of mankind's most profound questions: the nature of time. Appropriately enough, it concludes with Christos Hatzis' and Bruno DeGazio's audio-visual immersive sound and light show, Harmonia.
Finally, Simon Ennis' humorous and poignantdocumentary, Lunarcy!, focuses on a disparate group of dreamers and schemers who have all devoted their lives to the moon. The soundtrack, which composer Christopher Sandes is fleshing out as this is being written, mixes Orff-inspired rhythms with spacey Wendy Carlos-like Moog moments and Beethoven's "Moonlight Sonata" played on steel pan and marimba (two instruments which could be made on the moon, according to the filmmaker). Full disclosure: the director is my son.
Individual tickets to TIFF 2012 are available as of September 1. Consult tiff.net for information.
Check The WholeNote blog after the festival for a report on TIFF 2012 with a special emphasis on films that used music in interesting ways. 
Paul Ennis is a Toronto-based, classically trained musician who has spent many years programming and writing about movies.