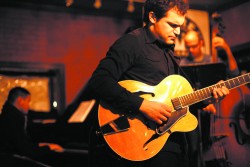 Music venues are not hospitals and compact discs cannot be made by accident, yet for some reason releasing a CD is often likened to having a baby. Maybe it's the many months of stressful preparation or the life savings required. At any rate, several young jazz musicians are expecting this month, including two set to deliver their firstborns at The Rex Hotel: guitarist Robb Cappelletto, Wednesday October 24 at 9:45pm and drummer Will Fisher, Sunday October 28 at 9:30pm. Both have been making a name for themselves since graduating from post-secondary institutions honing their chops, writing original tunes and melding together unique ensembles.
Toronto native, 27-year-old Cappelletto began his musical journey in blues, rock and R&B but has been focused on jazz for the past decade; following his Bachelor of Fine Arts degree at York University, he recently completed a Master's degree in composition from his alma mater before getting to work on his self-titled debut.
"The album features an electric approach inspired by 70s Miles Davis with a heavy blues influence. All the originals were written within the past year and I feel they are inclusive of all my musical experiences up to this point," he says. Cappelletto's core trio is rounded off by bassist Jon Maharaj ("The electric bass is key to the sound of this group.") and Cuban-born Amhed Mitchel; with special guests Daniel Easty on soprano saxophone and the all mighty Robi Botos on fender Rhodes. A recipe for intensity!
Upon graduating from Humber College, Will Fisher went on to obtain his Masters in jazz performance from the University of Louisville on a full scholarship. The 24-year-old's debut album, Portage, is inspired by Fisher's travels across Canada:
"I wrote and worked on the music while in Victoria, British Columbia, my home town of Truro, Nova Scotia, Toronto and other places," he says. "Some of the songs were named after specific places and things that I was inspired by." The cross-generational band features Jon Challoner on trumpet, Mikko Hilden on guitar and Mike Downes on bass; with guest pianists Nancy Walker and Matt Giffin. The album has been nominated for the Music Nova Scotia Award for Jazz Recording of the Year.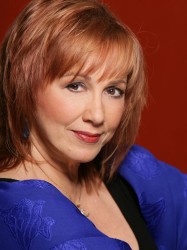 Meanwhile, two prominent vocal artists, soprano Dorothy Stone and jazz vocalist Roseanna Vitro, both based in New York City, will be visiting Toronto this month. Besides being seasoned performers, both women are fervently committed to vocal education. Chair of the Vocal Jazz Department at the New Jersey City University since 1998, forward thinker Roseanna Vitro is the creator of an increasingly popular Facebook page called "JVOICE (Jazz Vocalists Offering Instructional Curriculum for Education)" which as of this writing has 2,434 likes. The page is used as a resource for vocal jazz teachers and students from across the globe, addressing everything from jazz pedagogy to vocal health.
"I love teaching and working with singers," Vitro says. "I've learned a great deal from teaching and I'm thrilled at the progress that's been made and the level of jazz singers we are hearing today. I was drafted into teaching about 15 years ago at New Jersey City University by Ed Joffe, head of the jazz program. I was astounded when I discovered at that time, what wasn't being offered to singers in college for jazz. I started developing programs for singers who desire good technique but want to sing jazz."
A dedicated jazzer at heart, Vitro's most recent recording — her 12th baby — features songs written by award winning singer-songwriter, arranger and film composer Randy Newman. The release garnered a coveted Grammy Award nomination for best jazz vocal album. Vitro had previously recorded albums dedicated to Ray Charles, Bill Evans and Steve Allen. Why Randy Newman?
"I recorded Randy Newman's composition, "I Think It's Going to Rain Today" on my 2006 Live at the Kennedy Center album. It's one of Randy's poignant songs about caring for your fellow man and I had been singing it for years," she says. When her husband recommended producing an entire album of Newman "The journey began and I fell into a giant well of great stories and music. I could make three albums of Randy's music and love every minute of it."
And just how is singing Randy Newman different for Roseanna Vitro from singing Cole Porter or George Gershwin?
"Anything I sing, I sing with the same voice and care. I've made ten straight ahead jazz albums. I love to swing but I also love Brazilian music and Indian music and so on. What I did not do with Randy Newman's music was try to make it something it's not. I honoured his stories and melodies and interpreted them in that manner. I only improvised on a couple of songs where I felt it was appropriate. The music was a real blend of pop, blues, jazz, Americana. We had a couple of classical soli with violin and it was all in the service of the music."
Joined by pianist Mark Soskin and violinist Sara Caswell, Vitro will perform her tribute to Newman at Hugh's Room on Tuesday October 30, presented as part of the Jazz.FM91 Cabaret Series. Buy your tickets in advance because concerts in this series always sell out!
"If I had one hundred million dollars, I would still be doing what I'm doing — sitting at the piano and teaching my wonderful students," says Dorothy Stone, who has travelled extensively to coach singers throughout the United States, Canada, Europe and South America. Having attended her Campo Doro Vocal Institute in northeastern Pennsylvania this past summer, I can personally attest to this woman's considerable gifts as an educator. Aside from knowing vocal technique inside out ("I dissected the human body in medical school so I can tell you exactly how your cords work.") Stone's sensitivity to the details of a performance is molecular, drawing from an impressively wide palette of musical styles.
A performer herself, she has achieved critical acclaim on three continents as a Verdi specialist, performing the lead roles in Aida, Il Trovatore, Otello and Un Ballo in Maschera, as well as Carmen, La Boheme, Norma, The Magic Flute and The Marriage of Figaro. Musical theatre credits include Mother Abbess in the Sound of Music, Katisha in The Mikado and Ruth in The Pirates of Penzance.
When I found out that Dorothy will be visiting Toronto to appear in Laurence Tan's "Butterfly Up High" concert at the Betty Oliphant Theatre (see listings section A, Concerts in the GTA, October 20) and to teach vocal masterclasses at the Musideum (see listings section D, The ETCeteras, Oct.13 and 14) I asked her if she would consider performing a cabaret together. She said, "Yes!"
Come see our collaborative tribute to heroes of the Great American Songbook at the Flying Beaver Pubaret on Friday, October 12. 
Ori Dagan is a Toronto-based jazz vocalist, voice actor and entertainment journalist. He can be contacted at jazz@thewholenote.com.