The 2012/13 season has a more conservative aura than have the past several seasons. For the large companies, this is likely a result of the perception four to five years ago when choices were made, that patrons with tighter resources would be less inclined to be adventurous. Nevertheless, while there is more standard repertoire on offer, there are still enough small companies in the city to offer the diversity we have grown used to.
COC:Compared to the past few seasons the upcoming choices of the Canadian Opera Company (www.coc.ca) are decidedly mainstream. The fall season opens Verdi's Il Trovatore, not seen at the COC since 2005. The production from L'Opéra de Marseilles runs September 29 to October 31, 2012, and stars Ramón Vargas as Manrico, Elza van den Heever as Leonora, Elena Manistina as Azucena and Russell Braun as the Conte di Luna; Riccardo Massi sings Manrico on October 28 and 31. Marco Guidarini conducts and Charles Roubaud directs.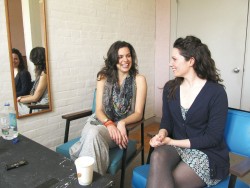 Alternating with Il Trovatore is a new COC production of Die Fledermaus by Johann Strauss, Jr. The operetta was once one of the COC's most performed works with eight productions between 1955 and 1991, but neither it nor any other operetta has been staged by the COC since then. The fact that the COC has commissioned its own new production suggests that we will be seeing Die Fledermaus more often. Michael Schade sings Gabriel von Eisenstein, Tamara Wilson is Rosalinde, Ambur Braid and Mireille Asselin alternate as Adele, Peter Barrett is Dr. Falke and, following tradition, Prince Orlofsky is played by a woman, Laura Tucker. The production is directed by Christopher Alden, who has directed the COC's Der fliegende Holländer and last year's Rigoletto. Johannes Debus conducts.
The winter season brings the first staging of Wagner's Tristan und Isolde by the COC since 1987. It runs from January 29 to February 23. Ben Heppner is scheduled to sing Tristan with Burkhard Fritz taking over on February 8 and 23. Melanie Diener will sing Isolde with Margaret Jane Wray taking over on February 8 and 23. Famed director Peter Sellars will recreate his production for L'Opéra national de Paris that makes extensive use of video by Bill Viola. Renowned Czech conductor Jiří Bělohlávek will wield the baton. In repertory with Tristan, from February 3 to 22, 2013, is Mozart's La Clemenza di Tito, not seen at the COC since 1991. Michael Schade sings the title role in Christopher Alden's production created for the Chicago Opera Theater. Johannes Debus conducts.
In the spring season we have Donizetti's Lucia di Lammermoor, not seen since 2004, running from April 17 to May 24, and starring Anna Christie in the title role. In repertory with Lucia is a revival of Atom Egoyan's staging of Salome, not seen since 2001, running from April 21 to May 22. Erika Sunnegårdh sings the title role with Richard Margison as Herod. In May the two operas are joined by Poulenc's Dialogues des Carmélites, not seen since 1997, which runs from May 8 to 25. Isabel Bayrakdarian sings Blanche de la Force with Judith Forst as Madame de Croisy. The production from De Nederlandse Opera is directed by Robert Carsen.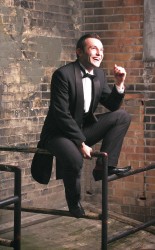 Atelier: In 2012/13 Opera Atelier (www.operaatelier.com) breaks exciting new ground with its first-ever production of a 19th-century opera, Der Freischütz (1821) by Carl Maria von Weber. Even though the opera is standard repertory in central Europe, it has never been staged by the COC. The OA production will be the work's first period production in North America. While the 19th century may seem a stretch for OA, it is not for the Tafelmusik Baroque Orchestra that has already played Beethoven's symphonies to great acclaim and has programmed Chopin for next season. Der Freischütz, running October 27 to November 3, stars Krešimir Špicer as the title marksman Max, with Vasil Garvanliev as the villain Kaspar and soprano Meghan Lindsay as Max's beloved Agathe, whom he hopes to win as his bride in a contest of marksmanship. As usual Marshall Pynkoski directs and David Fallis will conduct Tafelmusik.
In the spring, OA revives its beloved production of Mozart's The Magic Flute, running April 6 to 13. Since both Der Freischütz and The Magic Flute are singspiele (using spoken dialogue instead of recitative) and since both involve the supernatural, they make a fine pairing — Mozart emphasizing the triumph of reason over the irrational and Weber portraying just the opposite. The Magic Flute features many OA favourites including Colin Ainsworth, Olivier Laquerre, Ambur Braid and João Fernandes.
TOT: Toronto Operetta Theatre (www.toronto-operetta.com) will present only two works this season. The end-of-year treat is Franz Lehár's The Merry Widow from December 28, 2012, to January 6, 2013, starring Leslie Ann Bradley, Elizabeth Beeler, Adam Luther and Keith Klassen. In the spring, TOT has Offenbach's 1866 operetta La Vie parisienne, not seen at the TOT since 1992, which runs from April 30 to May 5. It features Elizabeth DeGrazia and Lauren Segal, and is conducted by Larry Beckwith.
Beckwith is also the artistic director of Toronto Masque Theatre (www.torontomasquetheatre.com). From May 10 to 12, TMT will present a operatic double bill combining new and old, East and West. The first work will be Venus and Adonis (1683) by John Blow. The second will be the world premiere of The Lesson of Da Ji by Toronto composer Alice Ping Yee Ho to a libretto by Marjorie Chan based on the Ming Dynasty fantasy novel The Investiture of the Gods. Beckwith will lead an orchestra of combined baroque and Chinese instruments.
OH:For further fully staged operas, Torontonians will have to take a trip down to Hamilton. Opera Hamilton (http://operahamilton.ca), which now performs in the more congenial Dofasco Centre rather than in Hamilton Place, will present Verdi's Rigoletto on October 20, 23, 25 and 27, 2012, and Bizet's The Pearl Fishers on March 9, 12, 14 and 16. OH has Jason Howard and Simone Osborne lined up for the Verdi and Brett Polegato and Virginia Hatfield for the Bizet.
In concert: Operas presented in concert help give breadth to the season. On November 1 and 3, the Toronto Symphony Orchestra (www.tso.ca) will present a double bill of Beethoven's Symphony No.8 with Manuel de Falla's one-act opera La Vida breve (1913) with a cast of singers and flamenco dancers from Spain conducted by Rafael Frühbeck de Burgos. On February 15 and 16 the Toronto Consort will present the Canadian premiere of The Loves of Apollo and Daphne (1640) by Francesco Cavalli with Charles Daniels, Katherine Hill and Laura Pudwell.
Opera in Concert (www.operainconcert.com) which is rebranding itself as "Voicebox," has scheduled the Canadian premiere of Rossini's Armida (1817) for November 25, 2012, Handel's Orlando (1733) for February 3 accompanied by the Aradia Ensemble, and Massenet's Thaïs (1894) for March 24, starring Laura Whalen. Meanwhile, Opera by Request (www.operabyrequest.ca) has immediate plans for Umberto Giordano's Andrea Chenier (1896) on September 22 and Wagner's Die Walküre (1870) on September 29 with Rachel Cleland as Brünnhilde.
June opera: June was once devoid of opera — but no longer. Sometime in June the upstart company Against the Grain (againstthegraintheatre.com), known for staging opera in non-traditional venues, plans to present a new version of Mozart's Le Nozze di Figaro titled Figaro's Wedding, rescored for piano and string quartet. And also sometime during the month Tapestry New Opera (www.tapestry-newopera.com) will present the Toronto premiere of Shelter by Juliet Palmer to a libretto by Julie Salverson about "a nuclear family adrift in the atomic age" with a child who glows in the dark. Tapestry will also present a workshop production of Ruth by Jeffrey Ryan to a libretto by Michael Lewis MacLennon based on the book in the Old Testament but applying the moral "your people shall be my people" to contemporary Canadian society.
And coming full circle: Speaking of Tapestry New Opera, too late to deal with fully in this column, but just in time for this note, this September 21 to 23 will be the presentation of Tapestry's 12th annual "Opera Briefs," featuring the best of the new works arising from its invigorating annual summer composer-librettist workshop affectionately known as the "LibLab." See the listings, and the Tapestry website, for details. 
Christopher Hoile is a Toronto-based writer on opera and theatre. He can be contacted at opera@thewholenote.com.