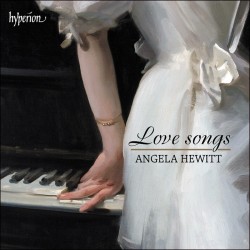 Love Songs
Angela Hewitt
Hyperion Records CDA68431 (hyperion-records.co.uk/dc.asp?dc=D_CDA68341)
We can certainly declare Angela Hewitt by now a national treasure. Graduating from the Royal Conservatory of Music, Toronto and winning the 1985 Toronto International Bach Competition, she has had a stellar career with concerts all over the world and a wide-ranging discography. She has even been inducted into the Gramophone magazine Hall of Fame (!) and has received many other honours and accolades.
Unfortunately this beautiful career came to an abrupt and brutal halt with COVID-19 and all her concert engagements disappeared overnight. For a two-year period she was forced into idleness, retiring to her home in Italy with her Fazioli piano. To fill her time she had the idea of making this recording, a collection of love songs spanning the entire piano literature.
Since these are love songs written for the human voice they had to be transposed to piano solo, mostly done by other composers or pianists, like Liszt, a master of love songs himself. The vocal line of the original song must be emphasized and the pianist has to express the ebb and flow of emotion of the beautiful poetry with bravura embellishments, modulations and variations.
Hewitt gives us a nice collection and a musical journey from the Baroque (Gluck and Gottfried Heinrich Stölzel) to the Romantics (Schumann, Schubert, Grieg) then the post-Romantics (Fauré, Richard Strauss, Mahler) through the Spanish flamenco of de Falla and even popular music of Gershwin and Percy Grainger.
There are many beauties close to my heart such as the wonderful Schubert Ständchen and An die Musik, Strauss' opulent Cäcilie, the lovely Adagietto from Mahler's Fifth Symphony, arranged by Hewitt herself, and Gershwin's Love walked in so lovingly played. A recording to treasure.