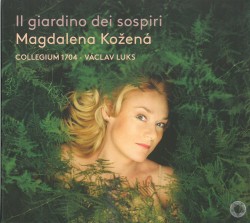 Il giardino dei sospiri
Magdalena Kožená; Collegium 1704; Václav Luks
Pentatone PTC 5186 725 (naxosdirect.com)
This collaboration by celebrated mezzo-soprano Magdelena Kožená with the Václav Luks-led Collegium 1704 realizes the passionate spirit of the recording's title. Based on music from early 18th-century cantatas, Il giardino dei sospiri (The Garden of Sighs) was intended as a stage production. Instead, circumstances led to concert presentation and a CD with fine results. Italian secular cantatas were mainly intended for private performance where intimacy and musical imagination could flower. The cantata scenes selected here are by major composers associated with leading Italian musical centres, and include dramatic, emotional moments for the heroine.
Handel's early Qual ti riveggio, oh Dio, HMV 150 (1707) shows training in the full, north-German instrumental sound that he brought to Rome; Kožená displays ample power for dramatic recitatives and range for expression in the despairing aria Si muora, si muora. Neapolitan Leonardo Leo's cantata Or ch'é dal sol difesa (also named Angelica e Medoro; after 1730) is surprising in being so adventurous harmonically, yet Kožena's vocalism meets the closing aria's demands for speed and lightness, evenness of timbre and chromatic accuracy. Both singer and instrumentalists together with leader Luks rise brilliantly to the challenges of Venetian Benedetto Marcello's Arianna Abbandonata. After a movingly rendered recitative, Kožená sings the cantata's great aria Come mai puoi with fine control of ornamentation and vibrato over spare orchestration of ticking violins (heartbeats?) and fleeting instrumental riffs – gems of composition and performance. A garden of sighs indeed.