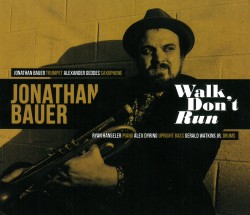 Walk Don't Run
Jonathan Bauer
Slammin Media (jonathanbauermusic.com)
Prolific Alberta-born trumpeter and composer, Jonathan Bauer, harkens back commendably to the past while adding a modern, unique touch on his long-awaited debut album. Coming from playing with the Grammy-Award-winning New Orleans Jazz Orchestra, Bauer's immense talent and skills are apparent on this album, with sultry and smooth riffs throughout the pieces and each track written by him. A perfect musical balance is achieved with support from saxophonist Alexander Geddes, pianist Ryan Hanseler, bassist Alex Dyring and drummer Gerald Watkins. Each musician is given several opportunities to showcase their talent through solos, and instruments blend together for a New Orleans-flavoured, foot-tapping jazz journey.
The album is said to "celebrate the past while looking to the future," showcasing Bauer's influences, among them Art Blakey and Roy Hargrove. Tracks such as Chattin', Precious Moments and We Need to Do Better transport the listener back to the era of jazz greats and classics while pieces like Ella and Violet showcase a more contemporary sound. The record as a whole is a beautiful contrast, bringing to light Bauer's desire to hark back to the past while reaching into the future by adding a modernistic touch to some pieces.
This gem of an album is suitable for aficionados of both classical and newer jazz, with tracks that suit the tastes of both. The talented Canadian bandleader has released a debut record that has truly been worth the wait.