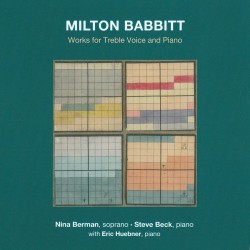 Milton Babbit – Works for Treble Voice and Piano
Nina Berman; Steve Beck; Eric Huebner
New Focus Recordings FCR349 (newfocusrecordings.com)
Milton Babbitt (1916-2011) was one of the 20th century's most significant composers and music theorists, whose analytical work on the music of the Second Viennese School continues to influence theory seminars throughout the world. Babbitt gained notoriety from his 1958 article Who cares if you listen? in which a strong case for the avant-garde composer is made, whether conventional audiences appreciate their efforts or not.
As a composer, Babbitt wrote both electronic and serial works, including the songs contained on this album which span throughout his career. Performed by soprano Nina Berman and pianists Steve Beck and Eric Huebner, this recording provides a window into Babbitt's inherently complex, yet surprisingly tuneful style of composition.
Unlike Schoenberg and other proponents of the Second Viennese School, whose 12-tone methods permit some semblance of almost-tonality, the serialist approach employed by Babbitt strips away any reference to earlier systems of melody and harmony. Although the scores themselves are incredibly dense and challenging to execute and the music is undoubtedly atonal, there is much for listeners to focus on, for even the most random and aleatoric method of composition still results in some semblance of both melody and harmony, albeit far removed from the music of earlier times.
Performing and recording music of this complexity is no small feat and Berman, Beck and Huebner deserve double praise: first, for masterfully presenting this collection of 20th-century art song; secondly, for bringing greater awareness to one of the greatest "musician's musicians" to ever live. While Babbitt publicly eschewed easy accessibility and immediate audience gratification, his music continues to stimulate, challenge and reward musicians brave enough to engage with his masterful body of work.