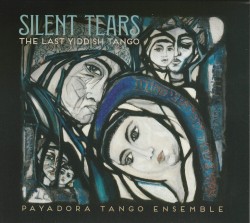 Silent Tears – The Last Yiddish Tango
Payadora Tango Ensemble
Six Degrees 657036132924 (payadora.com/silent-tears)
This Payadora Tango Ensemble project features guest musicians and vocalists, and executive producer/English text adapter Dan Rosenberg. It is comprised of tango-flavoured song settings of heart-wrenching memoirs, poems, testimonials and writings by female Holocaust survivors in Canada about the traumatizing violence women and children experienced during the Nazi occupation of Poland. The main lyric sources are from Dr. Paula David's Terrace Holocaust Survivors Group Poetry Project at Toronto's Baycrest Centre for Geriatric Care, and from Toronto-based Holocaust survivor Molly Applebaum. All arrangements are by Payadora's Drew Jurecka.
These songs are based on the inter-war tangos which were popular in the Jewish Central European communities such as four here composed by Artur Gold (1897-1943) who was murdered in the Treblinka Death Camp. Gold's last tango composition Nie Wierze Ci is arranged into A Prayer for Rescue, based on two 1942 Applebaum diary entries. Marta Kosiorek's moving heartbreaking vocals, Rebekah Wolkstein's violin and Jurecka's bandoneon countermelodies, with steady tango grooves by Robert Horvath's piano and Joseph Phillips's double bass are an intriguing uplifting/sad mix. Four songs are composed by Wolkstein. Her The Numbers on My Arm features Aviva Chernick's colourful emotional vocals with words from the Terrace Group about wearing long sleeves in Canada to hide the numbers branded on Auschwitz prisoners is given tight ensemble support. The release also features guests Lenka Lichtenberg and Olga Avigail Mieleszczuk (vocals), and Sergiu Popa (accordion).
This is the most memorable release I have ever had the privilege to listen to and review.