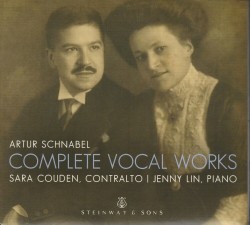 Artur Schnabel – Complete Vocal Works
Sara Couden; Jenny Lin
Steinway & Sons 30208 (steinway.com/music-and-artists/label)
In his book The Great Pianists, music critic Harold Schonberg devoted an entire chapter to Austrian Artur Schnabel (1882-1951), the first to record all 32 Beethoven sonatas. (I especially cherish his soul-searching Schubert recordings.) Yet now almost forgotten is that Schnabel also composed – a lot! – including three symphonies and five string quartets.
This first complete collection of his vocal music memorializes Schnabel's relationship with contralto Therese Behr, who brought her young accompanist (she was six years older) to public attention. The visually odd couple – Behr six feet tall, Schnabel five-four – married in 1905.
Schnabel composed 22 songs for Behr between 1899 and 1906, influenced by Brahms' warm lyricism, rather than the febrile emotionalism of Mahler or Richard Strauss. Making her CD debut, American contralto Sara Couden, with her dark sepia timbre, perfectly suits the songs' restrained, autumnal moods, prevalent even when the texts rhapsodize about the beauties of nature or love's joys and sorrows. Pianist Jenny Lin admirably provides pianist-composer Schnabel's often elaborate accompaniments.
Schnabel wasn't immune, however, to the stylistic revolutions of Schoenberg and Stravinsky preceding World War I. His 22-minute Notturno, Op.16 (1914), written for Behr, marked a significant departure from his previous compositions. In Richard Dehmel's lengthy poem, the narrator recounts an agonized dream about a dead friend. Dispensing with bar-lines, Schnabel's music creates metric ambiguity along with discordant touches of the atonality he later firmly embraced. It's a compelling musical psychodrama.