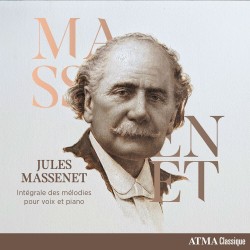 Jules Massenet – Intégrale des mélodies pour voix et piano
Various Artists
ATMA ACD2 2411 (atmaclassique.com/en)
The prospect of even approaching a presentation as epic in scope as this 13CD box set, Intégrale des mélodies pour voix et piano from the pen of Jules Massenet, is utterly daunting. The reason is that the reviewer is, to paraphrase the words of Pliny, "being choked with gold." This is not such a hyperbolic metaphor once you traverse this repertoire. The majestic sweep of these songs is the more significant when you consider that Massenet was once pilloried as "Mademoiselle Wagner" with a style of light, lyrical "saccharine" music. Green-eyed comments such as those are only some of the epithets that were directed at one of 19th century France's finest and most prolific composers of oratorios and opera, examples of which include Manon, Werther and the now-celebrated Thaïs.
With the soaring arias in those operas, Massenet redefined the lyrical French tradition – the tradition of Gounod – in the light of Wagner's advances in dramatic structure. This "lyric French" tradition clearly also found its way into Massenet's shorter works – the songs that have been collected and presented in this mammoth set.
It has often also been said of Massenet that he was uninterested in profundity of any sort, but on evidence contained in these songs it is also clear that few composers have ever created such attractive, lyrical works. The composer Vincent d'Indy also suggested that Massenet's work had a "discreet and pseudo-religious eroticism" (borne out by his 1872 opera Marie-Magdeleine). This eroticism, together with an affection for orientalism, coloured most of Massenet's subsequent work – including some of these songs. Massenet never denied or admitted to those characteristics. However, he was openly cynical about pandering to the French taste for religiose themes, even declaring: "I don't believe in all that creeping Jesus stuff, but the public likes it and we must always agree with the public."
Massenet gained a firm handle on operatic scoring and with the inherent melodiousness of the aria form it was only natural that the composer fused his prodigious gift for the lyric and the dramatic into a shorter art song form. He put all of this brilliantly to work in the airborne poetry of the songs that make up the breathtaking repertory of the Intégrale des mélodies.
There are 333 songs in these 13 CDs. The selection constitutes an almost complete edition of Massenet's shorter work. The box also includes 13 unpublished and 31 never-before recorded songs. In short the box has epic proportions by any standard applied to any one musical genre – in this case, the song form. Each of the CDs features marquee-worthy stars including the great Canadian coloratura Karina Gauvin (cue L'Inquiétude and Le soir from CD 2). Of course Gauvin is not the only celebrity soprano featured here. Others include the quite brilliant Magali Simard-Galdès (Voix de femmes, CD 9). Still others include: mezzo Julie Boulianne (Avant la bataille, CD 10), contralto Florence Bourget (Le Noël des humbles, CD 5). Tenors include Eric Laporte (Napolitana, CD 2), while baritones feature Jean-François Lapointe (Amoureaux d'une étoile, CD 12), and among the narrators is Jean Marchand (Le vision de Loti, CD 12).
While the vocalists are indubitably the stars on these discs the accompanists also deserve special mention. The cast of musicians includes violinist Antoine Bareil, cellist Stéphane Tétreault, guitarist David Jacques, harpist Valérie Milot and Olivier Godin who plays a radiant 1854 Sébastien Érard piano, harmonium and harpsichord. All the accompanists play with sublime idiomatic grace and must be recognised for their restrained artistry, which allows the vocalists to shine through the poesy of these works. Rarely has any box of CDs offered the kind of thrill-a-minute listening as this one.