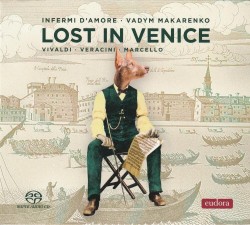 Lost in Venice
Infirmi d'Amore; Vadym Makarenko
Eudora Records EUD SACD-2206 (eudorarecords.com)
No less a figure than Friedrich Nietzsche once wrote "When I seek another word for 'music,' I never find any other word than 'Venice'." Over the years, many have written glowingly about this magical city and this Eudora recording is a fitting musical homage, featuring works by Vivaldi, Marcello and Veracini performed by the Baroque ensemble Infermi d'Amore led by Vadym Makarenko. The six-member group draws musicians from the entire world, all of whom studied at the Schola Cantorum Basiliensis in Basel, Switzerland.
Of the six pieces by Vivaldi – four concertos, a single movement and a sinfonia – three are the result of reconstructions by musicologist Olivier Fourés, and four of them are world-premiere recordings. Similarly, the scores by Veracini and Marcello were unearthed in Venetian libraries, thus making the disc very much one of "undiscovered treasures."
Clearly this small ensemble derives great enjoyment from playing together – what a fresh and robust sound they produce! And this vibrancy is further enhanced by a technical excellence evident throughout. As an example, the final movement from the Vivaldi Concerto in E Major RV263 presented here on its own was the original finale for another concerto, RV263a from the collection La Cetra. Nevertheless, Fourés points out that it was originally deemed "unplayable" for the average violinist of the time and was substituted at the request of the publisher. Here, soloist Makarenko easily meets the technical challenges, delivering a virtuosic performance.
The Overture No.6 by Veracini and the Violin Concerto Op.1 No.9 by Marcello are both worthy inclusions and their respective discoveries were truly fortuitous.
A fine recording of some unfamiliar repertoire from the Baroque period – we should all be so fortunate to be lost in Venice with such wonderful music accompanying our meanderings!