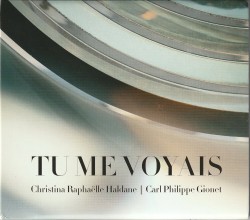 Tu Me Voyais
Christina Raphaëlle Haldane; Carl Philippe Gionet
Leaf Music LM257 (leaf-music.ca)
Christina Raphaëlle Haldane and Carl Philippe Gionet come together on Tu me Voyais to take us on a fascinating journey with lieder richly evocative of Acadian culture. Haldane is an agile soprano with a whisper-soft, tremulous vibrato. Always plangent and eloquent, she often inhabits a range that is dramatically lower than her soprano and darker in tone texture. Gionet is an equal partner in this exquisite recital and Haldane's renditions of these songs is borne aloft throughout on Gionet's delicate, shimmering – often spellbinding – pianism.
The song poetry does much to elevate the music on this album. With repertoire that ranges from (the fin-de-siècle) Douze chansons folkloriques acadiennes, exquisitely arranged by Gionet, the dramatic Icare: premier fragment by Adam Sherkin, and pour une Amérique engloutie (IV) and Il va sans dire by Jérôme Blais, vocalist and pianist create a canvas that is by turns sensuous, ruminative, teasing and dramatic.
Both artists weave mighty artistic spells throughout – Haldane with her impassioned and often amorous vocals that are melismatic and hauntingly beautiful, and Gionet with unmatched pianism that is marked with subtle lyricism. Listening to them is like experiencing an exquisitely choreographed pas de deux – one moment graceful and balletic, the next robust and athletic. Their supple ornamentation, informed by evidence of theatricality in the traditional Acadian sources, is also most effective. The open sound of this finely balanced recording enhances the ethereal quality of these delicate songs.