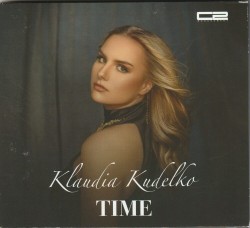 Time
Klaudia Kudelko
C2 Management (klaudia-kudelko.com)
Klaudia Kudelko is an extraordinarily talented young pianist from Poland, highly accomplished in Europe and the USA, winning competitions, gathering prizes and enchanting audiences. She even played at Carnegie Hall. Her impressive website features her at a Bechstein grand performing Chopin's Revolutionary Etude. It is an immensely difficult piece written during bombardment by Russian guns, very fast, her powerful left hand cascading non-stop fortissimo creating a constant turbulence while a defiant, heroic theme emerges in the right hand. Wow!
Time is her debut CD, the title referring to three time periods: early Romanticism of Schubert, high Romanticism of Chopin and the present represented by Polish composer Grażyna Bacewicz. Time, she says, always changes, but what never changes is relevance.
The centre of attention is naturally Chopin with two Etudes: the fast and turbulent Op.10 No.12 in C Minor, the Revolutionary as mentioned above, and the slow, introspective Op.25 No.7in C-sharp Minor, very complex and full of feeling, beautifully performed. I was most impressed by the Polonaise-Fantasie, a free-wheeling rhapsodic piece, notoriously difficult to interpret. Kudelko superbly controls the ebb and flow of emotion while maintaining the strict 3/4 polonaise rhythm and there is a magnificent ending.
The program begins with Schubert, six short pieces from Moments Musicaux Op.94, each with simple themes but all different and highly inventive. The popular No.3 is played with infinite charm, utmost delicacy and playfulness while No.5 is stormy with a syncopated (somewhat equestrian) rhythm that attests to Kudelko's superb technique.
The concluding work is a beautifully crafted Sonata No.2 by Bacewicz that harkens back to the Second World War and here again is Time and Relevance. A memorable debut disc.