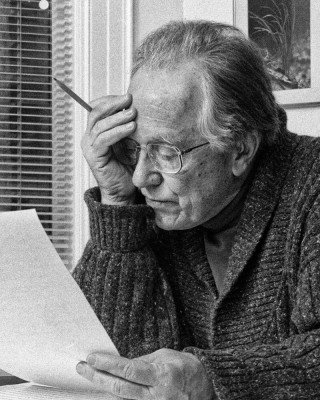 I received the sad news shortly before Christmas that my friend, iconic Canadian composer John Beckwith, had died at the age of 95 from complications of a fall. I had seen him some ten days earlier when I dropped by to have him autograph my copy of his latest book – his 17th! – MUSIC ANNALS: Research and Critical Writings by a Canadian Composer 1974-2014 (Institute for Music in Canada 2022) which you likely read about in last September's issue of The WholeNote. You may also have read the many insightful CD reviews John contributed to this magazine between 2001 and 2016, running the gamut from early Canadiana (1753 – Livre de Montreal) and period performance practices (Haydn – Five Sonatas on Fortepiano performed by Malcolm Bilson), through Beethoven Late String Quartets (Takács Quartet), Schubert's Winterreise (Russell Braun) and Chopin Nocturnes and Impromptus (Angela Hewitt) to 20th-century American composers (Toch, Persichetti, Bolcom) and his Canadian contemporaries Harry Somers, Henry Brant and Eldon Rathburn to name but a few. These can all be found on thewholenote.com website. Of course, numerous recordings of his own music were also reviewed in these pages.
John's career was many faceted, encompassing a range of fields from music critic, composer, teacher, writer, historian, administrator – he served as Dean of the Faculty of Music at U of T and Director of the Institute for Music in Canada – and performer, but he preferred to refer to himself simply as a musician. His knowledge and breadth of interest was vast, and his own compositions tended to incorporate and synthesize several of these at a time. John's oeuvre spanned virtually all genres of art music from folk-song arrangements to art songs, choral works and operas, symphonic works, chamber music, duets and solo pieces. Although his stage works are strikingly underrepresented, recordings of a good cross section of his other works can be found at the Canadian Music Centre (cmccanada.org). Also available from the CMC is his moving personal autobiography, Unheard Of: Memoirs of a Canadian Composer, which I highly recommend.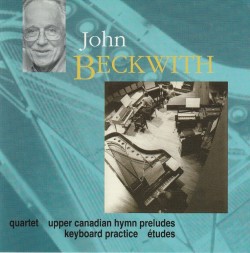 One work that I have particularly enjoyed revisiting in recent days is Quartet as recorded by the Orford String Quartet (John Beckwith Centrediscs CMC-CD 5897). Back in 1986 I had the pleasure of interviewing John on my radio program, Transfigured Night at CKLN-FM. When speaking about Quartet John mentioned that, like Bartók, who had drawn on his Hungarian heritage and had the string instruments mimic the sounds of cimbaloms and hurdy-gurdies, he wanted to reflect the traditional music of Canada in his string quartet. Although John was not particularly well versed in popular music, his father had played the mandolin and his oldest son played guitar, so he had a bit of a head start and as usual was willing to do some homework. He began researching fiddling styles and attended the finals of the Canadian Open Fiddle Championship in Shelburne, Ontario. The resulting work, while not sounding like fiddle music per se, draws on gestures and nuances of fiddle technique and adds a surprising innovation. The two violinists share a third instrument in an alternate tuning enabling different open string chords and unexpected harmonics and producing a "distorted fiddle tune at the same time as the real one" towards the end of the piece. It's quite a stunning effect.
Hear! Hear! Remembering John Beckwith takes place at 7:30 on February 28 at Walter Hall, U of T. Performers include Choir 21, Monica Whicher, New Music Concerts Ensemble, Opus 8, Robert Aitken, Peter Stoll and others.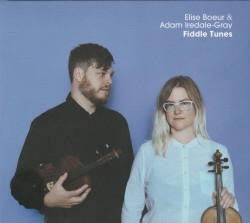 As mentioned, Beckwith's Quartet doesn't sound like traditional fiddle music, but I had no shortage of the "real" (or should that be "reel") thing over the past month or so. I was inundated with folk recordings by local artists in a variety of styles and from a variety of traditions. First up, a disc simply called Fiddle Music by Elise Boeur and Adam Iredale-Gray (Fiddlehead Recordings FHR013 eliseandadam.ca). Boeur plays both fiddle and hardingfele (Norwegian hardanger fiddle) while Iredale-Gray alternates on fiddle and guitar. They are accompanied by upright bassist Robert Alan Mackie, who also provides lyrical solos on some of the numbers. The personal liner notes give the authors and origins of each of the tunes and how they came to be in the group's repertoire. The disc begins with a medley of lively traditional Irish tunes featuring fiddle and guitar. This is followed by La Coccinelle (ladybug), a bourrée by French fiddler Jean Blanchard combined with a tune by Norwegian accordionist Kristoffer Kleiveland, performed on two fiddles with added bass. The lyrical valse à cinq Evening Glory, penned by Belgian Toon Van Mierlo, is arranged here for fiddle, guitar and bass. Other eclectic offerings include more traditional Irish, American and Swedish tunes and several for hardingfele – a rull and a Setesdal Gangar – that Boeur learned while studying folk music in Norway. The disc concludes with a stark tune by the Icelandic jazz band ADHD, followed by another medley that starts slowly with the melancholic Frank Thornton, gets moving with Cock and the Hen and finishes with a rousing rendition of Cottage in the Grove. All in all, a feast for the ears, with fine playing from all concerned.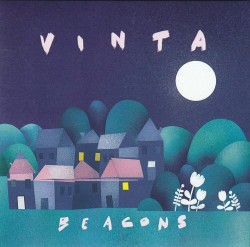 Bassist Robert Alan Mackie reappears as a member of Vinta on the next disc, Beacons (vintamusic.com). Other members include Emilyn Stam (fiddle and piano accordion), John David Williams (clarinet, diatonic accordion, bass clarinet) and Nathan Smith (fiddle and viola). One might expect hints of Klezmer from the ensemble's instrumentation, but Vinta is based in the folk-dance traditions of Europe, especially those of France and Sweden. Growing out of Balfolk gatherings in the High Park neighbourhood of Toronto, the enforced isolation of the COVID lockdown also provided an aspect of the group's inspiration. "At a time when joy and celebration were far away, the four of us came together and shared everything we could. First came the old tunes, hot meals and loud laughter – sure enough, then came the new tunes." The result is an album of original music in traditional style(s), and one cover – Seduction, a 1929 waltz by Frenchman Mario Cazes, which is combined with Mario and Everest by Stam, "a wedding waltz written for dear friends." A highlight for me is another waltz, Rosedale Valley by Mackie, once again paired with a composition by Stam, Regent Street Parade. Other pieces of note include High Park by Williams, and the group composition Le réveil des coccinelles, yes, those ladybugs again. Producer (and mandolinist extraordinaire) Andrew Collins praises Vinta's "unique aesthetic driven by their original composing, arranging and virtuosic playing. […] one certainty is that you will have a smile on your face." I couldn't have said it better myself.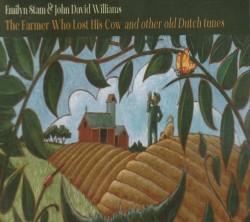 The next disc features half the members of Vinta, Emilyn Stam and John David Williams performing as a duo. I thought Stam was a familiar name and searching back a few years I found a disc by a local group called The Shoeless – a "cross-cultural stew, combining the sounds of Klezmer, French, Celtic, Appalachian and English music" in a trio with fiddle (Stam), banjo and cello – so obviously her roots spread far afield. The current album focuses on her Dutch heritage and draws on a collection of tunes published in the early 1700s, the title of which translates as Old and New Farmer Songs and Contradances from Holland. On The Farmer Who Lost His Cow and other old Dutch tunes (emilynandjohn.com) Stam plays five-string fiddle, piano and piano accordion, while Williams adds harmonica to his arsenal of clarinet and diatonic accordion. To 21st-century ears there is a certain sameness to the melodies, but differing tempos and the way the duo switches up the accompaniments makes for an entertaining listen that kept my attention. I'm not sure if it is just the novelty of the titles, but highlights included The Pig Scratches His Hole, The Mullet Fish and, of course, the title track, along with the almost minimalistic The Friction Drum and the haunting Farewell My Love with its harmonica lead. As well as songs, there are numerous Gaillardes interspersed throughout this compelling disc. And I feel I must mention, the graphic art includes… ladybugs!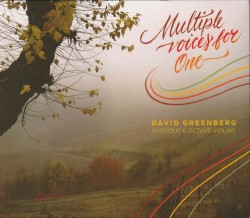 David Greenberg's Multiple voices for One (Leaf Music DG2022A davidgreenbergviolinist.bandcamp.com/album/multiple-voices-for-one) is another disc that combines traditional fiddling styles with dance forms, contemporary arrangements and compositions. For over three decades, Greenberg has enjoyed a double career as a Baroque violinist and Cape Breton fiddler. His international career spans continents and his Toronto connections have included performing as a member of Tafelmusik and Toronto Consort among others. This disc features movements from Bach's partitas and sonatas for solo violin and other classical movements intercut with a variety of jigs, reels and marches from various sources and original tunes by Greenberg and his son Owen, as well Toronto's late legendary fiddler Oliver Schroer's Enthralled. Greenberg plays both Baroque and octave violins on the album, both tuned in period style at A414. There is no overdubbing involved, he just plays one or the other on each track, but the booklet includes a clever picture in which he appears to be playing both at once with the smaller one tucked under his chin, the other on his shoulder and the bow spanning both instruments. Greenberg is an acknowledged master of violin and fiddle techniques and, as this recording attests, possesses a consummate musicality that spans genres and styles. An accomplished clinician, he offers a variety of online tuition opportunities, that latest of which is "Making Tunes with Intention," a three-week course exploring the composition and arrangement of traditional style tunes – Celtic, Baroque, and classical – beginning February 26. You will find details and registration at davidgreenbergviolinist.com/mti-home.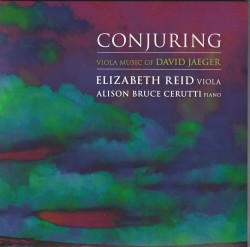 Sticking with the violin family, but moving away from the fiddle tradition, the next disc features music for solo viola by longtime CBC producer and frequent contributor to The WholeNote, David Jaeger. In the spirit of full disclosure I will say that I have had a lengthy professional relationship with Jaeger over the years as the administrator of New Music Concerts but of course almost everyone in the contemporary music community could say the same. Since retiring from the CBC, Jaeger, when not busy producing independent recordings for some of Toronto's finest musicians, has expanded his activities as a composer and there has been a wealth of new work in recent years. Conjuring: Viola Music of David Jaeger (Redshift Records TK524 redshiftrecords.org) spans four decades. The soloist is Hamilton native, now Vermont resident, Elizabeth Reid who rises to the various challenges the works present with aplomb and conviction. She is accompanied by Alison Bruce Cerutti in Sonata, Tristan and Isolde, written in 1992 in honour of the 70th birthday of the composer's mother (and her dog and cat), and Sonata No.1 for viola and piano written just four years ago. The Six Miniatures for unaccompanied viola are based on verses by Scottish poet David Cameron, the texts of which are included in the booklet, with the violist "in effect, playing the role of the reciter." As befitting a founding member of the Canadian Electronic Ensemble, Jaeger's three remaining works involve the use of technology in one form or another. Constable and the Spirit of the Clouds is an adaption of a work originally for solo cello. At the suggestion of Reid, Jaeger reworked the cello score for viola and added an electronic track "composed using a similar process," i.e., examples of linear variation observed in the work of English Romantic artist John Constable. The result is intriguing. The final two works were written for the internationally renowned Israeli violist Rivka Golani who made her home in Toronto for some years. Favour for viola and live digital delay controlled by the performer was composed in 1980. Sarabande was composed to address the issue of the complicated set-up required for the live electronics aspect of Favour, here replaced by a single playback track for the performer to play against. Favour was originally released on Golani's Viola Nouveau (Centrediscs CMCCD 0883), still available from the Canadian Music Centre, providing a rare opportunity to compare two interpretations of a contemporary Canadian piece. By pairing these two works we are presented with Jaeger's "second take" on the same material and also a second performer's take on them both. It's great to see a new generation of musicians taking up the mantle and championing existing works along with the new.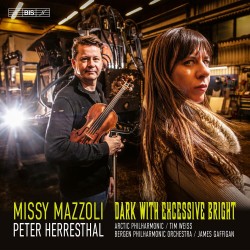 Mid-career American super-star composer Missy Mazzoli "inhabits an exquisite and mysterious sound-world that melds indie-rock sensibilities with classical traditions… [equally at home in] concert halls, opera houses and rock clubs." Dark with Excessive Bright (BIS-2572 missymazzoli.com) is a portrait disc spanning 15 years of Mazzoli's international career, featuring Norwegian violinist Peter Herresthal. Once again, we are presented with a composer's alternate takes on several works. The title piece was originally a concerto for double bass and string orchestra that at Herresthal's request Mazzoli reworked for violin, "essentially flipping the work upside down." Dark with excessive bright is a phrase from Milton's Paradise Lost, a surreal and evocative description of God's robes, written by a blind man. Mazzoli says: "I love the impossibility of this phrase and how perfectly it describes the ghostly, heart-rending sound of strings." It appears here twice, bookending the disc, opening with the Bergen Philharmonic Orchestra conducted by James Gaffigan and closing with a reduced version for solo violin, string quartet and double bass performed by members of Norway's Arctic Philharmonic under the direction of Tim Weiss. Both versions are extremely powerful, with a sound palette that belies the all-string instrumentation, and it's hard to comprehend that in the latter all that sound is being created by just six players. Vespers for Violin is a reimagining of the earlier Vespers for a New Dark Age, in which "sampled keyboards, vintage organs, voices and strings from that composition, drenched in delay and distortion," are used to create an effective work for a solo violinist. Full orchestral resources are utilized in Sinfonia (for Orbiting Spheres) with music "in the shape of a solar system." The title draws on two meanings of the word sinfonia: a Baroque work for chamber orchestra and the old Italian term for a hurdy-gurdy. Mazzoli describes it as "a piece that churns and roils, that inches close to the listener only to leap away at breakneck speed, in the process transforming the ensemble into a makeshift hurdy-gurdy, flung recklessly into space." There's a Toronto connection in Orpheus Undone. It's an orchestral suite, fragments of which have their origins in Orpheus Alive, a work composed for the National Ballet of Canada back in 2019. In its present form, it depicts "a single instant in Orpheus's life, in the immediate aftermath of his wife Eurydice's death. I have used the Orpheus myth… to explore the ways traumatic events disrupt the linearity and unity of our experience of time." It was composed in 2021, no doubt in response to the trauma of COVID-19. Concert Note: Speaking of Toronto, Mazzoli's Dark with Excessive Bright will be performed in its original double bass version by the Toronto Symphony and guest conductor Kerem Hasan, with TSO principal Jeffrey Beecher as soloist on March 1 and 2 at Roy Thomson Hall.
We invite submissions. CDs, DVDs and comments should be sent to: DISCoveries, WholeNote Media Inc., The Centre for Social Innovation, 503 – 720 Bathurst St. Toronto ON M5S 2R4.
David Olds, DISCoveries Editor
discoveries@thewholenote.com