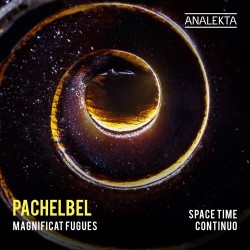 Pachelbel – Magnificat Fugues
Space Time Continuo
Analekta AN 2 8911 (analekta.com/en)
This recording is fascinating, both in conception and execution. Comprised entirely of Baroque continuo instruments (i.e. cello, lute and organ), typically heard as the bass-line foundation of early music ensembles, Montreal-based Space Time Continuo presents a variety of Johann Pachelbel's pipe organ works arranged and performed for their unique makeup.
As indicated by the album title, this recording features a number of Pachelbel's fugues based on the Magnificat, a canticle often known as the Song of Mary. Perhaps best known for its multi-movement setting by J.S. Bach and the many smaller-scale versions written by English Cathedral tradition- composers for use in the Evensong liturgy, Pachelbel's Magnificat arrangements are purely instrumental, with no expression of the text itself.
Pachelbel wrote a great number of these little fugues: 95 in all and, while there is some debate on whether these organ works were composed for intonation or alternation, there is no doubt that they were used in the context of the sung text, either before, during or after. For this performance, director and cellist Amanda Keesmaat arranged 13 of these fugues, along with the well-known Chaconne in F Minor – one of Pachelbel's largest-scale organ works – resulting in music that, although contrapuntally identical to its original, is strikingly different both in timbre and texture.
Known largely for his Canon in D and little else, this recording demonstrates that there is much music by Pachelbel that deserves to be rediscovered. From the serious and solemn to buoyant and joyful, there is much here for everyone to enjoy and the uniqueness of having this terrific music performed by an equally magnificent bass-instrument ensemble makes this sophomore release from Space Time Continuo worthwhile listening for all.