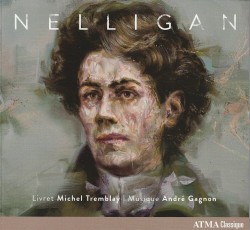 Nelligan
Various artists
ATMA ACD2 2814 (atmaclassique.com/en)
The tragic life story of Émile Nelligan, one of the most renowned 19th-century Canadian poets, has been a subject of several contemporary artistic endeavours and inspires wonder and speculation in creators and audiences alike. Born in 1879, Nelligan joined the École littéraire du Montréal at 17 and produced a significant body of poetic works by the time he was 19, at which point he was committed to a psychiatric hospital by his parents, for reasons that are not entirely clear. He stayed there for another 40 years and never wrote a word of poetry again.
Although characterized as a pop opera, Nelligan's score is built on a classical foundation mixed with several musical genres, including pop and musical theatre. It is not surprising that the cast on this album is comprised of 15 stellar actors/singers, who brought to life both the emotional and circumstantial aspects of Nelligan's story. Written by French Canadian icons, André Gagnon (music) and Michel Tremblay (libretto), the full operatic version was premiered in 1990 to critical acclaim. The more intimate version appearing on this album, splendidly arranged for two pianos and cello by Anthony Rozankovic, has an alluring element of confidentiality, as if the characters are spilling their innermost thoughts to our ears. It could be argued that the score does not quite access the emotional intensity of Nelligan's life, but the featured elements of restraint, melancholy, purpose and poignancy, as well as beautiful melodies, certainly make up for the lack of raw emotion. Tremblay's libretto is both potent and subtle, displaying societal oppression of artistic freedom and sexual orientation, the explorative tendencies of young artistic minds and linguistic tensions in Nelligan's bilingual family all in one breath.
It is interesting that Tremblay chose to portray two Émiles – a young one, completely consumed by poetry, and a much older one, nearing the end of his life in the hospital. Dominique Côté and Marc Hervieux are simply stunning in their portrayal of these two characters. Their heartfelt performance in one of the arias, Les Muses, into which the chanting of nuns is interpolated, is a perfect example of the power of this opera. Kathleen Fortin is poignant in the role of Émilie Hudon, Nelligan's mother, especially in La dame en noir. The strong instrumental ensemble, featuring Esther Gonthier (piano and direction), Rosalie Asselin (piano) and Chloé Dominguez (cello) underlines the lyricism and storminess of the music with perfect sensibility.