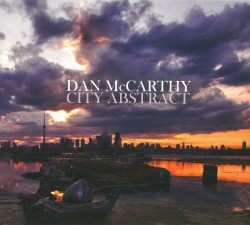 City Abstract
Dan McCarthy
Origin Records 82788 (originarts.com)
Vibraphonist Dan McCarthy's newest album, City Abstract, heralds the Toronto native's return to his hometown, after 15 years living in New York and working with the likes of Steve Swallow, Ben Monder and George Garzone. City Abstract is a Canadian affair: recorded earlier this year at the Canterbury Music Company, it features the quartet of McCarthy, guitarist Ted Quinlan, bassist Pat Collins and drummer Ted Warren; of the nine tracks, six are McCarthy compositions.
McCarthy is an accomplished vibraphonist, with a strong technical command of his instrument and well-developed artistic intuition. This combination of taste and judgment serves him well throughout City Abstract, whether on up-tempo numbers like Bleyto and Go Berserk or on more reflective songs, such as Coral and Other Things of Less Consequence. Quinlan, Collins and Warren share this approach; though this is a band with chops to spare, they are always deployed in service to the music, rather than for personal glory.
City Abstract has many highlights to choose from. Bleyto, the album's opener, is a tight, swinging song, with an athletic melody played ably in unison by Quinlan and McCarthy. The 7/4 Go Berserk is also an unexpected treat, if only because the juxtaposition of the vibraphone with distorted, high-gain guitar still seems relatively novel. Overall, City Abstract is a well-crafted modern jazz album from a talented bandleader whom the Toronto jazz scene should be glad to have back.