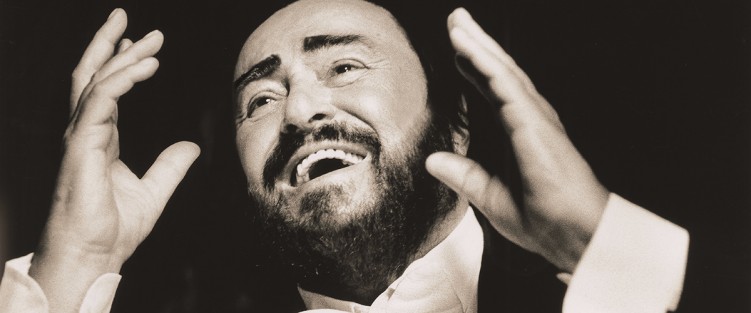 One sunny spring Saturday afternoon in the early 1980s, I happened to be walking through Little Italy in Lower Manhattan when I was transfixed by a glorious operatic aria spilling into the street from a nearby store. I had never heard singing more beautiful. The music drew me into its source, an Italian butcher shop. I asked the butcher what he was listening to and he told me it was the Met live broadcast. "Who's singing?" I wanted to know. "Pavarotti," he said. As I left the shop to continue my walk, I like to think that the whole neighbourhood was filled with that incredible tenor voice. I had suddenly joined the millions of fans of Luciano Pavarotti.
Pavarotti, the new documentary by celebrated filmmaker Ron Howard, is an engrossing portrait of an outsize personality that focuses on the musical career of a man considered to be the greatest tenor of the last half of the 20th century: a man of great appetites and even greater empathy, whose golden voice carried with it an unsurpassed emotional quotient that resonated with all who heard it.
Howard, working with the same team that produced the dynamic doc, The Beatles: Eight Days a Week – The Touring Years, had unprecedented access to Pavarotti's estate: photographs, recordings, video, home movies and interviews, both vintage and newly minted for the film. The movie opens with one of the most astounding clips of all. The year is 1995 and the place is Manaus, Brazil, in the thick of the Amazon jungle. Here, in the little opera house known as Teatro Amazonas, where Caruso himself once sang 100 years before, Pavarotti is seen in his sweatpants accompanied by a piano, pouring forth with total abandon for a handful of passers-by. Flutist Andrea Griminelli – who shot the footage – pointed out that the trip up the Amazon followed a concert for 200,000 people in Buenos Aires.
Much of the rare footage Howard used came directly from the personal collection of Nicoletta Mantovani, Pavarotti's second wife, the mother of their daughter Alice and head of the Pavarotti Museum in Modena. Mantovani also arranged many of the new interviews, including those with opera stars such as Plácido Domingo and Angela Gheorghiu, as well as Pavarotti's first wife and their three daughters (all three of them born within four years and seven months of one other), whose insights into his home life add immeasurably to an understanding of this complex artist. His daughter Giuliana, who loved his costumes as a child, once cried out "Papa" when she saw him shot dead in Tosca.
The film contains many nuggets, especially in the first act of Pavarotti's real-life three-act arc – for instance, that he learned to breathe ("which is the most simple thing but the most difficult") from Joan Sutherland when they toured Australia together; he saw how firm her diaphragm was before she attacked any note. Other such moments in the film: Gheorghiu pointed out that soprano and baritone voices are natural, but to become a tenor is unnatural, and "you must have the high C." Italian tenor Vittorio Grigolo said, "A tenor voice is constructed, not natural; a great tenor makes it feel natural." American soprano Carol Vaness: "Luciano's voice always went straight to my heart – clear, passionate, beautiful, heaven on earth, truly."
Pavarotti was born in 1935 in Modena, Italy, the son of a baker "and a tenor." He made his debut in 1961 as Rodolfo in La Bohème; two years later, he performed the role at Covent Garden as a replacement for an ailing Giuseppe Di Stefano. But it was Donizetti's La fille du régiment, with its nine high Cs, that made him famous. As the film progresses, we learn why he held a white handkerchief and how he was a nervous wreck before every performance at the Met. "I go to die," he would say.
His second act was centred on the Three Tenors; rock music promoter Harvey Goldsmith adds colourful anecdotes along the way. Nicoletta Mantovani tells us that her husband wanted to be remembered for bringing opera to the masses and that he surely succeeded. By the third act of his life, the Pavarotti and Friends period, he had cemented relationships with the likes of Princess Diana and Bono, was raising money for his children's charity, and expanding into collaborations with pop stars. By the time of his death in 2007 from pancreatic cancer, the charismatic performer had been seen by more than ten million people and sold more than 100 million albums.
In a film so filled with music that it makes any attempt at cataloguing it an exercise in futility, Pavarotti's voice reigns supreme, both as a man and as an artist.
By contrast, the two dozen or so snippets of music that are used to punctuate, comment on or simply bridge scenes in Joanna Hogg's artful, coming-of-age, quasi-autobiographical new British film, The Souvenir, couldn't be more dissimilar to Pavarotti's richly mined vein. Set in the early 1980s, The Souvenir tracks a love affair between Julie (Honor Swinton Byrne), a guileless, well-to-do film student, and Anthony (Tom Burke), a seemingly posh Foreign Service Officer.
Their relationship is swollen with mystery and presented in a series of perfectly composed cinematic postcards, often with painterly care and dialogue that rings true. Swinton Byrne (whose real-life mother, Tilda Swinton, plays her mother in the film) has an appealing naturalism that makes no effort to conceal the emotions her romance often brings to the surface. Burke's caddish, dissembling character nevertheless does charm his younger lover, pushing her buttons with allusions to the cinematic world of Powell and Pressburger. ("We don't want to see life played out as is, we want to see life as it is experienced within this soft machine.")
Most of the music excerpts are contemporaneous, like The Specials' Ghost Town, Gary Numan's Metal or The Psychedelic Furs' Love My Way; most take up less than a minute of time. Some, like Robert Wyatt's Shipbuilding and Joe Jackson's Is She Really Going Out with Him?, directly comment on what we've just seen. The use of Bartók's Bluebeard's Castle and Verdi's La forza del destino activate a sense of foreboding that gets our attention. As does Hogg's carefully calibrated film.
Pavarotti is currently playing at Cineplex Varsity & VIP. The Souvenir is currently playing at TIFF Bell Lightbox.
Paul Ennis is the managing editor of The WholeNote.