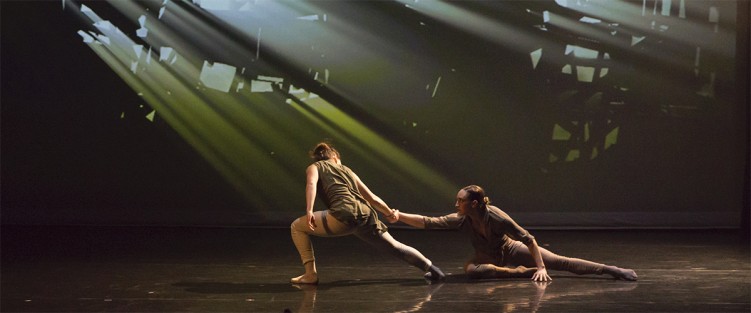 Thirty years ago, on November 9, 1989, the Berlin Wall fell. After 28 years dividing East Berlin from West Berlin and standing as the tangibly concrete symbol of the Cold War's Iron Curtain, the wall was suddenly porous and would soon come down altogether, leading to the reunification of Germany. On Christmas Day 1989, a celebratory concert of Beethoven's famous Ninth Symphony was performed in East Berlin's 'Konzerthaus' by an orchestra made up of musicians from around the world, conducted by Leonard Bernstein who, to mark the occasion, changed the lyrics of the fourth movement's choral Ode to Joy, to Ode to Freedom ("Freude" to "Freiheit"). Broadcast to thousands in the square outside the theatre and to millions around the world via television, Beethoven's Ninth has been associated ever since with this moment in history.
Last week on November 8, I had the opportunity to see ProArteDanza's Toronto premiere of The 9th!, a powerful ode to freedom in dance form set to Beethoven's iconic score and inspired in large part by the Fall of the Berlin Wall.
Ten years ago in 2009, ProArteDanza artistic director Roberto Campanella and artistic associate Robert Glumbeck were invited by Trois Rivières' Dansencore Festival to create choreography for the first movement of Beethoven's Ninth as part of a large anniversary project involving choreographers from around the country, with live orchestra and chorus. Something about the project resonated with the two creators: they received permission to perform their segment of the show with their own company, and then decided to go ahead on their own to explore and experiment with the other three movements, one at a time. In Campanella's words, they have "been humbly tiptoeing around this monumental masterpiece ever since, and it's more frightening now than it was then."
Why frightening? For one thing, Beethoven's music is considered by dancers to be "un-danceable," so choreographers tend to avoid it. For another, "The Ninth" (officially Symphony No. 9 in D minor, Op. 125) is arguably Beethoven's most famous symphony, so 'daring' to choreograph to it can be daunting.
When I asked Campanella how they were dealing with this challenge, he laughed. "Yes, what were we thinking?" he said. "On the one hand," he added more seriously, "we humbly bow to the music, but on the other we layer our ideas on a conceptual level, so that at the end of the day what we are creating is not separate music and dance – it is one combined whole."
The inspiration for the concept that would anchor the choreography came not long after the Trois Rivières experience, when Campanella was working on a film in Berlin and went on a day off to visit the site of the Wall. All around the site there are video stations where you can look at old archival images; one that "really hit" him, and still does, was from before the actual wall when the uncrossable divide was marked only by barbed wire: "There were two families waving at each other from either side of the barricade," he said. "And what struck me was that the body language of these people who knew each other at first seemed the same – it looked as though they were using the same movements – but actually they were very different."
So strong was the impact of this image, and the inherent power of the emotion in the two sets of figures, that Campanella says he called Glumbeck right away and asked, "'Could it be that the concept behind all the layers for our version of the Ninth Symphony should be this wall that divides us, whether structurally or figuratively?'" Glumbeck agreed and they began what became, in total, a ten-year co-choreography process of experimentation and exploration. The coincidence of the music they were choreographing to just happening to be the symphony played to celebrate the fall of the Wall only added to this feeling of rightness.
For this production of The 9th!, there were a number of challenges. First, there was a decade's worth of existing choreography for each of the separate movements for Campanella and Glumbeck to look at, work through, revise, and meld into a whole that would have a satisfying emotional arc. Second, ProArteDanza is known for its strongly muscular, athletic choreography that melds ballet technique with a more modern dance vocabulary, but this new work, with its ambitious thematic scope and emotional journey, was going to demand the performers be as much actors as dancers, willing and able to throw themselves into the creative process and performance with an emotional vulnerability not always looked for in the dance world.
Hearing about the process the company took to arrive at this point was fascinating. According to Campanella, they strove to not be tied to a specific point in history or to make any specific reference to current events. "What we are really focusing on is the people from this community who were forced to live in a completely different manner (behind the wall) and explore what that does to us as human beings," he explained. "And then, where that is going to take you thirty years later when you actually have the chance to go back to the life that you once had." To achieve this and go beyond the technical movement, the co-choreographers invited the dancers to be vocal and inventive in the creation process, speaking up and making suggestions to help the creators reach their goal.
In the final run of The 9th! from November 6 to 9 at Toronto's Fleck Dance Theatre, the results of all this dreaming and hard work felt powerful, emotional and satisfying. The dancers were superb, their admirable technique and emotional commitment together enabling them to create onstage a society inhibited by barriers – walls both inside and out – that then finds its way to a stronger, happier, community of people. There were four strongly individual threads within the arc: the tormented figure of Ryan Lee; Daniel McArthur's emerging leader; the darkly energetic figure of Kelly Shaw who finds her way to peace; and Sasha Ludavicious as an emerging prophet of hope. (These are my characterizations, not anything stated in the program – but following their threads gave me a path to follow through the whole, to the joyful, hopeful finish of the choral "Ode to Joy" in the symphony's fourth movement.
Altogether, this was a passionate performance of a powerful work that I hope will go on to further productions, with eventually live orchestra and chorus and more elaborate technical elements.
ProArteDanza's The 9th! ran from November 6 to 9 at Harbourfront's Fleck Dance Theatre, Toronto.
Jennifer Parr is a Toronto-based director, dramaturge, fight director, and acting coach, brought up from a young age on a rich mix of musicals, Shakespeare and new Canadian plays.