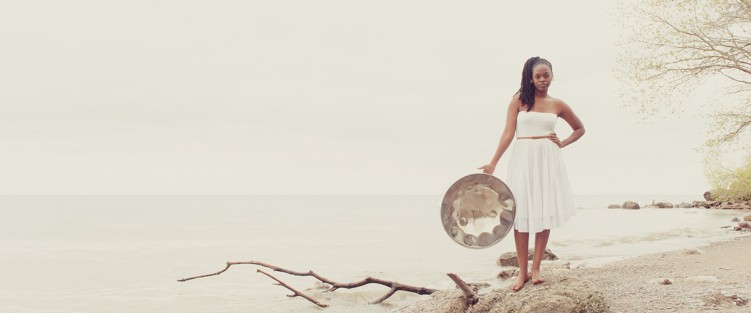 You might ask yourself, "Is it really necessary to have a festival specifically for women in percussion?"
The answer, as it turns out, is a resounding "yes."
Tracy Jenkins, co-artistic director of Lula Music and Arts Centre, had heard from several percussionists and drummers that there are still a lot of barriers for women who want to become professional percussionists. In response, in 2017 she co-founded Lula's Women in Percussion festival—a series of concerts and workshops celebrating local and international women percussionists.
The festival's second edition took place this September 26-30, presented in collaboration with the Aga Khan Museum, Small World Music and Emerging Young Artists and featuring percussionists with roots in Brazil, Jamaica, Venezuela, Cuba, India, Korea, Japan and First Nations. The festival is shaping up to be a biennial event.
"Women are much more accepted these days as guitarists and piano players and, of course, singers, but they're still not being encouraged—or sometimes are even overtly discouraged—from drumming," says Jenkins. "For various reasons, drums are still viewed by some as mens' territory. We wanted to create a space to present the work and have an atmosphere of celebration and include everyone, whatever gender they identify as."
And they succeeded: the packed opening night of the five-day festival last month showcased four diverse acts—which included lots of supportive men both onstage and in the audience—and had a fun, celebratory vibe.
Y Josephine, a Venezuelan singer-songwriter and percussionist, opened the festival on September 26 with a couple of solo covers on cajon and voice (including, aptly, Miss Celie's Blues, aka Sister), then teamed up with Carla Dias on bass and Anita Graciano on drums for a couple of originals.
Next, Joy Lapps-Lewis took the stage. The sight of a 37-weeks pregnant woman playing steel pan drums and leading a band of some of the most in-demand jazz players in the country seemed especially fitting for this event. Lapps-Lewis played shimmery melodies and fierce solos, while Rich Brown (bass), Jeremy Ledbetter (keys) and husband Larnell Lewis (drums) supported on a captivating set of original songs inspired by the women in her life.
Vulva Beats is a new percussion-forward eight-piece band and brainchild of Aline Morales, who has been a strong presence in the Toronto Brazilian music scene for many years. Morales said she started the group "to provide a multidisciplinary space for women to create and co-create." The band's set was a groovy mix of reimagined Brazilian, pop and hip-hop covers, and featured performances by Carlie Howell, Suzanne Roberts Smith, Chellz Gemmaria and Angela Vargas.
I asked Morales about how she came up with the name of the group; she explained that she felt that nothing better represented their cause. "Being a woman or identifying as a woman, we are emphasizing how capable we are in any industry. We are also honouring where we came from!"
The finale of the night was a group of Toronto-based samba drummers (mostly from the group T.Dot Batu led by Pato Irie Martinez) which featured Adriana Portela, who was brought in from Salvador, Bahia, Brazil, where she is the musical director of the region's first all-women drum band (profiled in this New York Times article). Portela lent a high-energy presence to the percussion-driven samba-reggae tunes, along with the always-charismatic Cibelle Iglesias and Jerusa Leao, who sang a few popular Brazilian tunes by women songwriters to round out a fun set.
Workshops were a big component of the festival, and several were offered free over the weekend at Lula, in collaboration with the Aga Khan Museum and Emerging Young Artists. Improvisation in Indian traditions, cajon and Brazilian samba-reggae were among the offerings.
I also caught some of the Japanese taiko demonstration on Saturday, September 28, led by Aki Takahashi and featuring a performance by the Japanese folk ensemble, Ten Ten. Taiko is a form of Japanese ensemble drumming, traditionally used in villages and temples as a means of communication in festivals, rituals, prayer and war. Highly physically demanding, taiko (which means "drum" in Japanese but can also refer to the music that the ensembles play) has been the purview of men until relatively recently.
"Taiko for women is really contemporary," Takahashi said. "Normally there are only one or two taiko players in a village and they are usually old men who represent the village and community to the gods, and women are not allowed to touch or play the drums."
As taiko has become more prevalent in North America, so too has ensembles where women form the majority of the members. In some cases, women's taiko ensembles have served as a way to subvert the gendered expectations of the genre.
"People are learning that women bring a feminine quality to the art form," explains Takahashi. "They can play with as much volume and speed as men, but they do it using technique and finesse rather than muscle."
Lula Music and Arts Centre's 2019 Women in Percussion festival ran from September 26-30 in Toronto.
Cathy Riches is a self-described Toronto-based recovering singer and ink slinger.