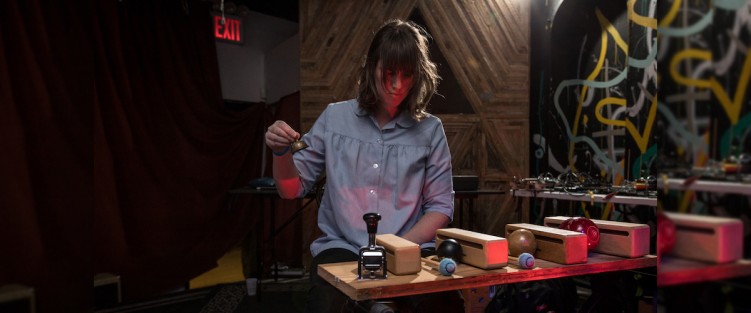 The coming of 2020 signals—among other holiday traditions—reflections on the past year in art and music. Rather than compile a unified 'best of' list, however, it felt more appropriate to share the individual thoughts of some of our writers and staff, who are deeply invested in—and who deeply love—live music in all its forms.
Here, read some of their top picks for the most memorable concert of 2019—as well as the one show in 2020 that they're looking forward to most.
PAUL ENNIS, managing editor + columnist: Classical & Beyond
Most memorable concert of 2019:
"Last June 28, 29 and 30 there was a series of concerts as memorable for their historical significance as they were for the electricity that linked orchestra and audience in a symbiotic mutual transfer of energy. Gustavo Gimeno conducted the TSO for the first time as music director to be—his five-year contract begins with the 2020/21 season. The night I was there was exhilarating, highlighted by the visceral virtuosity of Stravinsky's The Firebird."
And in 2020:
"Next year I look forward to the orchestral balance and sense of musical architecture that Gimeno evinced then, coupled with the musical dynamism that pianist Yuja Wang brings to everything she plays—in this case, both of Brahms' piano concertos over four days on two separate programs (April 8 and 9 for No.1; April 11 for No.2), each time paired with Brahms' bucolic Symphony No.2 under Gimeno's sensitive baton."
More: https://www.tso.ca/concert/gimeno-yuja-wang-brahms.
JENNIFER PARR, columnist: Music Theatre
Most memorable concert of 2019:
"Billy Elliot: The Musical at the Stratford Festival. Donna Feore's electric production of this story of one boy's dreams of becoming a dancer set against the dark background of Britain's national coal mining strikes was more powerful than I have ever seen it, thanks not only to a brilliant cast (notably Nolen Dubuc as Billy) but also to Feore's instinctive knowledge of how to use the Festival stage and auditorium to their fullest potential."
And in 2020:
"Kelly v. Kelly, May 15-June 7 at Canadian Stage (book by Sara Farb, music and lyrics by Britta Johnson). I can't wait to see this world premiere in the spring, having caught a preview glimpse at the Canadian Musical Theatre Project's Festival last year. Based on the true story of a mother taking her daughter to court for "incorrigibility" (spending too much time with a seductive tango dancer) in 1915 New York, it promises to be great fun with some social commentary thrown in—as well as lots of dancing."
More: https://musicalstagecompany.com/production/kelly-v-kelly-2/.
KAREN AGES, advertising department
Most memorable concert of 2019:
"On Friday, December 13, 2019, I saw "The Ward" cabaret, in its newest iteration [and first full production]. A wonderful historical exploration of a part of Toronto's immigrant experience in song and story. Congratulations to David Buchbinder and amazing team of singers and instrumentalists for the show!"
And in 2020:
"I'm looking forward to playing oboe in Respighi's symphonic poem Pines of Rome with the Niagara Symphony in March!"
More: https://www.niagarasymphony.com/concerts/masterworks-series/undaunted.
DAVID JAEGER, features writer
Most memorable concert of 2019:
"The Neil Crory Tribute concert at Trinity-St. Paul's Centre on October 11, 2019, featuring an unbelievable lineup of internationally-famous Canadian singers (including Phillip Addis, Isabel Bayrakdarian, Ben Butterfield, Krisztina Szabó, Daniel Taylor, and Erin Wall). It was a fitting tribute to the late producer Neil Crory, who championed Canadian singers and composers through his work with CBC Radio Music for 30 years. The stunning evening culminated in Vaughn Williams' Serenade to Music, with the tutti company singing together under conductor Howard Dyck—all in loving memory of a unique creative individual who made an enormous difference to the classical music community."
And in 2020:
"I'm looking forward to another concert at Trinity-St. Paul's: Pieces for Bob, another tribute event, this one on April 4, in honour of the very much alive and active composer, flutist and artistic director Robert Aitken, who turned 80 last August. New Music Concerts will present a mixed program of pieces which have proved defining works along the course of Aitken's long career. These include Norma Beecroft's iconic work for flute and electronic sounds, Piece for Bob, as well as Elliott Carter's Scrivo in vento, George Crumb's An Idyll for the Misbegotten, and the premiere of a new work written for Aitken in honour of the occasion by Daniel Foley."
More: http://www.newmusicconcerts.com/styled/page17/index.html.
LYDIA PEROVIĆ, columnist: Art of Song
Most memorable concert of 2019:
"Highlight of the year in any discipline was Revisor, Crystal Pite and Jonathon Young's latest collaboration brought to Toronto by Canadian Stage. It's as emotionally searing as their first, Betroffenheit, but it's also politically sophisticated, international in outlook, and encompassing much of 20-21st century—a more complex and larger work of art in every respect. It's Pite's best work so far.
My operatic highlight was the intelligent, modestly budgeted Opera North's Giulio Cesare (Leeds, UK) directed by Tim Albery. And in the concert and recital genre, The Plucked Opera concert by Vesuvius Ensemble stands out: a night of popular arrangements of operatic arias which Italian people DIY'd in their homes, among friends or on street corners. It shares first place with Gemma New conducting Mahler 5 with the Hamilton Philharmonic Orchestra."
And in 2020:
"Damiano Michieletto directs Der Rosenkavalier in Brussels in June, with two Canadian mezzos Michele Losier and Julie Boulianne alternating in the role of Octavian. Same month, over in Paris, Marie Nicole Lemieux will sing Nerone in Monteverdi's L'Incoronazione di Poppea at Théâtre des Champs Élysées, Christophe Rousset conducting. Impatiently waiting for the seat sale emails from the airline companies on Boxing Day."
More: https://www.lamonnaie.be/en/program/1233-der-rosenkavalier, https://www.theatrechampselysees.fr/en/season/stage-opera/lincoronazione-di-poppea
SARA CONSTANT, editorial department
Most memorable concert of 2019:
"I was sad to have missed the Thin Edge New Music Collective/TIFF presentation of Sarah Hennies' Contralto—a one-hour work for video, strings, and percussion, presented as an experimental documentary with live music—this time last year in Toronto, but by coincidence was able to see and hear it in February 2019 while travelling for work, at the Edition Festival in Stockholm, Sweden. It's an inventive, emotionally powerful exploration of sound-in-context, and a critical look at the entangled relationship between identity and voice. If you have a chance to attend a screening with live musicians, I recommend it totally."
And in 2020:
"On March 14 at the Music Gallery (where I work), Montreal-based vocal collective Phth (Sarah Albu, David Cronkite, Gabriel Dharmoo, Kathy Kennedy, Elizabeth Lima, Vahram Sarkissian and Andrea Young) travels to Toronto for a set of improvised and composed vocal music, with an opening set by pop-art duo xLq. I haven't yet had the chance to see all of Phth's members onstage together, and I look forward to what I'm sure will be a deeply thoughtful, and sonically adventurous, set."
More: https://musicgallery.org/events/phth-xlq/.
DAVID OLDS, reviews editor
Most memorable concert of 2019:
"My favourite concert of 2019 was baritone Daniel Lichti's performance of Schubert's Winterreise with the Penderecki String Quartet at St. George's Lutheran Church on College St. on November 1. (Not only was it a very satisfying performance by all concerned, I am pleased to note that I had a little bit to do with instigating the event. A couple of years ago I received a recording by the Copenhagen String Quartet of their cellist Richard Krug's arrangement of Winterreise with bass-baritone Johan Reuter. I wanted Daniel Lichti to know about this new transcription and sent him my review. I was pleasantly surprised earlier this fall to receive an invitation to his performance with the PSQ.) A truly memorable evening."
And in 2020:
"On January 21 at Hugh's Room, LOOK UP! celebrates the music of Paul Quarrington. Quarrington collaborator Stuart Laughton's current band Radio Dial features several other long-time Quarrington cronies, including lifelong friend and multi-instrumentalist Martin Worthy and singer extraordinaire Rebecca Campbell. Quarrington's talented brothers Joel and Tony will also be along for the ride. I have just re-read Quarrington's last epistle Cigar Box Banjo - Notes on Life and Music, and with his memorable and moving anecdotes fresh in my mind for context, this event promises to be a highlight of my year."