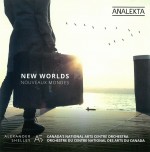 New Worlds/Nouveaux Mondes; Canada's National Arts Centre Orchestra; Alexander Shelley (Analekta AN 2 8873 analekta.com). It took a while to identify what sounded familiar in Ana Sokolović's Golden slumbers kiss your eyes…, but eventually I realized it reminded me of that mid-20th century pillar of choral/orchestral repertoire, Carl Orff's Carmina Burana. Reading the program notes revealed another parallel to that great work – this too is based on secular, vernacular texts, in this case primarily folk songs in French, English, Italian, German, Ladino and the composer's native Serbian. The likeness to Carmina Burana is mostly one of scale – vocal soloist, multiple choirs, orchestral forces with prominent percussion – but there are a couple of movements that are particularly Orffian, including Mie mama mata mata with its alternating lines between the choirs, and later an anguished countertenor solo reminiscent of the dying swan of Orff's masterpiece.
Conceived as a tribute to NACO (now CNACO)'s founding conductor and later, music director Mario Bernardi, it is a celebration of Canada's multiculturalism and pays tribute to Bernardi's Italian heritage in two of the seven movements. Although the texts are from folk songs they are surprisingly transformed in this presentation, sometimes to the point of non-recognition. À la claire fontaine begins with a haunting solo by countertenor David DQ Lee, eventually joined by dark chanting from the chorus more reminiscent of a satanic ritual than the coureur de bois chanson learned at French immersion camp. I was also reminded of some of the more dramatic scenes from Harry Somers' Louis Riel and the movement Durme, durme, a Serbian lullaby, reminded me of that opera's Kuyas. I don't mean to say that this is in any way a derivative work. Sokolović has a unique voice and it is more a reflection of my own way of relating to new things, always happy to find touchstones.
Canada's National Arts Centre Orchestra, better known for "viewing the past through rose coloured glasses" in recent decades, is marching bravely into the 21st century under Alexander Shelley, who succeeded Pinchas Zukerman as music director in 2015. I'm pleased to note that their last three CDs have all featured new Canadian compositions commissioned by the orchestra. In this most recent addition, Sokolović's stunning work is paired with Dvořák's New World Symphony. I think it is very effective programming, and any questions I had about whether this classical-size orchestra numbering 60-some players would be sufficient to do justice to this staple of the Romantic repertoire were allayed by listening to the performance on this beautifully recorded disc.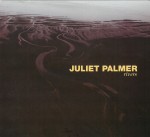 I believe several disclaimers are in order here for the sake of full disclosure. New Zealand-born Canadian composer Juliet Palmer's music has been presented on several occasions by New Music Concerts (my "day" job), most recently last month on our program "The Lioness of Iran," featuring settings of the poetry of Simin Behbahani. In addition, Palmer and her husband James Rolfe (another composer whose work we have presented), are frequent attendees at parties at my musical neighbour Gail's house, where I'm often heard jamming with guitars and, on the best nights, mandolins and fiddles. But if I recused myself from writing about all the composers I have had the pleasure to meet over the past several decades, there wouldn't be many left to mention. A further disclosure is that for the most part I don't enjoy contemporary vocal music. So when Palmer's new mostly a cappella disc Rivers (BR0343 barnyardrecords.com) arrived, I fully expected to be assigning the review to someone more at arm's length and more appreciative of the genre. My curiousity got the best of me however and I decided to give it a listen. I must say I was smitten! The six tracks span a decade, with Simple Death from 2006 (from SLIP, a site-specific multimedia collaboration with lyricist Anna Chatterton which took place in Harrison Baths as part of that year's X Avant Festival), to two selections first performed as part of another site-specific project, Singing River, on the Pan Am Path, Lower Don Trail in 2015.
The disc opens with the sounds of a babbling brook, or so it seems. It turns out to be blood flow, ultrasound recordings from the Sunnybrook Research Institute which, complemented by quiet chattering and disturbing interpolations from a chorus, provide a kind of ostinato under the anguished solo vocal by Laura Swankey on a text from Emily Dickinson's The Heart has narrow Banks. Dreaming of Trees is a slow lyrical piece that begins with a very simple pattern on a metallophone which continues throughout under the solo voice of Alex Samaras and gentle, flowing tonal harmonies from a small mixed chorus. The text is by Nicholas Power. Dusk of Tears from Palmer's opera Shelter is an unaccompanied duet – Felicity Williams and Samaras – with lyrics by Julie Salverson, which employs some close harmonies and clever counterpoint. This leads to the onomatopoeic and at times abrasive Burble, a lament for the Don River featuring Swankey with chorus. Litany (After the End) features post-apocalyptic lyrics of Christine Duncan recited in sprechstimme by the author with electronic treatments by Palmer. The closing track, Simple Death, uses a traditional Japanese folksong as its point of departure, with Aki Takahashi sounding hauntingly muezzin-like, juxtaposing an English lyric interwoven by Duncan over droning vocalise. It is an effective conclusion to a very satisfying recording.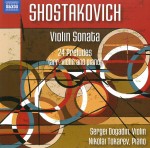 Dmitri Shostakovich composed his Violin Sonata, Op.134 in 1968 and it was premiered by its dedicatee David Oistrakh with Sviatoslav Richter in the spring of the following year. In 1975, the year of the composer's death, a Melodiya/Angel LP recording of that performance and the premiere of the String Quartet No.13, Op.138 was released in North America, and for some months held pride of place in this avid young collector's library. So it was with great interest that I received a new recording of the sonata featuring two young Russians, Sergei Dogadin and Nikolai Tokarev (Naxos 8.573753 naxos.com). Dogadin has won ten international violin competitions including the Tchaikovsky (2011) and the Joseph Joachim International (2015), so his credentials are impeccable. While his colleague's accolades are perhaps not quite so prestigious, Tokarev nevertheless has been recognized with awards in Switzerland and Germany since completing his piano studies in 2007. Together they capture the essence of Shostakovich's late sonata in a riveting performance. The disc also features the first complete recording of Shostakovich's 24 Preludes, Op.34 in transcription for violin and piano: 19 by Dmitry Tsyganov (some from 1937 and some from 1963) praised by Shostakovich as sounding more idiomatic in this guise than even the piano originals; and five by composer/pianist Lera Auerbach to complete the set in 2000. These youthful and sometimes exuberant short pieces – 35 minutes in all – provide a welcome contrast to the darkness of the sonata, which is not to say that they are all bright and sunny. The preludes, which date from 1932-33, run the gamut of emotion and at times hint at the hard times to come in the composer's troubled life. While not supplanting the Oistrakh/Richter, this new recording will also occupy a treasured spot in my library.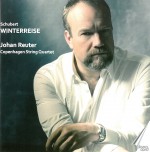 Having taken the plunge into art song above, I will say that one of my favourite vocal cycles is Winterreise, that classic of the genre by Franz Schubert. One of the discs to cross my desk recently is a new version with the piano part transcribed for string quartet by cellist Richard Krug of the Copenhagen Quartet which is featured with bass-baritone Johan Reuter (Danacord DACOCD 759 danacord.dk). Reuter, who has been a soloist with the Royal Danish Opera for the past two decades, is touted as "one of the most in-demand classical singers of his generation" in the booklet notes, and with this recording as evidence I can see why. His rendering is powerfully dramatic and tenderly sensitive as required, and his tone is superb. I find the transcription to be quite convincing, although definitely a different sensibility from the piano original. Krug captures the different moods of the piece, and the playing is nuanced and well balanced. While this will not supplant my other recordings of the cycle – if you are interested in different transcriptions I encourage you to seek out Hans Zender's rendering for a 30-piece contemporary chamber orchestra – it is a welcome addition to my collection. One reason for not suggesting this be your only recording of Winterreise is the booklet. This Danish production features English-only liner notes, but the texts are only given in German. I had to pull out my Fischer-Dieskau/Brendel performance (Philips 464 739-2), which has English and French translations of Wilhelm Müller's poems, to be able to follow along.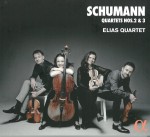 By all rights I should have sent the next disc (along with the Shostakovich) to Terry Robbins for his Strings Attached column, but once again I could not resist it. As a cellist I have played Schumann's Piano Quartet and Piano Quintet, as well as works for piano trio and cello and piano, but have never had the opportunity to explore his string quartets in depth. So when Schumann Quartets Nos. 2 & 3 featuring the Elias Quartet (ALPHA 280 alpha-classics.com) arrived I decided to hold on tight. Written in 1842 when the composer was 32, his three quartets of Op.41 were presented to his wife Clara in celebration of her 23rd birthday and their second wedding anniversary. I particularly like the personal style of the introductory program note in this tri-lingual booklet by violinist Sara Bitlloch. In it she describes how the Elias approached the charming Quartet No.3 in A Major, one of the first works they played together, and how different it was to encounter the Quartet No.2 in F Major sometime later. "The enthusiasm of the first movement can easily turn into anxiety if you push it a bit too far. In the slow movement the texture is sometimes so bare that to convey its tenderness you have to sustain it with great fervour. The capacious Scherzo is bristling with rhythmic pitfalls […] while the Finale is an endless explosion of joy!" Hard to resist such a description and even harder to ignore the music it describes. The performance was recorded live at Potton Hall, UK in May 2016 and the excitement is palpable.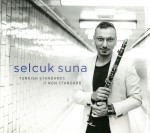 Further on in these pages you will read reviews of new discs from David Buchbinder's OdessaHavana and KUNÉ, Canada's Global Orchestra, noting that both groups are featured in performance at Koerner Hall on April 7. I have also received – from restaurateur Oğuz Koloğlu, proprietor of Café 808 – a CD by Toronto-based Turkish clarinetist and saxophonist Selcuk Suna (selcuksuna.com), who will be performing with KUNÉ. The disc, Turkish Standards//Non Standard, is quite eclectic. From the lush but breakneck moto perpetuo opening track Hicaz Mandira it progresses through some smooth jazz (but still with busy, virtuosic melody lines), touches of funk and evocations of Turkish clubs replete with belly dance rhythms. The core band consists of familiars Eric St. Laurent, Tyler Emond, Todd Pentney and Max Senitt and is complemented by a number of guest artists from the Turkish community. I'm a bit frustrated by the lack of detailed information on the disc or on Suna's website – for instance I tried to find out about the vocalist Dia, but the only hits I got online were for a South Korean Kpop girl group whom I'm pretty sure this is not. Nevertheless the disc kept me grooving in my chair.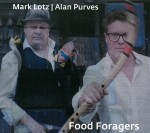 The last disc I will mention takes me even further afield and I don't even know what section I would have put it in – Contemporary? Improvised? Pot Pourri? – if I wasn't covering it here. Food Foragers came to us from Unit Records in Switzerland (unitrecords.com). The press release says this is the first Duo release of Mark Lotz (flutes and effects) and squeakologist Alan Purves. "Music that sparkles with imagination and is free from conventions." It certainly is that. One might ask what exactly a squeakologist is. A partial answer is in the list of the instruments Purves employs: toy accordion; DADA bells; balaphon, sruti boxes; toy horns; klaxon; tin whistle; brim bram; and one of my favourites, toy pigs. Although Lotz's arsenal is more traditional, he also pushes the envelope, focusing on the extreme end of the flute family: bass flute headjoint; bass flute tongue slaps; concert flute body; prepared flute; bamboo flute; piccolo and even PVC contrabass flute. As for the music, I simply don't know how to describe it. From melodic flute lines floating over kalimba-like ostinati in Abu in the Sky, to rhythminc grunting in Hog Time, deep heartbeat-like pulsations in the meditative Echoes Of A Life Hereafter and the playful piccolo/toy accordion duet Piepkuiken, to mention just the first four tracks, there's never a dull moment. Some of the influences listed include traditional songs from Mali, Chick Corea's Children's Songs and Sir Ernest Shackleton's Antarctic Expedition (1914-17). After a truly wondrous journey a final highlight is the concluding I'm So Sorry Blues, a standard 12-bar riff pairing the contrabass with tin whistles. Intriguing!