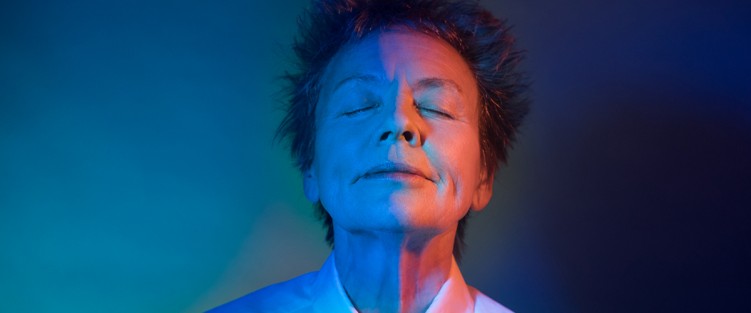 Deep in the heart of Toronto's upcoming winter, the poignant and idiosyncratic composer, violinist, singer, filmmaker, storyteller and electronics virtuoso, Laurie Anderson, will be appearing at the seventh edition of the Royal Conservatory's 21C Music Festival. The Art of Falling is the title she is giving this sold-out performance happening on January 18 at Koerner Hall, and during a recent interview I had an opportunity to ask her about what to expect that evening. We also discussed other works that are being programmed as part of the festival: her film Heart of a Dog, her virtual reality piece To The Moon, and her string quartet Standing Island.
As to whether or not Anderson considers The Art of Falling a new work is something she herself questions: "I don't know to what extent it will be a brand-new work or to what extent it will be a collection of things. So much of what I do looks back and forward at the same time, and so it will probably be something like that. And then again it might go another direction too." However, one aspect of this performance she is unquestionably excited about is the opportunity to work with cellist Rubin Kodheli. "He's just an amazing musician and it's a huge amount of fun to improvise with him. I'm leaving a lot of accordion-like room in this piece for us to do things that go off the track a little bit and take their own time. I never used to have the nerve to do that, so I'm really happy to make things a little bit more luxurious in that way."
Even the question of using projected images that are often part of her performances is unresolved. She is preparing some to use, but they might get edited out. "Sometimes I think: how about people just listen to this one. So we'll see." Musically, she'll be using her familiar electronic setup that includes iPads, laptops, foot pedals and microphones, as well her electric string instrument which, although considered a violin in the world of its maker Ned Steinburger, is more like a viola with its low C string "which I like very much because it gives you access to a couple octaves down when used with the electronics. You can really get into double bass land with this instrument. It's just a thrill to play down there."
Later on in our conversation, she offers a few glimpses into what elements may appear in the Toronto performance of The Art of Falling. In September of 2019, she along with musicians Tenzin Choegyal, Jesse Paris Smith, Rubin Kodheli and Shahzad Ismaily released an album titled Songs from the Bardo. This recording grew out of an improvisational performance at the Rubin Museum of Art in 2014, and offers an 80-minute meditation on mortality, through word and sound, designed to help people face the challenges of being alive at this time. The chanted and spoken texts are a translation of the Tibetan Book of the Dead, also called Liberation Through Hearing, and are designed to guide one through the experiences the consciousness has after death while in the bardo, the interval between death and the next rebirth. An adapted version from this album arranged for two instruments (violin and cello) along with electronics may appear in The Art of Falling, she told me.
As well, Anderson's Toronto performance may include a duet version of her orchestral piece, Amelia, a piece she created using texts from the legendary Amelia Earhart's pilot logs and the telegrams Earhart sent to her husband. These excepts appear alongside Anderson's imaginings of Earhart's experiences while flying solo, with the constant sound of the plane's engine in her ears. Earhart was the first woman to fly nonstop and alone across the Atlantic in 1932, but disappeared without a trace during her voyage around the world five years later. Recently, on November 13, an updated version of this piece was performed by the Brno Philharmonic in the Czech Republic with duets by Anderson and Kodheli.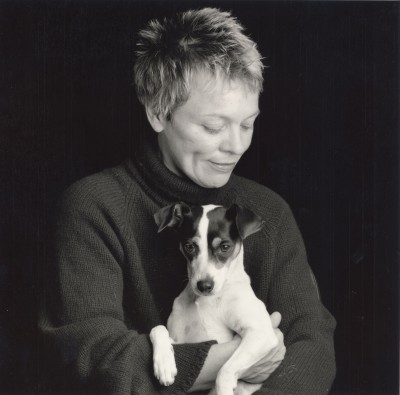 In addition to the Koerner Hall performance, her 2016 film Heart of a Dog will be screened at the Hot Docs Ted Rogers Cinema on January 19, followed by a Q&A with Anderson present. This work is a contemplation on the themes of death and loss, and includes excerpts from the Tibetan Book of the Dead. This time however, her reflections are delivered through the perspective of her beloved rat terrier, Lolabelle. And why her dog? "Everyone thinks they have a special dog, and everyone does because dogs are so empathetic. I felt that way about my dog and wanted to try and see if I could learn to talk to her in some way. That was the motivation of all the adventures we had together, and that's what the film is about." One delightful scene occurs when Lolabelle takes up keyboard playing alongside Anderson's music; while in an animated sequence that opens the film, Anderson's "dream self" attempts to re-birth Lolabelle. She covers a great deal of ground in the film, with references to JFK, subversive software, millennialism, the emotional tone of NYC after 9/11, and to stories about individuals she has known who have passed over, including her late husband Lou Reed (who died in 2013,the same year as Lolabelle), and to whom the film is dedicated.
To the Moon, Laurie Anderson's recent virtual reality installation, will be showing at the Royal Ontario Museum from January 11 to 25. She originally created the work in collaboration with Taiwanese artist Hsin-Chien Huang, with whom she has worked since 1995, for the Louisiana Museum of Modern Art in Copenhagen for an exhibit to mark the 50th anniversary of the Apollo 11 moon landing. "They wanted different artists to create something about the moon and said to us 'Make your own moon. We don't need a scientific moon. Make a version of it yourself.' That took the pressure off having to represent anything that was real, so it was fun to make something like that." The result is a 15-minute headset journey towards the moon, with whispered commentary from Anderson, in part on the state of our planet and our worsening impact on it. Passing through fields of space debris, the astronaut avatar metamorphoses; the journey becomes progressively more and more of an "out of body" experience, fuelled by a mix of fear, anger, exhilaration and whimsy, to a moon that is at one and the same time a dystopic dumping ground for plastics and nuclear waste, and the stuff that dreams, and nightmares, are made of. "The reason I really love the stars," Anderson says at one point, "is because we cannot hurt them."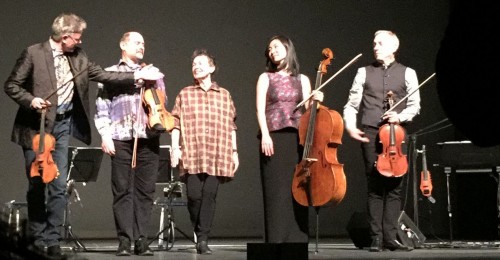 21C Festival-goers will also have an opportunity earlier in the day on January 18 to hear Anderson's 2017 string quartet Shutter Island, commissioned by the Kronos Quartet as part of their Fifty for the Future: The Kronos Learning Repertoire initiative. As part of the 2016 edition of 21C, Kronos premiered another work from this project, Sivunittinni (The future children) by Tanya Tagaq, and included Laurie Anderson's Flow on this program. Anderson's collaboration with the quartet began shortly after the release of her 2010 Homeland album that led ultimately to her string quartet, Landfall. Their collaboration entailed improvisations that Anderson initially recorded and subsequently refined to use in the composition of Landfall. It was this style of playing that Anderson utilized in Shutter Island. "I was able to really appreciate the nuance they would put into things. For example, when playing harmonics, they would pay such strict and beautiful attention to that, it was easier to say 'Play harmonics for three bars' and trust they will make something special." During the festival, this work will be performed by musicians from the Glenn Gould School in a concert that will include pieces by Christos Hatzis, Kaija Saariaho and a world premiere by Ryan Davis.
My conversation with Anderson ended with her talking about an event she had just participated in the previous day – a free talk titled The Size of the Con commissioned by the Brooklyn Public Library. Audience members were given a copy of the talk in the form of a chapbook which they used for small group discussions afterwards, a format Anderson prefers over such activities as the panel discussions or Q&A's that happen after a concert performance. One theme of that talk, she explained, was about how stories influence our lives. "Governments are like storytelling machines – you figure out which story you like the best, or which is the most true, and then you vote for that storyteller. The talk was also about stories that are very difficult to be told; the main one that is haunting everybody is, of course, climate change. That is a story that people are terrified to try to tell. It's a story that has so much fear and awe in it – the possibility of human extinction."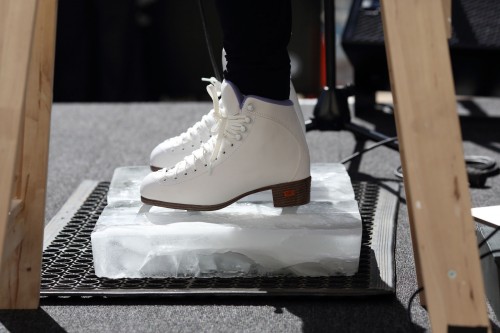 Anderson, as storyteller, has never flinched or turned away from addressing the most pressing concerns of our times, and her influence as an artist cuts across genres, freely using and combining elements from diverse art forms. In looking for how her work may have influenced the local musical community over the years, I found myself going beyond those boundaries to find some answers. A teacher of performance art at OCAD, Johanna Householder, mentioned to me that in the 1990s she inspired her students by introducing them to one of Anderson's early pieces where Anderson played the violin while wearing skates frozen in a block of ice. She also cited Anderson's pioneering CD-ROM pieces as being influential to students studying media-based art practices. Rob Bowman, a professor in popular music studies at York University, talked about Anderson's groundbreaking work with interactive technologies.
In my view, the gift of Laurie Anderson's artistic practice is the way she has combined, and continues to explore, diverse and often complex elements to create a simple and direct commentary on the multifaceted questions of life. When one looks around at the plethora of current artistic expression, one finds traces everywhere of how her quest to bring meaningful insight on contemporary living has been intuitively absorbed into 21st-century artistic language and practices.
21C Festival Premieres
This year's 21C Music Festival will include eight concerts over three weekends, from Saturday, January 11, to Saturday, January 25, 2020, including the opportunity to hear several premieres of new compositions.
In the Afterhours Concert on January 11, violinist Véronique Mathieu and pianist Stephanie Chua perform the Canadian premiere of Four Seasons by Alice Ping Yee Ho, and the world premiere of a new work by Odawa First Nation composer, Barbara Croall.
January 19 sees the Glenn Gould School New Music Ensemble presenting a concert to honour the late American-Canadian composer Michael Colgrass, a longtime Toronto residentIn addition to performing his 1999 composition Hammer and Bow - A Fantasy for Violin and Marimba, they will also present a world premiere by Bekah Simms titled Bestiary I & II for soprano, ensemble and electronics.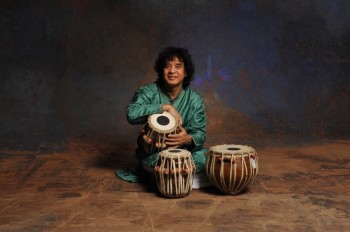 On January 24, guest conductor Zakir Hussain from the National Symphony Orchestra of India leads the Royal Conservatory Orchestra in a world premiere performance of American John Patitucci's Hypocrisy for orchestra and jazz trio as well as the Canadian premiere of his own tabla concerto, Peshkar.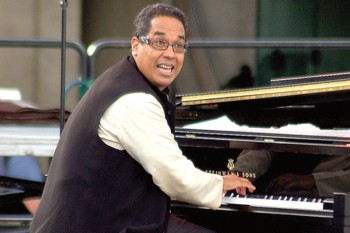 A commissioned work, Fronteras (Borders) by Panamanian jazz pianist and composer Danilo Pérez, receives its Canadian premiere on January 25 during a concert in which Pérez leads musicians from Palestine, Greece, Jordan, and Panama. And the world premiere of Canadian saxophonist Allison Au's piece, Migrations, will be performed during the same evening by the Allison Au Quartet and vocalist Laila Biali.
Wendalyn Bartley is a Toronto-based composer and electro-vocal sound artist. sounddreaming@gmail.com.