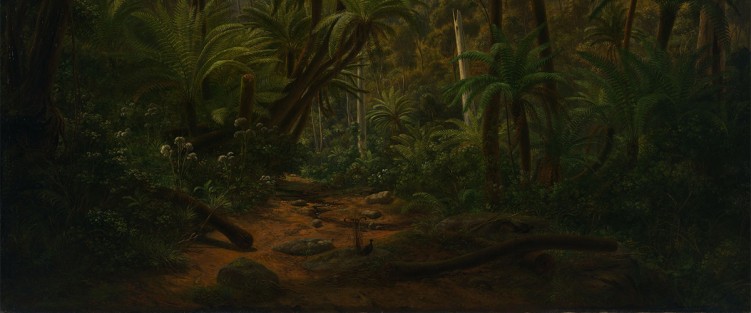 As a venue, Toronto's Heliconian Club sets a charming tone for an afternoon concert. On February 2 at 3pm, the intimate space was dimly lit, with a screen projecting the images of three types of birds, in preparation for "Where Song Began," a chamber music project by violinist Simone Slattery and cellist Anthony Albrecht based on the theme of Australia's songbirds.
The program starts on a chilling tone, low and singular. Slattery is on one side of the stage, vocalising to the notes played by Albrecht, who is on the opposite side. Sounds of nature and birdsong swell, while projected on the screen is a quote: "…the majority of the world's songbirds have ancestors from Australia" – Tim Low. This introduces the performance, which, as Slattery later explains, was inspired by Australian ornithologist Tim Low's book Where Song Began on Australia's history of songbirds and their global impact.
The audience is transfixed in absolute silence. The only thing that disturbs this silence is a thud of my neighbour's phone as it hits the floor. We are briefly snapped out of our trance.
Slattery makes her way to the centre of the stage, standing in front of the screen which now exhibits a bare expanse of land. She begins Arvo Pärt's Fratres for solo violin. It is eerie, yet enchanting. Though perhaps not intentional in their choice of pieces, the bariolage of her violin bow gives Slattery a bird-like quality. She is mesmerizing to watch, her arm flapping, akin to wings; at one point, the video projection displays a flock of birds, swooping across her body.
Before Slattery ends, Albrecht is ready to take over with the next piece. He mimics bird sounds by sliding his finger down the cello strings, blending perfectly with the chirping that continues in the background. The performance transitions are tastefully thought out, with recordings of birdsong, gorgeous visuals, and the sounds from the artists flawlessly combined.
Another projected quote by Tim Low: "Songbirds make up 47% of the world's bird species. If the comparisons are valid they may tell of birdsong influencing the evolution of human acoustic perception, and in particular our sense of what sounds pleasing." The selected quotes are very thought-provoking, especially in light of recent news coverage of devastating bushfires across Australia. While much of the news coverage of Australia's bushfires has focused on mammals and devastation of trees, it has not typically covered the massive loss of birds that these fires have caused.
We are about 20 minutes into the program, and we see a new projection—a group of birds singing and soaring without inhibition. There is no depiction of tragedy in the videos and images presented. During the Question and Answer session following the performance, Slattery explains that this was in fact done on purpose. She reasons that we have seen the tragic images of birds and animals in distress, the extensive number of trees destroyed in Australia's recent fires. Slattery and Albrecht, therefore, chose to show the birds in their natural state amid beautiful landscapes. The program takes a lighter tone with the next piece, Ross Edwards' violin/cello duo Ecstatic Dance No.2.
The audience's attention is brought to the cuckoo bird, as Slattery and Albrecht together play the Cucu Sonata by Johann Heinrich Schmelzer. The playful quality of cuckoos is demonstrated beautifully with this piece, Slattery smiling throughout the performance. The literature onscreen informs us that the musicality of the cuckoo inspired works from composers such as Vivaldi, Mozart, and Beethoven.
Next onscreen is a quotation from Charles Hartshorne: "…bird song is recognisably musical by all basic human standards. It has nice bits of melody, charming rhythms, even bits of harmony (for birds, unlike us, can sing contrasting notes simultaneously)…"
The lyrebird, characterized as "…a Shakespeare among birds," is the next focus. Albrecht begins Prelude from Cello Suite No.1 by J.S. Bach. There is a collective sigh from the audience, and smiles are exchanged as we hear the easily-recognizable work of Bach.
We are then introduced to the honeyeaters, a family of birds that, we learn, are "crucial to the Australian landscape and habitat" and are known for their harsh calls. Fittingly, the next piece, Anthochaera carunculata, by David Lang, was a bit uncomfortable to listen to, laden with firm accents and dissonant chords. Slattery straightens our backs with a powerful stroke of the bow. At moments, her bow ricochets on the fingerboard and she looks at all of us in an amused manner, gathering our reactions to it. I, for one, am confused.
The program ends as it started—on a sombre note, with Slattery singing an Indigenous hymn, Ngarra Burra Ferra. Slattery and Albrecht succeed in educating the audience on birdlife in Australia and keeping us captivated throughout the 50-minute benefit performance.
Simone Slattery and Anthony Albrecht presented their Toronto performance of When Song Began on February 2, 2020 at 3pm, at Heliconian Hall. For details, visit their website www.wheresongbegan.com. To learn more about birdlife in Australia or donate to efforts to support birdlife in light of Australia's recent bushfires, one online resource is https://birdlife.org.au/.
Menaka Swaminathan is a writer and chorister, currently based in Toronto.