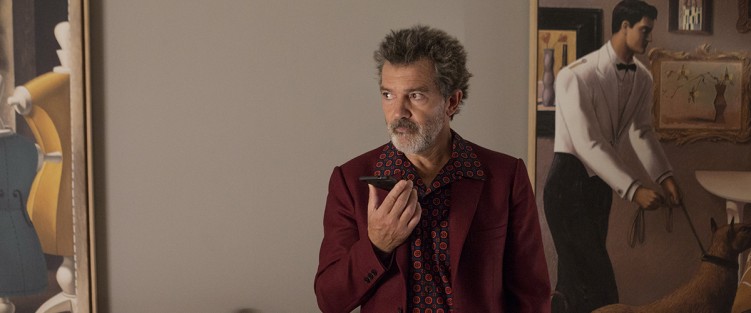 Pedro Almodóvar's superb new film, Pain and Glory, which bursts with autobiographical references, deals with creativity in a most novel way. It's the story of a film director, Salvador Mallo (a graceful, subtle, nuanced Antonio Banderas), who is blocked creatively and consumed by physical pain: tinnitus, wheezes, headaches of all kinds; and what he calls pains of the soul – anxiety and tension. When we first meet him, he's in a swimming pool trying to alleviate his back pain by exercising. He remembers, as a child, watching his mother, Jacinta (a radiant Penelope Cruz), singing A tu vera, a popular Spanish song from 1964, along with three other women, all doing their laundry at a river. It's a happy memory, seeing his mother so joyful, and as he escapes into it, the soundtrack supports him with quizzical strings whose mysterious melody backs up the voice of a clarinet.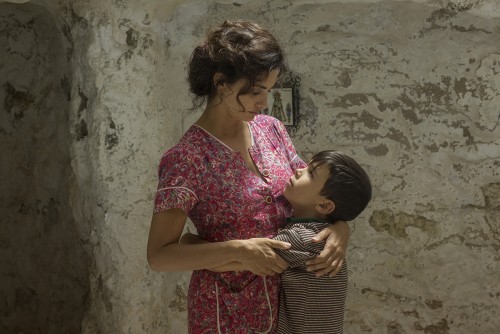 A cocktail piano in a bar triggers a second memory. A priest, who is the choirmaster in a seminary where ten-year-old Salvador is a student, is playing the same tune on an upright keyboard and auditioning potential choir members. Salvador sings so well that he becomes the soloist and is told to cut geography and other classes in favour of practising music. He would eventually learn about geography as a filmmaker travelling the world.
In another scene, Sabor, a film Mallo made 32 years earlier, is being revived and the director has been invited to attend the screening for a Q & A. He looks up its star, Alberto Crespo, whom he has not seen for three decades and they smoke heroin. Another childhood memory – living in a cave house in a village in Valencia with his parents – takes over, supported by aspirational string music, gentle and optimistic. (Almodóvar insisted in a New York Times profile that the autobiographical references in Pain and Glory do not not include smoking heroin. Nor did he live in a cave house, for that matter.)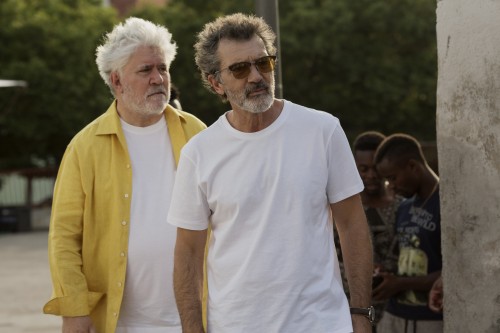 "If you write about a director (and your work consists of directing films)," Almodovar wrote in his notes to the film, "it's impossible not to think of yourself and not take your experiences as a reference... My house is the house where Antonio Banderas' character lives, the furniture in the kitchen – and the rest of the furnishings – are mine or have been reproduced for the occasion and the paintings that hang on its walls. We tried to make Antonio's image, especially his hair, look like mine. The shoes and many of the clothes also belong to me, and the colours of his clothing."
In the film, Grace Jones' version of La vie en rose evokes the disco era of the late 1970s – a touchstone for Mallo's Addiction, a theatre piece about an intense love affair that Crespo is performing. Almodóvar's notes explain that Cómo pudiste hacerme esto a mí by Alaska y Dinarama, which accompanies the cinematheque screening, puts a date on the film – the mid-80s. It also, Almodóvar explains, pays tribute to Alaska y Dinarama's Carlos Berlanga, who wrote the song – one of the great icons of that time and a much-loved friend of his.
"I've looked for artists (actors, painters, musicians) with whom I am familiar and, in most cases, with whom I have grown," Almodóvar has written. "There are many works by the painters Guillermo Pérez Villalta, Sigfrido Martín Begué, Jorge Galindo, Manolo Quejido, Miguel Ángel Campano, Dis Berlín, etc. All from the late 70s and with whom I have been shaped in more than one sense. This is one of the most autobiographical aspects of the film. It is all familiar to me.
"And of course, going back to the music, the presence of Chavela Vargas and Mina, who belong to my emotional and artistic family," he continues. "From Mina I have chosen Come sinfonia to accompany the entire scene of the watercolour sketch [a pivotal memory]. It's a theme from 1960, full of delicacy and the feeling of an idle, pleasurable summer. Chavela bursts into the middle of [Crespo's] monologue with a verse from La noche de mi amor (The Night of My Love), exultant, infinite in its clamour. I want the joy of a ship returning, a thousand bells of glory pealing, to celebrate the night of my love."
Chevala's song in the film represents Mallo's great 1980s love affair, which is resolved at the end of the Addiction theatre piece. By the end of Pain and Glory, Mallo's random memories have borne fruit, the cycle of artistic creation has been activated, fuelled by long-ago desire.
Alberto Iglesias has composed the soundtrack for all of Almodóvar's films since 1995. Here, his companionable, fully integrated score is linked to three different "atmospheres" according to the director. The first is inspired by the sunlight of the Valencian village memory; the second is linked to Mallo's moments of pain and isolation, often adopting faster, repetitive patterns, more frantic musical movements or little tremors. The third sound, "luminous in its simple spirituality," accompanies the scenes with the elderly Jacinta and grown-up Salvador, in Madrid, with the music adopting the mother's spiritual attitude towards death. Iglesias won the Cannes Soundtrack Award for his intensely moving score.
And Banderas won Best Actor at Cannes for his warm, humanistic performance.
Pain and Glory opens at Cineplex Varsity & VIP on October 25 and at TIFF Bell Lightbox on November 1.
Paul Ennis is the managing editor of The WholeNote.