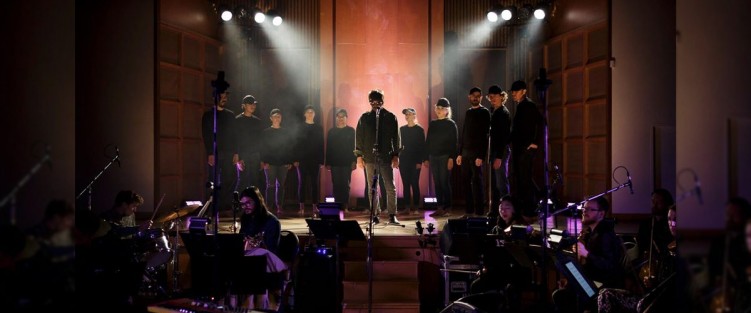 I first heard MELANCHOLIAC: The Music of Scott Walker, written and created by Adam Paolozza with music director Gregory Oh, at the Summerworks festival back in 2015. It was re-mounted at Niagara's In the Soil arts festival the following year. Earlier this month on December 6 and 7, a new production (presented by Bad New Days and the Music Gallery) took the stage for a three-performance run at The Music Gallery.
MELANCHOLIAC draws on five decades of music recorded, and for the most part written by, a former member of the Walker Brothers, best known to my generation for the 60s hit The Sun Ain't Gonna Shine (Anymore). No one in the group was actually named Walker, but it seems that the baritone "brother," born Noel Scott Engel, adopted the name when he went out on his own. The music that followed was a far cry from the pop ballads that had brought the boy band fame which for a time rivaled that of The Beatles, but the darker side of this former teen idol has given him a cult following in recent decades.
Walker's musical versatility was amply demonstrated during the two-hour Music Gallery production, which featured seven solo "Scott Walkers" plus chorus, as well as an orchestra of strings, winds, keyboards, guitar and a dynamic rhythm section.
The evening began with Nick DiGaetano performing Rod McKuen and Henry Mancini's The Living End, a swinging rockabilly tune from the 1958 album Meet Scott Engel, who was 15 at the time. This upbeat bauble was quickly overtaken by tumultuous pounding from the much darker See You Don't Bump His Head from the 2012 solo album Bish Bosh. Walker was profoundly influenced by the music of Jacques Brel, and one highlight of the show was Patricia O'Callaghan's rendition of Mathilde as recorded on Walker's first solo album Scott in 1967. Alex Samaras then gave us the mournful ballad It's Raining Today (in Adam Scime's arrangement), a Walker original from his 1969 album Scott 3.
Lest we think that the Walker Brothers had gone the way of the dinosaur by then, they actually continued to record together for another decade. The next selection, The Electrician from their last studio album Nite Flights recorded in 1979, is an experimental track foreshadowing some of Walker's later concerns, sung here by Paolozza. We then jumped ahead nearly three decades with Matt Smith's interpretation of Clara from 2006's The Drift. The first set concluded with two more selections from Scott 3, including another Brel song, Funeral Tango, with Paolozza's tongue firmly in cheek.
The highlights of the second set for me all involved John Millard, whose voice I found closest to Walker's distressed baritone. Two recent compositions, Brando (Dwellers on the bluff) (2014) with its distinctive bull whips (leather belt snaps here) and the polytonal Epizootics (2012) pushed Millard's skills to the utmost, with seemingly no harmonic support from the band, and were most impressive. Millard got to relax a bit in the Walker Brothers' distinctive interpretation of Tom Rush's No Regrets, a version for which Rush claims to have great respect because the royalties put both his kids through college. Two more tracks from Scott 3 rounded out the set, with Julianne Dransfield and the ensemble featured in 30 Century Man and Samaras leading the triumphant anthem We Came Through to cap the evening.
There were some balance issues between voices and ensemble, especially in See You Don't Bump His Head, but the instrumentalists were all in fine form, with special mention for percussionists Dan Morphy and Spencer Cole, trumpeter Lina Allemano, saxophonist Shawn Mallinen, guitarist Paul Kolinski, cellist Amahl Arulanandam and, of course, keyboardist and conductor Gregory Oh, who was responsible for most of the arrangements.
Since that first production of MELANCHOLIAC in 2015 I have continued to explore the world of this troubled, solitary artist who died last March at 76. Although he did not perform live in his final years, Walker did allow cameras into the studio when recording the album The Drift. The resulting documentary Scott Walker 30 Century Man, produced by Stephen Kijak (with executive producer credits to David Bowie who professed to have been deeply influenced by Walker) was released in 2006 and is viewable on YouTube. I highly recommend it. And then skip ahead to his last album release from 2014 (there were two subsequent film soundtracks), Soused (4AD CAD 3428CD), which features five extended Scott Walker "songs" (including Brando) on which Walker's now-familiar melancholy voice is accompanied by the Seattle drone metal band Sunn O))). Not for the faint of heart!
Bad New Days and the Music Gallery presented MELANCHOLIAC: The Music of Scott Walker on December 6 and 7 at the Music Gallery, Toronto.
David Olds is the recording reviews editor at The WholeNote, and can be reached at discoveries@thewholenote.com.