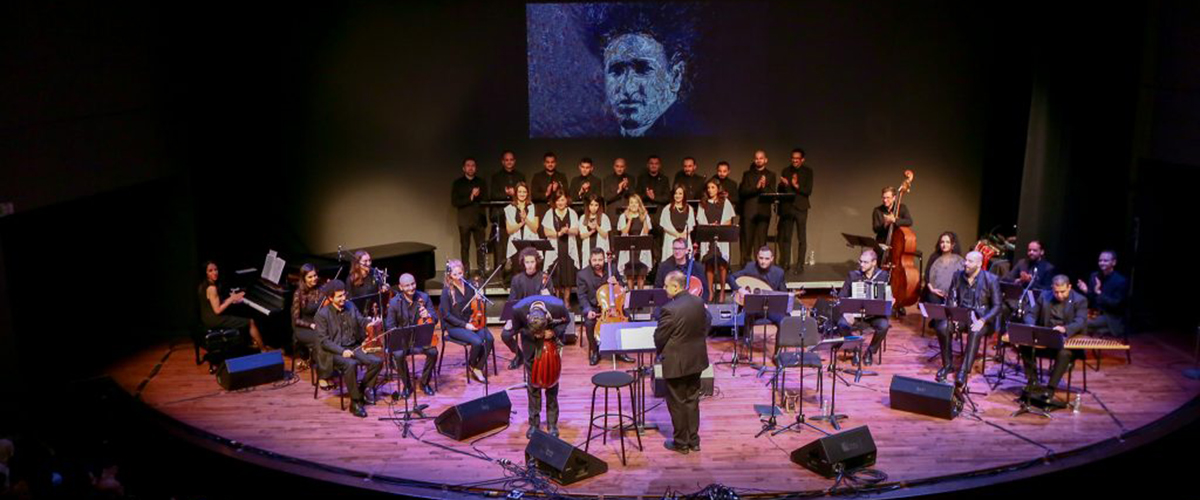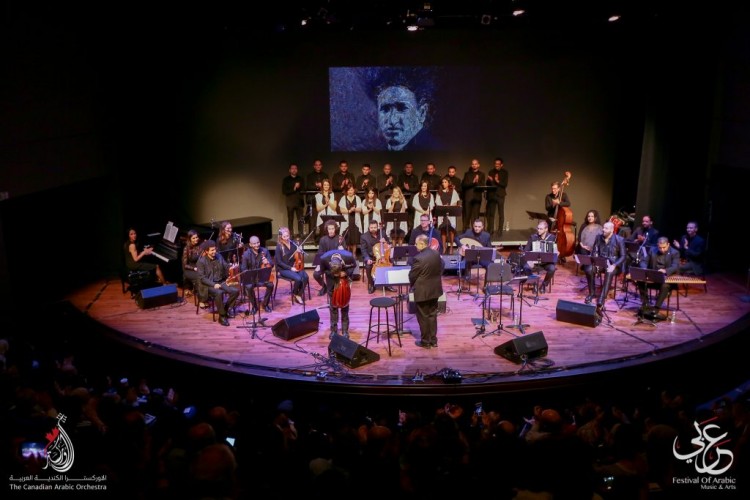 The third annual Festival of Arabic Music and Arts (FAMA), presented by the Canadian Arabic Orchestra (CAO), graces venues across the Greater Toronto Area, Montreal and Halifax in more than 12 concerts, shows and plays from October 25 to November 10. This year's festival will include a satirical play, a comedy show and concerts covering several genres, including one aimed at children.
Ever since its establishment in 2015 by the husband-and-wife team of qanun (Arabic zither) expert/orchestra president Wafa Al Zaghal and pianist/music director Lamees Audeh, the Mississauga-based CAO has sought an inclusive modus operandi.
In a 2017 phone interview, Audeh stated that "we wish to connect expatriate Arabs with their classical Arabic musical culture… maintaining this cultural heritage in the hearts and minds of the Arab community in Canada and presenting it to future generations. But at the same time, we want to engage with all non-Arab communities. Our aim is to build bridges between Canada's diverse communities... through music."
FAMA's programming shows both objectives at work.
In my November 2017 column First FAMA Fall Feast Continues, I spoke with two longtime Toronto Arabic music scenesters about FAMA's place in the local musical community. George Sawa, a renowned scholar, qanun player and music educator, vividly recalled what it was like here in the 1970s. "At the time, Arabic music [in Toronto] was mostly encountered in cabarets and clubs which featured belly dancing." He further observed that the GTA's Arabic community has grown considerably in the past few decades. "For example," he added, "I think it's very significant and healthy that before securing support from Canadian Arts Councils, the Canadian Arabic Orchestra initially sought patronage from local Arabic businesses who believed in what they were doing."
In 2017, I also spoke with York University ethnomusicologist and multi-instrumentalist Rob Simms, a specialist in Middle Eastern and West African musics. Simms reminded me of the devastation to cultural life impacting large swathes of Iraq and Syria as a consequence of sustained armed conflict in recent years. One of the results of this upheaval has been the displacement of millions of Iraqis and Syrians. Many have found themselves as refugees in foreign lands, including Canada.
Here are five highlights of this year's upcoming Festival of Arabic Music and Arts.
1. Carole Samaha - October 25, Living Arts Centre
Carole Samaha, one of the world's top Arabic music, film and theatre divas, opens the festival on October 25 at Mississauga's Hammerson Hall at the Living Arts Centre. Winner of the "World Music Award" for best performer in the Middle East (Monaco 2014) and other prestigious international awards, the Lebanese star launched her career as an actor at Beirut's Drama Theatre, eventually starring in five popular TV soap operas. Refocusing a few years later to develop a solo pop singing career, in 2004 she won the Arab Music Award for best female newcomer. To date she has released six studio albums, each with charting songs.
The YouTube video of Samaha's show at the 2016 Byblos International Festival in Lebanon shows her in full-on diva mode. There are gown changes, costumed dancers, elaborate background videos, a large band and choir, and even a passionate Miley Cyrus cover in English. Thematically the show is a pop music pageant of the millennia-long history of her home region's peoples, including Phoenicians, Assyrians, Greeks, and Romans up to the present-day Lebanese. No matter what songs and production values she brings to Hammerson Hall, I'm sure Samaha's concert will convert that Mississauga venue into a temporary centre of Lebanese identity.
2. Hamza Namira - October 26, St. Lawrence Centre for the Arts
On October 26, Hamza Namira and his band play the Jane Mallett Theatre, St. Lawrence Centre for the Arts in downtown Toronto. Namira is a Egyptian singer-songwriter and multi-instrumentalist. In the early 2000s he established his band Nomaira, with which he has toured internationally and released four albums.
One thing that distinguishes Namira from fellow Arabic singer-songwriters is his avowed interest in regional Arabic folk song. In 2016 he launched a series titled Remix on the pan-Arab TV channel Al Araby. The popular series, filmed in a number of countries, featured Namira collaborating with singers, musicians and music groups, then remixing their traditional songs in line with contemporary pop aesthetics. It's a safe bet his October 26 concert will feature his brand of Arabic pop with distinct folkloric musical touches.
3. Oumeimah El Khalil - October 27, Armenian Youth Centre
On October 27, the veteran Lebanese singer Oumeimah El Khalil takes the Armenian Youth Centre stage in North York. Already a singing star at an early age in the 1970s, at the pinnacle of her career El Khalil commanded international stages like Sydney's Opera House, the Barbican Centre, Queen Elizabeth Hall in London and Montreal's Place des Arts.
With a sweet, light, flexible and expressive soprano, El Khalil specialises in rendering the poetry of leading Arabic writers. Audiences can expect songs with universal themes by masters such as Mahmoud Darwish, Charbel Rouhana and Marcel Khlaifeh.
4. Greek Arabia (November 7) and Maghrebian Night (November 8), Aga Khan Museum
One of the more intriguingly-themed festival concerts is Greek Arabia, presented in associate partnership with the Aga Khan Museum on November 7. The CAO takes the audience on a musical journey mixing Greek and Arabic musical cultures. According to the FAMA website, the program promises to "transcend geography and the ages, speaking to us in one language, the language of love."
Also in associate partnership with the Aga Khan Museum, FAMA presents Maghrebian Night on November 8 at the Museum. The CAO celebrates the music of the Maghreb region—Libya, Tunisia, Algeria and Morocco—with sounds that "carry the smell of the sea and the warmth of the sun."
5. Musical Tribute to Arabic TV - November 10, Metro Toronto Convention Centre
FAMA's 2019 music series concludes on November 10 with a concert at the 1,200-seat John Bassett Theatre, Metro Toronto Convention Centre. The CAO and Choir will perform "their largest production ever," featuring theme music and songs from some of the best-loved Arabic TV series of the last three decades. This is certainly a must-see for Arabic vintage vernacular music and TV show fans.
The Canadian Arabic Orchestra's 2019 Festival of Arabic Music and Arts (FAMA) runs from October 25 to November 10, in various locations throughout Montreal, Halifax, and the Greater Toronto Area.
Andrew Timar is a Toronto musician and music writer. He can be contacted at worldmusic@thewholenote.com.