When Frank Zappa was a young teenager in high school he bought an Edgard Varèse album (The Complete Works of Edgard Varèse, Volume One) that spoke to him; the Rite of Spring excited him, too, as did an album by Webern. From the age of 14 he wrote chamber music; he was 22 before he wrote a lyric. Indeed, the influence of Varèse is audible in much of his music. In Thorsten Schütte's absorbing, revelatory documentary, Eat That Question: Frank Zappa in His Own Words, it's never clearer than when we hear Pedro's Dowry (1979) with its distinctive 20th-century noodling. Schütte spent years "snuffling out Zappa truffles in television archives, finding an amazing treasure trove of interviews, TV appearances and concert recording" before celebrating the man and his extraordinary musical and political legacy through the prism of this archival footage in his finished film.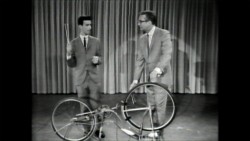 Excerpts from 28 of Zappa's compositions, including the very early Improvised Piece for Two Bicycles, Pre-Recorded Noise and Orchestra he performed on the Steve Allen Show in 1963 (alongside the bemused host), make up the rich soundtrack. Fascinating archival footage ranges from two interviews from the 1980s with Chuck Ash, a Pennsylvania State Trooper in full uniform, to a remarkable reception by Czech president Vaclav Havel which formalized the state acceptance of his music by a country whose citizens first fell in love with it in 1972 causing it to be banned by the then Soviet bloc country.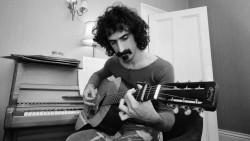 With his unruly hair and soul patch, Zappa appeared to embody the 1960s generation gap, his appearance alone an affront to straight society. Yet he barely tasted cannabis and banned drug taking by his band on road trips. A master showman whose acute social observations led to lyrics that caught the zeitgeist (while mocking and offending the establishment), Zappa was an articulate defender of free speech and a self-proclaimed conservative with a wife, four children and a mortgage. A gifted guitarist who led small and large groups of musicians, he considered himself primarily a conductor who was also the music's composer.
For a man who "always wanted to be a serious musician," who hired the London Symphony Orchestra and the 31-year-old Kent Nagano to perform and record several of his complex scores in 1983, and who believed that "the whole body of my life is one composition," it's fitting that Schütte's final images of Zappa in the film show him conducting Varèse's Ionisation (the only music in the film Zappa didn't write).
Eat That Question: Frank Zappa in His Own Words began its exclusive Toronto engagement at TIFF Bell Lightbox July 8.