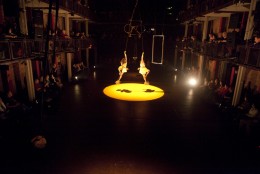 New music isn't exactly known for its accessibility. It gets a bad rap—sometimes unfairly—for being esoteric and exclusive. Circus, on the other hand, is the opposite—often stereotyped as empty, mindless spectacle.
Balancing on the Edge, a local music-and-circus collaboration at the Harbourfront Centre last weekend, showed audiences just how wrong both of those assumptions can be.
A co-production from Thin Edge New Music Collective and A Girl in the Sky Productions, Balancing on the Edge (November 18-19) combined six contemporary compositions with six contemporary circus acts. At the closing night show on November 19, the artistic directors of both companies introduced the production by bringing up their own definitions of new music, and the analogous "new circus." Thin Edge directors Cheryl Duvall and Ilana Waniuk spoke about their focus on performing music that reflected all aspects of modern life. Rebecca Devi Leonard identified her circus company as part of a "post-Cirque-de-Soleil" tradition, and spoke about reinventing the spectacle of circus to find something imaginative and honest. The result: a performance where emotive storytelling is put front and centre—and an example of contemporary multimedia at its very best.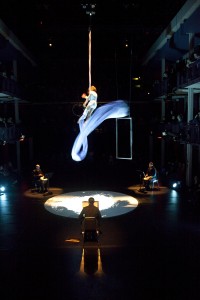 Each half of the two-part program comprised three main acts, as well as a transitional clowning interlude. The show featured the circus performers on aerial silks, ladder and other suspended apparatus, as well as juggling, clowning, and dancing with flaming torches. Thin Edge musicians supplied the musical component, performing works by Nicole Lizée, Iannis Xenakis, John Cage and David Lang, as well as premieres by composers Scott Rubin and Nick Storring.
Music and circus alike proved technically impressive and emotionally potent. The show opened with Magma, a double choreography with fire, stones and aerial ropework set to Nicole Lizée's Phonographenlieder for string quartet, piano, percussion, voice and turntables. Here, circus artists Diana Lopez and Rebecca Carney performed with seamless fluidity, while DJ Paulo Kapunan and vocalist Andrea Ludwig in particular brought Lizée's pop-like, polystylistic music to life. Other standout acts included Excavating Meaning, where aerialist Brandy Leary and composer Nick Storring took the bossa nova ballad as a starting point for a profound meditation on sadness, stillness and grief; and Ghost Bicycle, an aerial choreography on a suspended bicycle frame that followed the death and afterlife ascension of a young cyclist, set to David Lang's 1993 piece Cheating, Lying, Stealing. Throughout, the musicians of Thin Edge were a tight ensemble, playing with conviction and settling into their new role as circus accompanists with ease.
The only moment in the night that I found wanting was Ascension, a trio act for soprano and two circus performers on a ladder apparatus, using John Cage's Aria & Fontana Mix (1958/59). For me, Cage's repetitive glissandi in the soprano line and the act's back-and-forth ladder work lacked some of the immediate clarity of emotion and narrative that seemed so evident in the other pieces, as well as some of the internal structure necessary to generate non-programmatic interest. Having said that, soprano Stacie Dunlop's use of extended techniques (including a visceral, amplified vocal fry-like growling effect) meshed well with the backing electronics, and the circus artists' ladder work evoked a playful spirit of spontaneity—but I still couldn't shake the feeling that some structural or narrative element was missing. Neither wholly abstract nor explicitly descriptive, the act seemed at first viewing to lose its bearings in a vague, unfruitful middle ground.
Taken as a whole, Balancing on the Edge deserves the highest of praise. Skillfully combining new music with new circus, the two companies together found a combined means of expression that worked. They demonstrated a profound depth of emotion, and captured a musical-dramatic clarity that should serve as a high-water mark for what multimedial storytelling can do.
The performers and crews of both companies shone Saturday night, in a production that showed the modern spirit at its best. If their goal was to redefine what contemporary music, or contemporary circus, could be, they succeeded. If it was to tell modern stories in a visceral and relevant way, I was left in awe.
TENMC and AGITS Productions' Balancing on the Edge was presented November 18-19 at The Harbourfront Centre. For details on the show, visit www.balancingontheedge.com. Photo credits: Miklos Legrady.
Sara Constant is a Toronto-based flutist and musicologist, and is digital media editor at The WholeNote. She can be reached at editorial@thewholenote.com.
Updated: November 23, 11:15am.