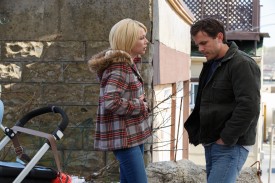 One of the year's best films, Kenneth Lonergan's Manchester by the Sea follows Lee (Casey Affleck) as he copes with his late brother's request that he serve as his 16-year-old nephew Patrick's guardian. Lonergan jumps back and forth in time to paint a fully formed picture of this emotionally scarred handyman/janitor, who has been living in Quincy, a working-class neighbourhood of Boston, since he moved down the road from the fishing village of Manchester after a personal tragedy.
The utter naturalism of the characters as they interact is characteristic Lonergan – real characters, real situations, real interactions – but now we're in the orbit of a mature filmmaker at ease with a world where tragedy doesn't preclude humour (and with the technical skills to convey it). Lucas Hedges as Patrick is one fount of situational comedy; the extraordinary Michelle Williams, as Lee's ex-wife, is another.
Mirroring the action (and the evocative cinematography – especially of Manchester's rows of small hillside houses lit up in the flickering night) is an original score by Toronto-born Lesley Barber (who worked with Lonergan on You Can Count on Me). Uncannily, her score can suggest an element of uncertainty or trepidation at the same time as it expresses calm or warmth; as Affleck's emotions are reined in, unleashed or in a holding pattern, as the case may be. It's an award-worthy performance.
Barber, who began writing the music at the script stage, was inspired in part by 17th-century New England Puritan hymns and threnodies. One element she uses is a haunting, ethereal, soprano a cappella tune (sung by Barber's daughter Jacoba, a third-year music student at McGill who sings in Opera McGill). Another is a minimalist piece for piano and strings with repetitive broken chords reminiscent of Philip Glass, suddenly interrupted by painful sonic dagger thrusts that reflect what Lee is going through in the film.
Lonergan likes to use music as counterpoint. "It always feels right to have the music help you step back a little and look at the whole environment, not just the characters' experience," he told Variety. In that vein, Lonergan supplemented Barber's score with excerpts from Handel's Messiah, Albinoni's Adagio for Strings and Oboe Sonata and a resonant cover of I'm Beginning to See the Light by the Ink Spots and Ella Fitzgerald.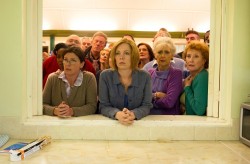 Rufus Norris' London Road is a film adaptation of The National Theatre's groundbreaking musical by Alecky Blythe and Adam Cork about the "Suffolk Strangler" murders in Ipswich in 2006. London Road uses the townspeople's own words describing the events they lived through as the basis for the show's lyrics, creating a fresh and arresting re-imagining of the form. The emotionally empathetic Tom Hardy is one of the townspeople. Watching London Road was an exhilarating experience to the point of walking out of the theatre humming the catchy tunes. This mesmerizing musical hybrid, as satisfying as it was innovative, is at its core a hymn to humanity.
Manchester by the Sea is currently playing at Cineplex Varsity & VIP. London Road can be seen at Cineplex Yonge and Dundas & VIP.
Paul Ennis is the managing editor of The WholeNote.