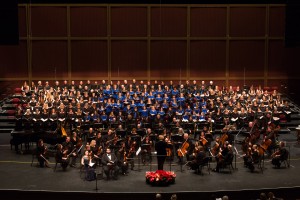 Kitchener, ON – The biennial Leslie Bell Prize was awarded to Mark Vuorinen, artistic director of the Grand Philharmonic Choir, at the choir's Christmas Homecoming concert on Sunday December 11, 2016. Granted by the Ontario Arts Council (OAC), the award is a $10,000 prize that recognizes exemplary emerging choral conductors.
Vuorinen has long been part of the arts in Kitchener-Waterloo. As the artistic director of the Grand Philharmonic Choir and assistant professor at Conrad Grebel University (the home of the music program at the University of Waterloo), Vuorinen contributes to a robust arts environment in the Kitchener-Waterloo area. Before completing his master's degree from Yale in conducting and a doctorate in music from the University of Toronto, Vuorinen also studied at Wilfrid Laurier University as an undergrad.
"I think that Kitchener-Waterloo punches above its weight as far as arts and culture is concerned," says Vuorinen. "It allows for a large organization like [the Grand Philharmonic Choir] to perform not only the staples of the literature, like Handel's Messiah and Mendelssohn's Elijah, but also to take risks with beautiful new works." The choir continues to provide high-calibre premieres of stellar choral works, including the Canadian premiere of Jonathan Dove's There was a Child on this concert, and a premiere last month of James Whitbourn's Annelies.
The concert saw over 200 choristers perform, accompanied by the Kitchener-Waterloo Symphony Orchestra. These two arts organizations continue to have a synergistic relationship. Vuorinen highlights Britten's War Requiem, Mendelssohn's Elijah, and the upcoming Beethoven's Missa Solemnis, all three of which are combined performances of the choir and orchestra.
Jessica Deljouravesh from the OAC presented the award at the concert, where the OAC jury described Vuorinen as "an impressive musical communicator…a strong leader…[who] has enhanced the presence of choral repertoire in Kitchener-Waterloo, both inside and outside of the concert hall." Luisa D'Amato, executive director of the Grand Philharmonic Choir and family of choirs, seconded this sentiment while introducing Vuorinen, citing a "sensitive musicality, enormous work ethic, relentless insistence on high standards, and the deep humanity [that] informs everything he does."
In his acceptance of the award, Vuorinen said that "conducting is by no means a solitary effort. While there is a lot of time spent alone in preparation and learning, the act of making music is a shared one." His speech came after the newest and youngest voices in the Grand Philharmonic Choir family, Viva and Voce, finished their performance. With a robust community of singers and talented leaders, Vuorinen's place at the helm of these organizations exemplifies his commitment to sharing music.
The Grand Philharmonic's concert "Christmas Homecoming," where Mark Vuorinen was presented with the Leslie Bell Prize, took place on Sunday, December 11. For more information about the choir, visit www.grandphilchoir.com.
Follow Brian Chang on Twitter @bfchang. Send info/media/tips to choralscene@thewholenote.com.