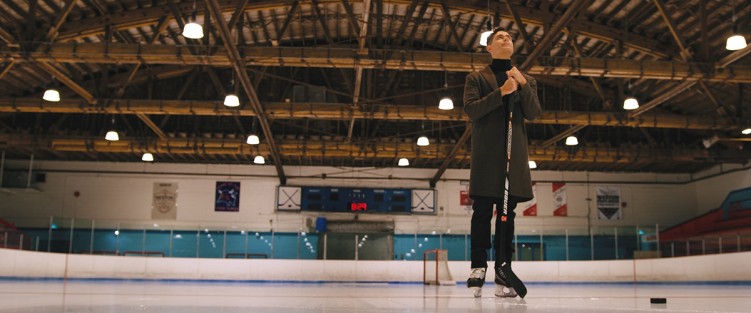 No performing arts organizations can pretend they don't exist in a specific time and place – responding to cultural and political moments of the right now, even when the music they perform comes from very different times. Choirs are grappling with the loss of rehearsals and live performances, but they are also grappling with the overlapping realities of fighting for justice and emancipation in a very complex world.
Messiah/Complex is an upcoming new digital performance from Against the Grain Theatre (AtG). Artistic director Joel Ivany and his innovative team are taking the Handel and Jennens masterwork and breathing it alive with diverse voices, languages and cultural inspiration of people across Canada. Ivany has been joined by Reneltta Arluk, director of Indigenous arts at the Banff Centre. Together they have assembled a vast collection of performers representing every province and territory. The WholeNote had a chance to connect with artistic director Joel Ivany to share just what a complex Messiah looks like in our times. "There are complex layers to this work," AtG's Ivany shares. "Handel, himself, had investments in the Royal African Company. This means that he profited off of slave trade during the 1720s and 30s."
Connecting the history of the work to its time and place is necessary to connect to our time and place, he says. "We've asked Indigenous artists to learn settler music set to Biblical text. They have interpreted it and now sing it in their own language. We want to reconcile our relationship with First Nations, but it's not easy; there are layers and it is complex. We want to support our Black, Indigenous and People of Colour community, but there's no easy answer or quick fix."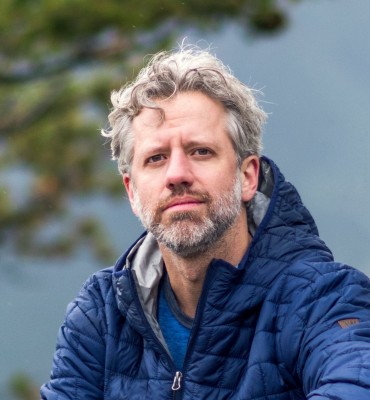 "When we all witnessed the protests around Black Lives Matter, our company decided that we would use what space we have to be agents of change," says Ivany. "We therefore committed to finding soloists from different backgrounds and featuring them in the videos that we would create. That turned into a multi-lingual, cross-cultural presentation that kept growing as our lists of artists began confirming."
Reimagining Handel and Jennens' Messiah is in and of itself nothing new: it has been a tradition of the masterwork for centuries. Handel himself changed which songs were performed as part of the complete work depending on where he performed it, the performers and the audience. Annual visitors to the Toronto Symphony Orchestra and Toronto Mendelssohn Choir performances of Messiah will hear different sets of music, different instrumentation, and different solos depending on who the conductor is and their vision of this complex work.
In 2019, the TSO and TMC presented the Mozart interpretation of the Messiah under the baton of Alexander Shelley. Every year, Soundstreams presents its evolving Electric Messiah with different sets of musicians. And Tafelmusik presents its consistent period interpretation under Ivars Taurins every year. These are staple performances that go hand in hand with dozens of other performances by choirs of every size across Southern Ontario.
This year, though, you won't find the usual plethora of Messiahs being performed across the region, but you will find this daring imagining by AtG.
A Complex Undertaking
"We were already planning on remounting our staged and choreographed production of AtG's Messiah pre-pandemic," shares Ivany. "As the world changed, we realized we wouldn't be able to do what we had wanted. We weren't sure if the world was moving towards digital or if this would be a pause." Like so many performing arts organizations, AtG's plans have started, been cancelled, and reimagined in different ways. "No one expected, nine months on, that we'd be facing a Christmas season without live music" Ivany continues: "The longer the pandemic went on, the more our thinking began to shift. We thought that the winter wouldn't have the usual presentations of Messiah, so we decided to pivot, to be more ambitious instead of less as this project evolved."
"We've had to be very aware of travel restrictions and COVID protocols in each of the provinces and territories. That has definitely been a challenge. We also had to reimagine how we can record." Some of the Atlantic artists were in the Atlantic bubble with very different public health guidance than Toronto."
There are six languages, twelve soloists and four choirs as part of the project. Johannes Debus is leading the Toronto Symphony Orchestra in the instrumental tracks. These recordings have been the backbone of the tempi and dynamics. All of the singers performing have the backing tracks to record their contributions.
Doug Doctor is mastering the audio and working with Stephen Bell and Coffeeshop Creative in the videos that will make up the final 70-minute work. Ivany is excited about the end results, "We're going to be amazed at how vast and grand the land is that we live on and how lucky we all are to be connected."
Breathing Diversity into Complex Times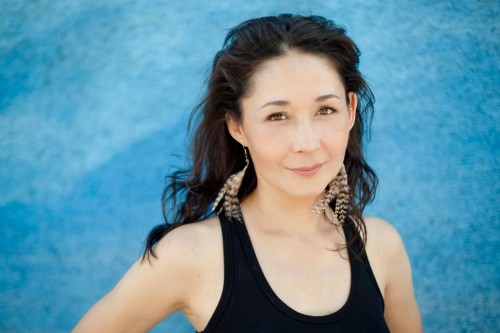 The breadth of artists being assembled for this project is remarkable. As the AtG release for the show notes: "This interpretation of Handel's enduring holiday classic really is national in scope, with singers participating from every province and territory in Canada." And in the same release, Reneltta Arluk asks: "How can we sing, act, write, speak, create art with one another in ways that allow for full, uncompromising voices to be heard?"
And her answer? "By having the courage and vulnerability to trust that what we feel and hear will help us grow to be a better community and ultimately a better country."
This project includes a new Inuktitut translation of the Jennens libretto. Older translations have been found as far back as the 19th century in Labrador. "Our work reimagines this standard oratorio by illuminating the diversity of artists across what we now call Canada," says Deantha Edmunds, who identifies as Inuk and is a resident of Newfoundland and Labrador, in the AtG release. "It is a joy to sing one of my favourite Handel arias in Inuktitut, as translated by a respected Elder and teacher in Nunatsiavut."
"AtG has always looked to find ways to breathe new life into older works as a way to see and hear them in new ways," says Ivany. "We've done that with this very piece when we've presented it as a staged and choreographed work. We've gone a bit further this time with translations and interpretations as well as having many soloists and even having a mezzo sing a traditionally sung baritone number. It's to shake it up a bit and to show that we can still present it beautifully and differently."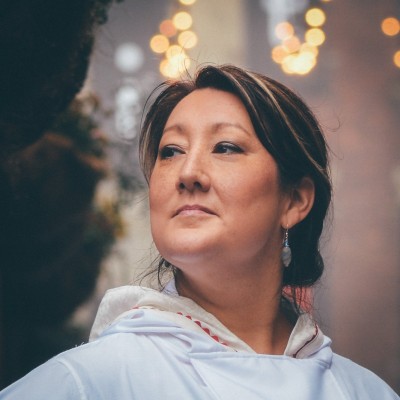 Against the Grain Theatre's 70-minute, pre-recorded video features voices from across Canada: Cree-Métis baritone Jonathon Adams; Inuktituk singer Looee Arreak; British Columbia tenor Spencer Britten; Canadian-Tunisian Rihab Chaieb in Montreal; Inuk singer Deantha Edmunds in Newfoundland and Labrador; Dene singer-songwriter Leela Gilday in Northwest Territories; Lebanese-Canadian soprano Miriam Khalil; Saskatchewan soprano Andrea Lett; Diyet van Lieshout, who sings in Southern Tutchone, from Yukon Territory; Métis singer Julie Lumsden; and Toronto baritone Elliot Madore; and is accompanied by the Toronto Symphony Orchestra conducted by Johannes Debus.
Messiah/Complex premieres on December 13, 2020 at 8pm and will be available on demand until December 26, 2020. You can register online at atgtheatre.com
Create Your Own Messiah
Over the course of a normal December, the Toronto Symphony Orchestra would fill Roy Thomson Hall with over 25,000 patrons with their holiday offerings. The Four Seasons Centre for the Performing Arts would be filled continuously every evening through December with the music of Tchaikovsky's Nutcracker. Churches across the city from Kingsway United to Grace Church on-the-Hill to Morningstar Christian Fellowship would be filled with glorious festive music. There is no way to offset the loss of the communal experience of music this season, but that doesn't mean that your homes should be quiet.
Explore some of the recordings released this month. The WholeNote contains lots of great reviews and information on new offerings. And there are classic options you can find wherever you stream your music, YouTube Music, iTunes, Spotify, and throughout the season with our radio colleagues at Classical 96.3 FM.
Indulge in the clear, ringing beauty of Kathleen Battle in the classic and much-loved Toronto Mendelssohn Choir and Toronto Symphony Orchestra recording of 1987.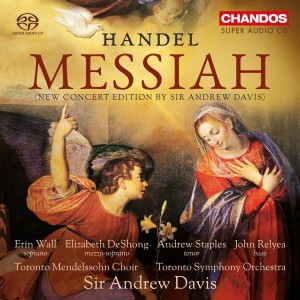 Mark the passing of Erin Wall in the most recent 2016 Toronto Symphony Orchestra reimagining of Messiah by Sir Andrew Davis featuring fellow soloists Elizabeth DeShong, Andrew Staples, and John Relyea. Wall's beautiful memory will live on in this performance.
Hear the clarity and focus of the final "Amen" in Tafelmusik's super-popular period recording from 2012. This album is a standard go-to for anyone looking for a more traditional Messiah.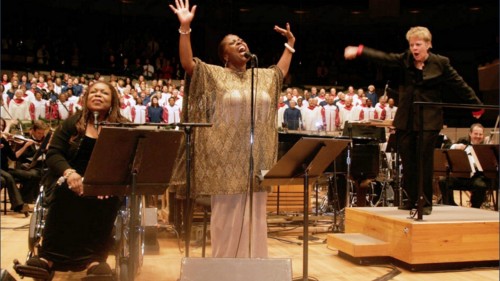 Enliven your tree decorating with Too Hot to Handel: The Gospel Messiah led by Marin Alsop in 1993 and performed around the world annually. Only available on iTunes, this recording with the Colorado Symphony dares you to try to listen without feeling good, tickling your ears with new, dynamic, energetic inspiration weaving in and out of the music you know so well.
And on December 13, 2020, catch the launch party of Messiah/Complex with Against the Grain Theatre.
Digital Concert Quickpicks
The Toronto Children's Chorus presents A Chorus Christmas: Holiday Journeys. The annual Christmas Concert put on by the Toronto Children's Chorus is a huge affair with hundreds of performers spread across the stage and into the rafters of Roy Thomson Hall. This year, the many choirs making up the TCC community join together for a digital concert this year. The TCC Alumni Choir has a long tradition, bringing back familiar faces to sing lobby carols. This year, the alumni will be recording a virtual choir presentation of "Hark the Herald Angels Sing." December 19 and 20. Register at www.torontochildrenschorus.com.
The Elora Singers present an ambitious three-concert series for the holidays. A Quiet Village, December 5. A Village Messiah, December 12. And A Festival of Carols, December 19. All online at www.elorasingers.ca. A Quiet Village features harpist Julia Seager-Scott and works by Canadian composers Tawnie Olson and Marie-Claire Saindon. The feature is Britten's Ceremony of Carols for mixed choir (originally written for a treble choir). Wolcum Yole!
For a fun sing-along, the Guelph Chamber Choir is crowdsourcing some holiday cheer with a livestream carol sing-along on December 13 at 7pm. They've been working towards a virtual recording of Mozart's Laudate Dominum which will have its premiere during the concert. Check them out on Facebook for more information.
If you're watching the AtG Messiah/Complex on December 13 and miss the Guelph Chamber Choir, you can have another chance to participate in a sing-along with the Amadeus Choir on December 15. The choir is hosting a "Virtual Carolling Party." There will be an hour of fantastic favourites; all livestreamed with special guests, performances, and festive cheer. Register online at www.amadeuschoir.com.
Whatever you do this season, add some music to your holiday, with a safe livestream or your favourite recordings.
Follow Brian on Twitter @bfchang.
Send info/media/tips to choralscene@thewholenote.com
*Updated 11/12/2020 (3pm EST). A previous version of this article provided inaccurate information on the translation history of the Jennens libretto.