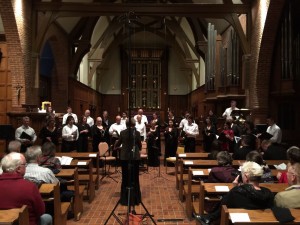 Carols are unique to the holiday season. At this time of year, they're on the radio, humming in the back of our heads, in the malls as we shop, and often on the street being sung or played by musicians across the city. These ubiquitous songs cover every emotion possible: sad, happy, joyful, peaceful, funny, odd, and so much more. And it's a challenging thing to program carols; people want to sing, people want to participate. Many choirs do just that and invite you to sing along!
In the smattering of concerts I've attended and performed in the last few days, communal singing has featured quite heavily. And why not! It's fun, joyous—and how often can you find a venue with 1000 people singing?
On Wednesday, December 7, I sang in the Toronto Mendelssohn Choir's performance of Festival of Carols under the baton of Noel Edison. Audience participation always features quite heavily in these productions and it's good fun. Already a large choir of 130, the choristers were joined by the Salvation Army staff band and organist David Briggs. For anyone who has been to Yorkminster Park Baptist Church, it has one of the largest organs in the city, with a huge sound. Participating in these carols is fun and pleasing—especially if you're lucky and can hear yourself over all the instruments.
This year's communal offerings featured Once in Royal David's City, O Come All Ye Faithful, God Rest Ye Merry Gentlemen, and The First Nowell. Perennial favorite, Hark the Herald Angels Sing, also made an appearance. This is one of my favourite carols, and the version most people know was written by the choir's namesake himself, Felix Mendelssohn. This is the place to go if you want earth-shaking bass from the organ vibrating through your soul. Unfortunately, though, these concerts end up being a bit of a screamfest, trying to articulate and be heard over insurmountable noise from the organ and brass band. Sadly, choirs will always lose against a brass band.
On December 9, I caught Exultate Chamber Singers under Hilary Apfelstadt, which presented A Time for Celebration: A Canadian Christmas. Hilary programmed Stephen Chatman's Christmas Joy, a medley of several traditional carols of British origin. With over 15 years of choral singing under my belt (half of my lifetime), I'm not often surprised by a new carol. In the medley, however, Noel Nouvelet and Lo! How a Rose, e'er Blooming were new to me. Accompanied by a brass quintet and organ, this was not a screamfest; it was so pleasant. The choir also presented a rare sing-along version of Timothy Corlis' O Magnum Mysterium, and finished the concert with a new arrangement of Silent Night by chorister and composer J. Scott Brubacher—a beautiful treat, with a haunting bridge set to a rolling melody throughout the choir on the word "sleep".
Apfelstadt has done an exemplary job featuring Canadian choral writers both old and new in her programming. Exultate is one of those choirs in which the artistic strength of the organization is met with equal talent amongst the musicians. The blend is formidable, and most of all, there is restraint. These choristers are always effective at singing with a wide dynamic range without losing intensity and intentionality, and—with the exception of one stray tenor from time to time—are balanced at every volume.
Exultate performs in a small church on the University of Toronto campus that I did not know existed: St. Thomas Anglican Church. This gem of a building features minimal soft fabrics, no carpet, and lots of wood. The vaulted ceiling carries the sound upwards where it rings. The resulting effect was a warm, present, resonant sound, where even with an organ and small brass quintet nothing was overpowering. Such a difference from the Toronto Mendelssohn Choir, with the 30-person brass band and giant organ deafening everyone. A community affair, Exultate's boisterous intermission of food and camaraderie and post-concert drinks at the Duke of York—the traditional post-show pub for anything at the U of T Faculty of Music—were a delight.
Moving on to Kitchener, on December 11 the Grand Philharmonic Choir provided another new addition to my ear at their Christmas Homecoming concert: the carol See Amid the Winter Snow. The adult choir was joined by the other three choirs in the organization: Viva (ages 7-9), Voce (ages 10-14); and the Grand Philharmonic Youth Choir (ages 14-23)—all together, over 200 choristers. The youngest choir's performance of Chatter of the Angels was incredibly charming.
The feature was Jonathan Dove's There was a Child, a collection of poems set to music and selected to commemorate the death of a young man of 19. Here, the choir was accompanied by the Kitchener Waterloo Symphony Orchestra, soprano Jacqueline Woodley, and tenor Andrew Haji.
The children's choirs provided a jovial, playful sound through some of the poems, highlighted by melodies in the bassoon and clarinet, while the adult choir provided the meat of the choral work. Unfortunately, even with a book of lyrics in hand, the choir was mostly inaudible throughout the entire performance. The choir was set back about ten metres from the edge of the enormous stage; no voices could've cut through that much distance over an orchestra, not even 200 of them. I also felt that the placement of percussion adjacent to the audience was inappropriate: the bass drum was overwhelming, the cymbals startling, and even the triangle felt intrusive throughout this performance.
After the concert there was a lovely spread of baked goods, coffee, juices, and tea. Baking, good music, and happy people are a good mix. There was so much to eat, I imagine that there are some avid bakers among the 200+ performers. The strength of this family of choirs continues to provide a model for effective arts administration and synergy.
All of these concerts demonstrate that carols—perennial though they may be—can be refreshing, fun, and joyous. Effective conductors will program music that invigorates and excites both their audiences and their choristers. This is certainly no easy task, to take some of the most overperformed music ever written and make it seem new and exciting, but a good artistic director sees merit in carols, old and new. After all, we only get to sing them once a year.
Follow Brian Chang on Twitter @bfchang. Send info/media/tips to choralscene@thewholenote.com.