A bittersweet love story, a song-and-dance musical and an aspirational fable of dreamers pursuing their ambitions, Damien Chazelle's ebullient La La Land jumps off the screen from its breathtaking first scene and never lets up. Embracing an aesthetic that unites the Jacques Demy/Michel Legrand musicals The Umbrellas of Cherbourg and The Young Girls of Rochefort with the lush Technicolor Gene Kelly films of the 1950s, Chazelle and his musical soulmate Justin Hurwitz (they met at Harvard as teenagers) plunge us into an alternate universe that is part retro and part contemporary, where the fantasy is grounded by the reality of the showbiz life.
Mia (Emma Stone) is pursuing an acting career; Seb (Ryan Gosling) is a jazz pianist, rooted in his love of classic mid-20th-century music, "pure jazz." They meet briefly in that first scene, a surreal six-minute song-and-dance number on an LA freeway during a traffic jam. Over the next two hours their relationship with their art and each other develops with the help of a half dozen tunes, two of which, Audition and City of Stars, are particularly memorable. In fact, six weeks after I first saw the film at TIFF, I still remembered the understated, sinuously melancholic melody of City of Stars.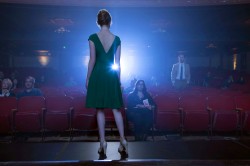 Last summer Hurwitz spoke to Variety about his process and how some of the best songs in the movie happened the most effortlessly: "City of Stars started at the piano with me just working on demos for Damien, sending him ideas until something really sparked…We went through a lot of ideas, but I can't really think of any music I was listening to at the time that I was thinking of when I was writing it. I was just composing it from an emotional place and thinking about the tone. I would say the tone is hopeful, but melancholy at the same time. And it kind of goes back and forth between cadencing in major and cadencing in minor, because I think that's kind of what the song is about. You have these great moments and then you have these less great moments in life and in Los Angeles and we see it happen in the story. I was thinking about that idea a little bit and just trying to compose a melody that I thought was shapely and beautiful."
Just as La La Land is Chazelle and Hurwitz's third feature together (after their brilliant debut, the black and white Nouvelle Vague-inspired musical Guy and Madeline on a Park Bench and their breakthrough hit Whiplash), it's also Gosling's and Stone's third collaboration (Crazy, Stupid, Love and Gangster Squad), unusual these days. While they're not exactly Fred Astaire and Ginger Rogers, their naturalism and star power more than make up for it. If you're keeping score, Gosling's a little surer of foot than Stone but her singing skills surpass his. The fact that both Audition (Stone's career-making plaintive showstopper: "Here's to the ones who dream, Foolish as they may seem") and City of Stars were recorded live as they were filmed is telling, if not extraordinary.
Ultimately, it's Chazelle's and Hurwitz's vision that makes it all work. Mia and Seb even have their own theme; it begins inauspiciously and simply on the piano, grows and recurs as the narrative demands, and changes like the four seasons in which the film is set. You may even be humming it as you leave the theatre walking on a cloud.
La La Land is currently playing at a number of Cineplex Cinemas.
Paul Ennis is the managing editor of The WholeNote.