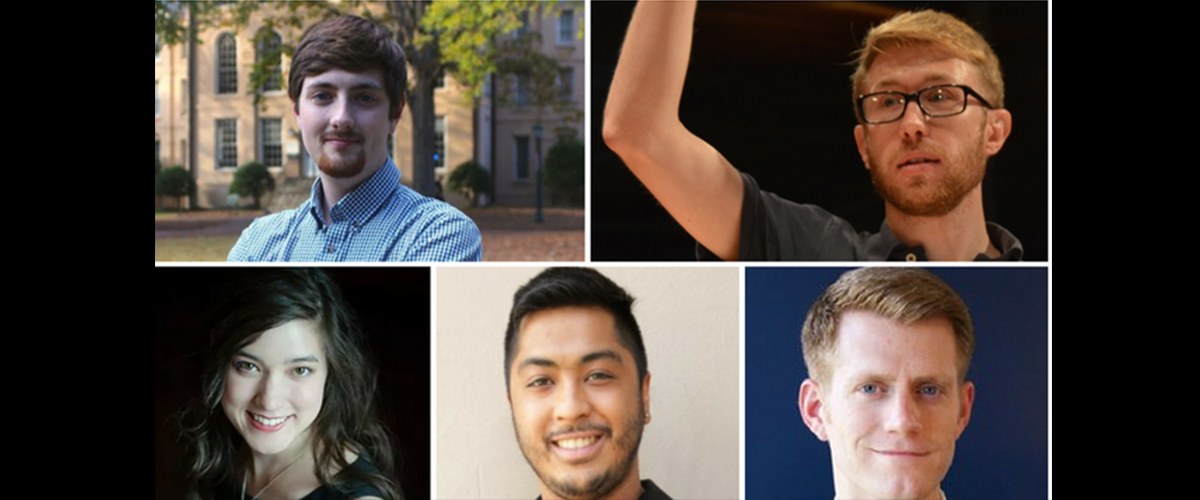 Twenty years ago, Noel Edison took the reins of the Toronto Mendelssohn Choir (in which I sing). Even then he knew it as "one of Canada's great cultural institutions." Predating every other major symphony orchestra and major arts organization in Canada, the choir has operated continuously since 1894 – and since 2010, it has hosted one of the preeminent training symposiums for emerging conductors in North America. This year, five candidates will workshop with Edison, associate conductor Jennifer Min-Young Lee, the Elora Festival Singers, and the Toronto Mendelssohn Choir over a one-week intensive. The week culminates in a free concert on Saturday, January 28, 3pm at Yorkminster Park Baptist Church in Toronto.
I got in touch with this year's participants, to talk early influences, choral philosophies and personal musical goals.
Lawrence Abernathy
College Station, Texas
Lawrence Abernathy, from College Station, Texas, says, "once or twice a year I like to remind my choirs that one of the most beautiful things about choral music is the anonymity of it all… for a few hours a week your voice is just as important as everyone else around you. You get to be yourself and part of a larger organism at the same time. I believe that the best choirs are those whose members are focused not on themselves, but the collective whole around them." It is a humble reminder and one that bears often repetition.
"One of the great things about being in sacred music," Abernathy says, "[is that] our inherent mission is social change. I personally take a lot of care in making sure that the ensembles I conduct are open to anyone regardless of race, creed, or any other perceived barriers."
Abernathy is director of music ministry at A&M United Methodist Church, right across the street from one of the largest universities in the US. At a whopping 60,000 students, unfortunately, Texas A&M University does not have a degree music program. In the middle of a geographic triangle anchored by Austin, Dallas/Forth Worth and Houston, Abernathy notes that "any music-making I do outside of my job includes a 3-hour minimum round trip commute." It's a reminder that local choristers, conductors, audiences and musicians are very lucky to live in the robust arts world of southern Ontario.
Hana J. Cai
Rochester, New York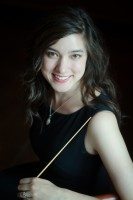 As far as early musical influences go, Elton John was and continues to be a favourite of Hana Cai, an Eastman College graduate conducting student in Rochester. As a child she would sit at the piano wearing heart-shaped glasses rocking out to Elton John. As the only conductor to note the Hamilton soundtrack on her list of influences, Cai isn't daunted by differences in musical genres. She sings in conventional choirs and in an early music group, but also plays as an accompanist for a popular musical theatre group and a jazz band.
"I'm a musician with an eclectic musical background," says Cai. "Yes, I grew up playing and listening to classical music my whole life, but I played and listened to a lot of other music too. As a classical musician, the music you do outside of the classical genre can enrich and inform what you put back into your classical music."
Cai also advocates for accessible concert programming, "especially because not everyone can afford the concert hall experience."
Dr. Jonathan Harvey
Belchertown, Massachusetts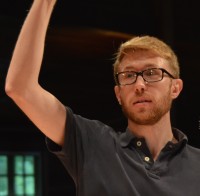 For Jonathan Harvey, professor of music at Fitchburg State University, Massachusetts, his parents love to tell the story of watching Purple Rain in theatre when Harvey was still in utero kicking away to the music.
Harvey believes that "community music organizations can be very effective vehicles for social change, primarily because they bring together people from many different backgrounds who would likely never meet otherwise."
Harvey looks forward to working with the choirs at the symposium. "I try to hold onto that initial sense of exhilaration and joy every time I get onto the podium – the idea that I'm very lucky to be there…I think that the first performance with an ensemble is particularly special – it's the galvanizing moment, when everything has to click together in a new way."
Matthew Swanson
Cincinnati, Ohio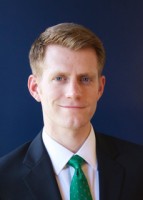 For Matthew Swanson, "performances consist of three simultaneous conversations: a conversation with the audience, with the other performers, and with the composer." He finds "new thoughts" every time he returns to the podium.
Ultimately, "audiences and communities must have art that is both relevant and well-executed. If either quality is lacking, the impact is lessened and the efficacy of the art comes into question," he says. The challenge for any conductor is attempting to be the vehicle of that conversation. It is a unique role and a "solitary one," as Noel Edison often says. The art and skill of communication is essential to an effective conductor.
From a region smaller than, but similar to, Toronto, Matthew Swanson conducts in Cincinnati where he regularly preps the choruses of the Cincinnati Symphony and Pops Orchestras. He is a tenor and teaches at the University of Cincinnati College – Conservatory of Music. In his approach to conducting, Swanson says that "the responsibility of an ensemble and its conductor is to determine what kind of art is relevant to a given community and how it can best become a part of [that] community's life cycle. Fortunately for us, humans have been singing for a long time, and there's a good chance that one can find a choral work to suit almost any aesthetic preference."
Walter Mahabir
Toronto, Ontario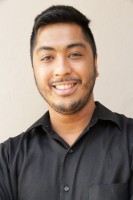 Walter Mahabir came to music through his family. The only Toronto-based conductor in the group, Mahabir was trained at St Michael's Choir School, but his family – especially his mother and grandparents – provided the real music, constantly singing around him. Mahabir joins the ranks of hundreds of St Michael's Choir School grads who have gone on to music careers.
Mahabir also believes strongly in accessible music, working as a teacher at the Regent Park School of Music in Toronto. "I hope that through music I can erase social norms, and embrace the ways of thinking that accepts all people regardless of race, sex, sexual orientation, or religious beliefs," he says. "I want my music to reflect the human experience, and to remind anyone who listens to any choir that I lead that the world could always use more love!"
Abernathy, Cai, Harvey, Swanson and Mahabir began their week at the Toronto Mendelssohn Choral Conductors' Symposium on January 23, and will present their work at a free concert on Saturday, January 28, 3pm at Yorkminster Park Baptist Church Toronto. Details at www.tmchoir.org.
Follow Brian Chang on Twitter @bfchang. Send info/media/tips to choralscene@thewholenote.com.