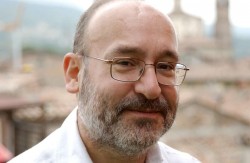 Salvatore Sciarrino (b. 1947), the world-famous Italian composer, was welcomed to Toronto in a concert at a well-filled Walter Hall on the evening of Sunday, January 29. Sciarrino is the Roger D. Moore Distinguished Visitor in Composition at the Faculty of Music at the University of Toronto, during this year's U of T New Music Festival.
At this, the opening concert of the festival, two of Sciarrino's works were performed: his 1981 Canto degli specchi for soprano and piano and his String Quartet No. 7 from 1999. I asked Sciarrino about the text in Canto degli specchi ("Song of the Mirrors"), by French surrealist Louis Aragon. His reply was brief. "It's just a dream," he said. And in fact the performance by soprano Stacie Dunlop and pianist Cecilia Lee was entirely dreamlike, the slow, soft, sinewy melody weaving in and out of the stream of frenetic notes from the piano. It was spellbinding.
His String Quartet No. 7 was written as the test piece for the 2000 Borciani International String Quartet competition in Italy. Sciarrino wrote that his intention was "to avoid all appearance of virtuosity" with this work and "for each performer to achieve something unique." The single-movement work was performed by the Cecilia String Quartet, and in fact, each of the four players were given moments to shape the music as individual musicians. These moments revealed very sensitive and expressive playing by each of the quartet members. As is true to the Cecilia's established aesthetic, unity of sound was perhaps the higher goal of the performance. The quartet was beautifully played, with violinist Catherine Cosbey filling in for new mother Min-Jeong Koh. Sciarrino seemed very pleased with the result!
The overarching focus of the concert was on the Karen Kieser Prize in Canadian Music, awarded this year to composer Sophie Dupuis. Dupuis was present to accept the 15th annual Karen Kieser Prize – which is awarded to a U of T Faculty of Music graduate student in composition whose work is judged by a jury as especially promising – and to hear the work performed.
Dupuis introduced her winning work, Perceptions de La Fontaine, based on three texts from Les Fables de La Fontaine, a collection of short tales written from 1668 to 1694 by French author Jean de La Fontaine. "These tales were meant to teach good moral values to children," she said. "They feature whimsical characters, often animals or gods from Greek mythology. The three tales selected for this piece have to do with perception, more specifically, how one's own perception of events, things or people might not reflect the truth." The performance of Les Fables de La Fontaine featured soprano Stacie Dunlop, for whom the piece was written, together with flutist Kaili Maimets, oboist Chieh-Ying Lu, clarinetist Cecilia Tang, and percussionist Carol Wang, all conducted by Gary Kulesha. Dupuis' work is full of vivid personality in the vocal part, as the soloist portrays the many fanciful characters described in La Fontaine's texts. And the instrumental scoring complements the voice with many delightful touches of musical commentary, especially from the flute and percussion.
Former Kieser Prize laureate Kevin Lau also made a brief presentation, screening highlights of his recent collaboration with National Ballet of Canada Choreographic Associate Guillaume Côté in their full-length ballet, Le Petit Prince. Lau spoke candidly, and revealed many details of the creative process in the course of the collaboration. It demonstrated that Kieser Prize winners can, and do, progress to major artistic achievements.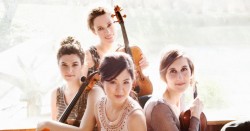 The concert also featured the world premiere of Chasing Beauty, a string quartet by U of T Faculty of Music graduate student Rebekah Cummings. Her work won the University of Toronto 2016/17 String Quartet Competition and was performed by the Cecilia String Quartet. Cummings' Chasing Beauty is a brilliant first string quartet, beautifully fashioned to exploit the medium's potential to both blend and contrast. In her program note, Cummings described "harmonic and rhythmic fragmentation [as] the predominant feature of the piece." In the work's progression from a playful Bulgarian dance to a lovely lyrical conclusion, the throughline of the work seemed assured and confident. The Cecilia launched this new Canadian string quartet with a polished and enthusiastic performance.
This year's U of T New Music Festival opened with a strong, enthusiastically received program. For information about the concerts to come, see https://music.utoronto.ca/concerts-events.php.
David Jaeger is a composer, producer and broadcaster based in Toronto.