The consequences of a pandemic are, as we have all experienced, incredibly far- reaching. The near complete closing down of life as we had known it has had such a sweeping effect on us all, we barely have any tangible evidence of what we might otherwise have accomplished in the spring of 2020. And of course, the projects we had proposed for this period of time all have roots in the past, with planned steps leading, one after the other, towards the completion of works of art we would have been proud to share with our public.
In my particular case, a unique project, several years in the making, was to have seen light of day in both Toronto and in Halifax late this past April. Poetry and Song was designed as a touring program in which I was to join two poets, a soprano and a pianist, to reveal not only recently composed art songs, but also to share the usually hidden processes used in the collaboration that led to the creation of these works.
The story of this collaboration begins nearly five years ago, when I first encountered the artistry of soprano Christina Raphaëlle Haldane. Ms. Haldane was pursuing her DMA at the University of Toronto Faculty of Music under the guidance of Professor Darryl Edwards, when I first heard her singing Handel arias. I was so struck by the beauty of her singing, I wanted to compose for her. And once I discovered the inspired poetry of her father, the Irish Canadian award-winning novelist and poet, Seán Haldane, I was convinced it should be his poetry I should set.
The ensuing events are best told by Haldane herself, in the notes to her new recording, ...let me explain. She writes, "I have been musing on Dad's words my entire life and am delighted to be finally able to sing them! My chance encounter with producer and composer David Jaeger occurred three weeks after my move back to Toronto in the fall of 2015. I was asked at the last minute to sing a recital of Handel arias at the Arts and Letters Club, and David happened to be in the audience that serendipitous day. An enriching collaboration and friendship has ensued, which led to the creation of The Echo Cycle, a song cycle conceived for my solo soprano voice, set to six of my Dad's poems. David gravitated towards poems with sonic overtones and captured their sense of boundlessness, at times playful, yet at times full of gravitas, with his thoughtful through-composed settings. My delight in virtuosity was duly humoured in this cycle, and these songs fit me like a vocal glove. I premiered The Echo Cycle on May 12, 2018."
The Echo Cycle has subsequently been released as part of ...let me explain on the Redshift Records label. And the publication of Seán Haldane's newest collection of his poetry this spring only whets the appetite for further songs to come.
The collaboration with Haldane, the author, led me to connect with his friend, David Cameron, a Scottish poet and novelist living in Belfast, NI. Cameron is well known, having been awarded the Hennessy Literary Award for Poetry in 2014 for his collected poems published by Rune Press as The Bright Tethers. One of his poems, Night Singing, is in the school curriculum in Ireland. My interest in Cameron, however, was sparked by the inherent music I discovered in his verses, and I composed five songs for voice and piano, on Cameron poems that I found to be irresistible. Christina Haldane gave the premiere of the cycle, given the collective title I Never Knew, last November, in The Piano Lunaire series in Toronto, with pianist Adam Sherkin. Cameron and I have plans for another, larger-scale work, in which both music and poetry will interact.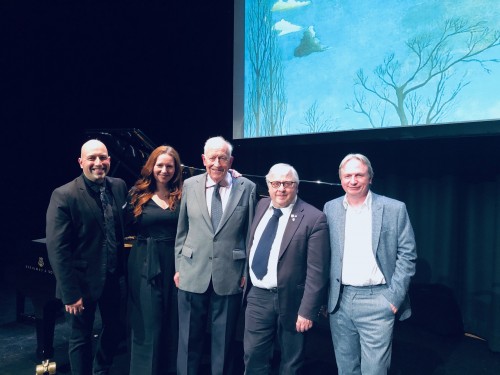 With such a fruitful and, in fact, ongoing collaboration within our circle, it seemed a logical next step to organize public performances with the direct participation of the creators, poets Cameron and Haldane and me, the composer, and the interpreters of the new works, Christina and her accompanist, Carl Philippe Gionet. The opportunity to arrange for audiences to be able to meet creative partners in a current collaborative effort led us to organize performances in which works of both the poets and composers were to be presented. These were to take place in Toronto and in Halifax, where Christina Haldane is now teaching as a faculty member of the Fountain School of Performing Arts at Dalhousie University. Dates with halls had been booked, travel grants were received, and hopes were high that the tour could go ahead.
Under the current circumstances, our planned events have been postponed, and can hopefully be rescheduled in the fall. Of course, it's too soon to be certain about anything, and planning has become an exercise in hypothesis making. Many artists have sought solutions through creative uses of technology, and certainly much will be learned in this respect. Composing and the writing of poetry continues, but its ultimate outlet remains, for now, a question.
David Jaeger is a composer, producer and broadcaster based in Toronto.