March has arrived and with it the vernal equinox, Saint Patrick's Day, the famous Ides, probably an early thaw, and with it a flood of student recitals at music schools here and everywhere. Go to the website of the Faculty of Music at the University of Western Ontario, for example, where events on the calendar are colour coded: student recitals are orange, and the March calendar is almost all orange! We cannot list all student solo recitals – there just isn't the space in the print magazine to do so. But I recommend going to one in March. It's great fun being able to say, down the road, that you spotted a great artist early in their career. Just go to the website of the music school nearest you and find out what is going on. That is not to say there are no student performances in our listings pages. We list music school recitals by student ensembles or by particular teachers' students. For example, see the recital on March 4 by the York University Brass Ensemble or the one the following day by students of the voice teachers at York University.
Meanwhile faculty recitals continue through March: the Faculty Woodwind Quintet at Wilfrid Laurier University will perform there on March 3. The flutist in this ensemble, incidentally, is Amy Hamilton, whose flute quartet's new CD, "Canadian Flute Quartets," I have reviewed in this month's "DISCoveries." Other university teachers, Brock University piano professor Karin Bella and U of T guitar professor Jeffrey McFadden will give recitals on March 1 and 7 respectively, to name but a few.
Vocal Recitals
It looks like another good month for vocal recitals, getting off to an early start on March 1 with U of T voice students presenting a programme of songs composed by New Zealanders and Australians at the Richard Bradshaw Amphitheatre. The very next day, hot on the heels of "Nixon in China," the COC's vocal series continues with compositions by John Adams, introduced by the composer himself, in town because of his major role, as composer and conductor, in the TSO's New Creations series.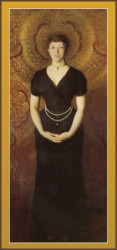 On March 6 the Aldeburgh Connection will tell the story in song of the life of Boston socialite and philanthropist, Isabella Stewart Gardner. Aldeburgh artistic co-director, Stephen Ralls told me this about the programme: "It's one of those programmes which is so difficult to describe [because it] has so many [interwoven] threads!" The unifying theme, however, is the connection of the music with Bostonian Isabel Stewart Gardner. She patronised American composers, such as Clayton Johns, Margaret Ruthven Lang and Charles Martin Loeffler, who will be represented on the programme. As a young woman she spent time in France and when back in Boston programmed a lot of French music in concerts at her home, so there will also be songs by Fauré, Debussy, Chausson, D'Indy and Bemberg. One of her causes, Ralls told me, was the welfare of black people in Boston, so there will be arrangements of spirituals as well as other music of her time, including piano duets by Gottschalk and MacDowell. "As you can see," Ralls said, "it's a rich vein! We will take in all the people whom she patronised or who were friends of hers in Boston, [such as] John Singer Sargent, Bernard Berenson and Henry James…"
Returning for a moment to the universities, Brock University in St. Catharines appears to be a hotbed of vocal activity, with three recitals, March 15, 22 and 25; and on March 26 the Port Hope Friends of Music are presenting a concert by three singers from the Opera School of the University of Toronto. Other upcoming vocal recitals are mezzo Vilma Indra Vitols presented by the Latvian National Opera Fund Canada on March 27 and baritone Michael Fitzgerald at Metropolitan United Church on March 31.
Piano Recitals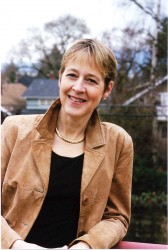 A number of fine pianists are performing in Toronto in March. Two of these are faculty members at the University of British Columbia, Jane Coop and Sara Davis Buechner. Jane Coop will give two recitals for Mooredale Concerts, one designed for children and one for the rest of us, featuring music by Beethoven and Scriabin, on March 20. Then on March 25 she will be at the Aurora Cultural Centre's Brevik Hall, a beautiful new 150-seat facility that sells out fast, especially when an artist of Ms. Coop's calibre is performing! I asked the newest member of The WholeNote team, Sharna Searle, herself a pianist, who has recently come here from Vancouver and has heard Jane Coop play on several occasions, to say something about her. Searle wrote: "I admire her focussed, considered and keenly intelligent understanding of, and approach to, the music. I've always thought she was a very grounded player with this wonderfully clean, unfussy, flawless technique, something I always appreciate in a pianist. My teacher at music school (U. of Western Ontario), Ronald Turini, had a similar technique; he never 'got in the way of the music.'"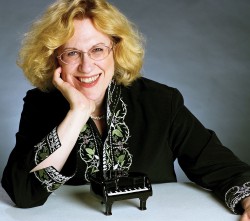 Sara Davis Buechner will perform with Sinfonia Toronto in its interesting "Fantasies" programme on March 11 and for the Kitchener-Waterloo Chamber Music Society on March 12. She has an astonishing range of musical affinities, and an encyclopaedic concert and recital repertoire, spanning the breadth of keyboard music from Bach to contemporary. An indication of this: her back to back Sinfonia Toronto and K-WCMS appearances do not have a single composer in common.
Speaking of the K-W Chamber Music Society, yet another eminent pianist, Janina Fialkowska, will also perform for the K-W Chamber Music Society on March 15. This remarkable organization, you may be interested to know, has no fewer than eleven different concerts listed in this month's issue. If you haven't gone – I know I've said this before – go! It's like a house concert but with artists who usually perform in larger, less intimate, venues. Fialkowska can also be heard on March  5 with the Hamilton Philharmonic Orchestra and on March 13 in a concert presented by Visual and Performing Arts Newmarket.
The list of piano recitals this month goes on and on, but I will mention three more. Sa Chen, a Chinese pianist, who has won prizes at the Van Cliburn International Piano Competition (2005), the 14th International Frederic Chopin Piano Competition in Warsaw (2000) and the Leeds International Piano Competition (1996), will perform at the MacMillan Theatre on March 27 under the auspices of the Li Delun Music Foundation. This will be her first appearance in Toronto. Just two days later, on March 29, Music Toronto will bring us the internationally renowned Montreal pianist, Marc-André Hamelin; and on March 30 and 31, French pianist, Jean-Yves Thibaudet will be the soloist with the Toronto Symphony Orchestra in the second concert of a TSO "Signature Series" celebrating the 200th anniversary of Liszt's birth.
Also Noteworthy
Of the several events designed for children, one in particular caught my eyes: the Kitchener-Waterloo Symphony Orchestra's concert called "Bella the Tuba Gets Her Melody" on March 26.
On the community orchestra front, the Scarborough Philharmonic Orchestra continues its pattern of innovative programming on April 2, including in its programme three world premieres, including one by the evening's guest conductor, Alex Eddington and a violin concerto by Bruce Broughton, a Hollywood film composer with Canadian roots.
AND FINALLY, A WARM WELCOME to an astonishing array of distinguished visitors this month: Marina Piccinini and Andreas Haefliger (March 11); Hilary Hahn, violin,  and Valentina Lisitsa, piano, March 1; John Williams, guitar, March 27; the Scharoun Ensemble of the Berlin Philharmonic, March 11; John Adams (as conductor), (March 5); The Barra McNeils, (April 5 and 6) Evelyn Glennie, (March 2); Borealis Quartet, (March 3); Tokyo Quartet, (April 4); Karen Gomyo, violin, (March 23).
As Richard Margison observed in the very early days of WholeNote Magazine, the great thing about The WholeNote is that it includes local artists as well as internationally known stars. Since everyone's career starts at the local level, he said, this is good for everyone. So, let's all try to get out to hear at least one concert by a local artist and one by a student as well as one or two by our distinguished visitors. Our participation as part of the audience is just as important in creating a living musical culture as our participation as performers. Bravo, I say, to the man who came out to a concert by my students in January. "What brings you to our concert?" I asked him during the intermission. His answer was simple: "I wanted to hear some music I had never heard before." He was not disappointed, and all of us who participated in the music-making were helped and affirmed by his presence there. ν
Allan Pulker is a flautist and a founder of The WholeNote who currently serves as Chairman of The WholeNote's board of directors. He can be contacted at classicalbeyond@thewholenote.com.