While most of us might appreciate some structure in our lives, there's certainly something to be said for having a little boundary-defying ambiguity in it, too. Take this column, for example: I've been at it for almost a year, and each month I grapple, still, with the "and beyond" part of its name. One of my first questions when I took on the beat was, of course, "beyond what?" The answer has been an ongoing, ever-evolving work in progress.
With that, I thought it would be interesting — and fun — to explore the "beyondness" available at some of the classical-music-based summer festivals and other events, in July and August. The programmers, curators and artistic directors of these events wrestled, no doubt, with the balancing act of staying connected (and true) to the classical music at the core of their mandates, while, at the same time, providing some "outside of the music box" programming, in order to attract festival-goers of all ilks. Looking through our daily and alphabetical festival listings, it's clear they have triumphed: we have a summer exploding with boundary busting "beyonds."
Beyond the Basics: Bach on the Banjo, and Tchaikovsky gets Uked up
Works by J.S. Bach have been heard in practically every setting imaginable, refashioned into musical genres too numerous (and, in some cases, too painful) to mention, and performed on just about every instrument invented. But I bet you haven't heard much Bach played on the banjo! In its late-July, weekend exploration of the "dramatically different aural landscapes created by string instruments from across the world," Harbourfront Centre's "Classical IV: Strings" is giving us a chance to hear a five-string rendition of the Allemande from Bach's French Suite No.6 in E Major BWV817, by Canadian banjo virtuoso Jayme Stone, on July 29, 2pm.This two-time JUNO winner (who recently performed at Luminato), is known for taking his audiences on a "genre-blurring" musical journey, bridging folk, jazz, chamber and world music. So, fasten your seatbelts, and enjoy not only the Bach but also a Trinidadian Calypso, Malian melodies and Stone's own "tiny symphonies!" Along for the ride will be the stellar ensemble of Kevin Turcotte on trumpet, bassist Joe Phillips and Nick Fraser, percussion.
Incidentally, if your appetite is already whetted and you'd like to begin your "journey with Jayme" earlier, he's at Summer Music in the Garden on July 19. And if gardens are your thing, Stone and gang perform at the Toronto Botanical Garden, July 26; (torontobotanicalgarden.ca/news/the-edwards-summer-music-series).
OK. What's the first thing that comes to mind when you think about Tchaikovsky's "1812 Overture?" Canons? A Bugs Bunny cartoon? Ukuleles? UKULELES?? That last thought clearly crossed the minds of the creative, curatorial trio behind "Classical IV: Strings." As a result, Caroline Hollway, Tara Brady and Dalton Higgins have dreamt up the "Ukulele Project." And the idea? To have a critical mass of ukulele players converge upon Harbourfront Centre's Redpath Stage and, together, play one of classical music's best-known pieces. Here's their fun pitch:
"Dust off that uke and bring it down with pride to Harbourfront Centre as we attempt to bring as many ukulele players as possible together to play a resounding, uplifting and downright fantastic version of the '1812 Overture.' Haven't played for years? Have only just started? No worries, brush up sessions will be available on site and projected chording will keep everyone strumming straight. You know you want to!"
I know I do. The ingathering begins at 4pm on July 29.
Beyond the Concert Hall: Bunkers, Barges and Barns, Oh My!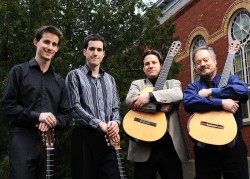 And the award for the most inspired summer music festival venue goes to … Ottawa's Music and Beyond. They've got an event happening in the Diefenbunker, for heaven's sake! Not only that: they've called it "Beyond the Bomb: Music of the Cold War," and the Moscow String Quartet will be performing (along with a few others), as you stroll through the entrance tunnel, the decontamination cubicles, the emergency radio broadcast centre and other areas of the complex. Now that's "beyond the beyond" and I think it's terrific! Music of the Cold War played by Russian-born musicians, in Canada's Cold War Museum — surely it's got to be the hottest ticket at the festival! Gear up for 18:00 hours, July 11.
Before hitting the bunker, you can travel up the Rideau Canal on a barge, along with the London Handel Players and Theatre of Early Music, as they serenade you with Handel's Water Music, starting at 9:30am on July 8. Indeed, it's Handel's masterpiece performed as it was intended to be heard, and just like it was originally performed in July of 1717 — on a barge travelling along the River Thames, accompanying King George as he listened from the comfort of the Royal Barge.
Not to be outdone, Stratford Summer Music hosts an entire series on the MusicBarge, a floating stage docked at the bank of the Avon River. Between July 19 and August 26, at 12:30pm and/or 3pm, "BargeMusic" offers up an amazing array of music and musicians, including the Métis Fiddler Quartet (July 19 to 21), the Canadian Guitar Quartet (August 2 to 4) and the Heavyweights Brass Band, who graced our June cover last summer (August 23 to 25). Seating is BYOLCOB: bring your own lawn chair or blanket.
Back to the Canadian Guitar Quartet for a minute. Before they "take up residence" on the barge, the CGQ — currently in residence at the University of Ottawa — will be playing in a barn. On July 7, at 2pm, instead of your standard oinks, moos and baas, The Barn — primary venue for Westben's Concerts at the Barn series in Campbellford (July 1 to August 5) — will be alive with the sounds of Rossini, Gabrielli, Roux and original compositions performed by the CGQ. (And once they've braved the barn and the barge, CGQ members Julien Bisaillon, Philip Candelaria, Bruno Roussel and Louis Trépanier will perform in the relative safety of the Church of St. John the Evangelist, at Ottawa Chamberfest, August 8.)
Additional barn alert: there'll be Beethoven in The Barn, along with Mozart, on July 17; concerts held at Festival Alexandria's Festival Barn (July 8, 15 and 22 — see Beyond GTA listings) featuring works by Debussy, Gershwin, Corigliano, Delibes and others; and the Music in the Barns Chamber Ensemble performing works by Oesterle, Godin and Mozart at Artscape Wychwood Barns Main Space, July 5.
Beyond the Blackboard: not your typical
classroom music lessons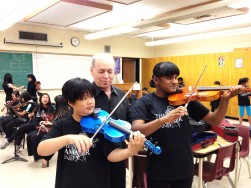 I began by applauding the creativity of the "Classical IV: Strings" curatorial team, and that's where I'm going to end. This time they've moved from the ridiculous — the "good" kind, of Bach-friendly banjos and unifying ukuleles — to the sublime: The Hammer Band — From Violence to Violins (THB).
Renowned Canadian violinist Moshe Hammer, the driving force behind THB, told the Globe and Mail last month that it "started with Toronto's 'Summer of the Gun' in 2005, when it seemed like dozens of kids were shooting each other almost every day. I was losing sleep thinking about the young teens carrying weapons around. Then I thought of the fact that 'violence' and 'violins' sound almost the same."
And from that "crazy idea," THB was born. Knowing music's power to change lives and develop one's sensitivity, self-esteem, sense of accomplishment, and appreciation of community, Hammer and a dedicated staff have been providing free music lessons to at-risk kids from a diversity of backgrounds since 2007. Starting with two schools and 40 students, THB now teaches about 300 students in 15 Toronto public schools; it also provides the free violins. And while the program initially offered only violin lessons, it now includes cello classes, a summer music program and masterclasses!
We'll have the pleasure and privilege of experiencing the fruits of this extraordinary labour of love and commitment when THB students, joined by Cuban-born violinist Yosvani Castaneda, perform at Harbourfront Centre on July 29 from 4pm to 6pm.
Curators Hollway, Brady and Higgins offer a thoughtful approach to the weekend: "Be prepared to open your ears, drop your misconceptions and discover new and ancient heartwarming resonances." What could be more inviting?
So take time in July and August to explore the mountains of music happening beyond the comfort zone of the concert hall. May you have a truly ear-opening, "Classical and Beyond" summer.
Sharna Searle trained as a musician and lawyer, practised a lot more piano than law and is listings editor at The WholeNote. She can be contacted at classicalbeyond@thewholenote.com.