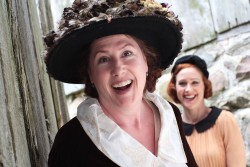 Summertime, and the living is … hot. If you're looking for a night's entertainment beneath cooler skies, head east to Millbrook, Ontario, where 4th Line Theatre is presenting a new musical on its Barnyard Stage at Winslow's Farm. Opening on July 3for a month's run, Queen Marie, by Toronto playwright, Shirley Barrie, is a sure bet for engaging entertainment that is, well, cool — in both senses of the word. Chronicling the true story of a Canadian original — Marie Dressler, a beloved star of the silver screen who rose from humble beginnings in Cobourg (where she was born in 1868) to the heights of Hollywood fame— the play is the stuff of legend, certain to delight all ages.
"Many people know Marie Dressler's name," says Kim Blackwell, director of the show, "but few know the real story and the obstacles she overcame." This is exactly the reason that Barrie was attracted to the project. "When Robert Winslow (artistic director of 4th Line Theatre) asked me if I'd be interested in working on a play about [the comic actress], I knew very little about her except for a famous scene with Jean Harlow in [the film] Dinner At Eight." Barrie soon discovered that Dressler "upended expectations" all through her career. "She was large, and not conventionally attractive, but she used these "drawbacks" to create a new kind of physical, masculine comedy with heart that won over and delighted audiences. I've always been intrigued by women from the past who refused to play by the rules and Marie, who took great chances and rarely backed down from a fight, certainly is one of these.
Queen Marie is scored by 4th Line's long-time musical director, Justin Wilcox, who integrates songs Dressler performed during her lifetime with music he composed for the production, including solo numbers and chorale works for the ensemble of 20 performers Blackwell has cast. To augment instrumentation for a trio of piano, strings and percussion, Wilcox has members of the chorus play instruments ranging from clarinet to ukulele. After scoring dozens of shows for 4th Line on his own, the Peterborough resident enjoys collaborating with lyricists, and especially appreciates the opportunity to write "stand-alone," character-driven songs like A Life at Last, a ballad he wrote for Shelley Simester, the Stratford Festival veteran who plays Marie Dressler.
When she was nearly 50, Dressler's support of the 1919 Actors Equity strike ended her career as a Broadway actress. By the late 1920s, she was largely forgotten and living in near-poverty. In 1927, after meeting screenwriter Frances Marion (played by Robert Winslow in this production), Dressler began to work in the "talkies," quickly becoming Hollywood's number one box-office attraction, and winning the Oscar in 1930 for her performance in Min and Bill. Since her death from cancer in 1934, her fame has not been forgotten … especially in Cobourg where the home of her birth now houses a museum and visitor information centre. Each year, the Marie Dressler Foundation Vintage Film Festival offers screenings of her films in Cobourg and Port Hope.
Robert Service, another Canadian original, is the subject of Wanderlust, the second new musical to receive its world premiere this summer in Ontario. A collaboration between two Vancouver artists, Marek Norman, a composer and musician, and Morris Panych, one of Canada's most celebrated playwrights and directors, the show opens on July 11 at the Stratford Shakespeare Festival where it runs through September.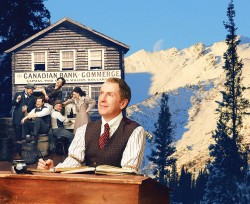 Based on the poetry of Robert Service (the "Bard of the Yukon") whose poems, along with additional text by Panych, constitute Norman's lyrics, Wanderlust focuses on Service's creativity, which might seem ironic in that he spent much of his life working in a bank. But, as Panych points out, even as a ledger-keeper, Service had "a boundless imagination" that allowed him to write most of his Klondike poems long before he travelled north. "A shaper of images and stories, of places he'd never even seen, things he had never done," Service piques Panych's own creativity, leading him to explore the man's life and work in what ultimately becomes a tribute to his passion for poetry. "The story I have written is nothing close to the truth, of course," Panych adds wryly.
If this project offers a more pertinent irony, it rests with the fact that Service's best-known poems such as The Shooting of Dan McGrew and The Cremation of Sam McGee still are dismissed by literary scholars as doggerel. Despite such disapprobation, Songs of a Sourdough, the collection in which the poems were published in 1907, has sold more than three million copies, making it the most commercially successful book of poetry of the 20th century. How Marek Norman uses the poems in his sonwgs is just one reason to check out this innovative musical. Another is to see the poetry brought to life by such accomplished actor/singers as Dan Chameroy (Dan McGrew), Randy Hughson (Sam McGee), and Lucy Peacock (Mrs. Munsch). That Tom Rooney plays Robert Service also bodes well for the show. An accomplished actor, singer and comedian, most recently seen on Toronto stages in Queen of Puddings' Becket:Feck It! last February, Rooney may have found the perfect role for his winsome chicanery.
Robert Service emigrated to Canada from England at the age of 21, finally reaching the Yukon in 1904. After his poetry achieved wide publication, he became so successful (and wealthy) that he settled in Paris where he went on to write novels and an autobiography, besides more poetry. Often called the "Canadian Kipling," he cared little about critical approval. "Verse, not poetry, is what I was after," he explained late in life, "something the man in the street would take notice of and the sweet old lady would paste in her album; something the schoolboy would spout and the fellow in the pub would quote." With no desire to become a household name, he nonetheless became one.
While Fred Eaglesmith has yet to achieve such fame, he still might, and for much the same reasons. Already, he has accumulated a substantial following for his unique singing voice and song-writing talents that combine to create a sound best described as alternative country-and-western, crossed with folk and bluegrass. Performing with a band known variously as the Flying Squirrels or the Flathead Noodlers (depending on the style of music it plays), Eaglesmith tours his Travelling Show across Canada, the US and Europe. Last month, the Blythe Festival premiered Dear Johnny Deere, a new musical based on his songs, and, if you hurry, you can catch it before it closes on July 7.
Directed by Eric Coates, artistic director of the festival, Dear Johnny Deere is written by Winnipeg playwright Ken Cameron who explains that, like many other "Fred-heads," he fell so hard for Fred's music that it now features prominently "in the soundtrack to my life." Inasmuch as Eaglesmith's songs frequently concern failing farms and small businesses, and are peopled with characters forced to deal with loss of love, livelihood, or both, they were an obvious choice for Cameron when he decided to write a musical about Johnny and Caroline, a couple struggling to keep their farm and marriage together, even as the bills pile up. Cameron explains that "[When] I set about cataloguing each of the more than 140 songs Fred has recorded, I was drawn to the quirky down-on their-luck characters and his accessible imagery." All he had to do was create a play-list, and he had a score.
Fashioning a narrative around Eaglesmith's lyrics, Cameron discovered that the composer's songs "are like short stories, each with a twist ending in the final verse." It was inevitable that he would arrive at a tractor to help resolve John and Caroline's plight, given that Eaglesmith regularly writes about machines or vehicles such as trains, trucks, cars, and engines. The play-list for Dear Johnny Deere, besides including titles like White Trash, Bench Seat Baby and Yellow Barley Straw, featuresFreight Train and Old John Deere — which suggests not only its rural emphasis but, as well, the prominence of a tractor in its plot, a perfect ingredient for a festival like Blythe that foregrounds Canadian plays which speak to a rural community.
It's one thing to use Eaglesmith's songs to score a musical; it's quite another matter to imitate the sound made by Fred Eaglesmith and the Flying Squirrels. Yet Blythe's musical director, David Archibald, attempts just that by giving J.D. Nicholson the role of Johnny, and the task of singing like Fred. He's made a good choice, for Jack, a founding member of the 1991 JUNO-Award-winning band, the Leslie Spit Treeo, is a seasoned singer/songwriter, currently a member of the popular Toronto-based the Cameron Family Singers. Archibald, a composer and singer himself, joins Nicholson, along with Matthew Campbell and other seasoned singers, to give Dear Johnny Deere a musical style that has won Eaglesmith's blessing.
So, take your pick. This summer, pack a hamper and head east or west for big-time theatre in small-town Ontario. Cool originals, guaranteed. 
Based in Toronto, Robert Wallace writes about theatre and performance. He can be contacted at musictheatre@thewholenote.com.