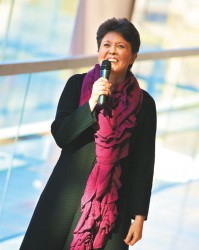 A night at the opera is often burnished into memory as somehow grander, more glamorous and opulent than any other night. Soaring melodies, impressive sets, ingenious costumes: the sheer spectacle tends to obscure the hundreds of hours of beavering and, more accurately, the years of preparation that made it all possible. Everyone conspires to make the magic happen. So in that moment when everything falls into place, it all somehow seems inevitable and we rarely, while caught up in the moment, stop to question it: to wonder about the science behind the magic, to speculate what might have happened instead, to ask "what if?" These are questions for the lobby after the curtain has fallen.
This month, our spotlight falls on an individual whose life is bound up with watering and feeding the beast that is opera, almost always out of the limelight and behind the scenes, indeed more often in the lobby than in the hall itself! But in terms of life's twists and turns, for Nina Draganic, who is among other things the curator of the Canadian Opera Company's lobby concert series, one could also ask "what if?"
When we look at the choices we make in life, how do we distinguish between the pivotal and the merely sequential? Certainly, little Nina Draganic had a very different idea in mind when, at the ripe old age of eleven, she persuaded her parents to bring her home a piano. And when the precocious teenager set off to Queen's University, she had her sights set on a performing career, and was soon well on her way to achieving it.
Then an injury to her hand derailed her hopes, but her love of languages beckoned, taking her to Florence, Vienna, Leningrad and Berlin. It was a heady time to be in Europe, particularly during the fall of the Berlin Wall. But it was her experiences, both personal and professional (including a stint at the Berlin Film Festival) that were to equip her for her return to Canada.
If she had any inkling, from the very beginning, that the Canadian Opera Company was the eventual home for her, she certainly could not have foreseen the role she would play, or the path she would take to get there. When she became general manager of the Canadian Children's Opera Company (then the Canadian Children's Opera Chorus, a small autonomous organization with close ties to the COC) she found herself immersed in every aspect of administration, staffing, finance, production, touring, publicity and fundraising, experiences that were to stand her in good stead when she became executive assistant to the general manager at the Canadian Opera. Yet anyone who might have thought the position was akin to that of a personal secretary obviously did not reckon with the force of nature that was Richard Bradshaw.
"Richard Bradshaw was a man who didn't sleep much at night, he was too busy concocting things," Draganic remembers with a smile. "And Richard had a passion for emerging artists on the cusp." When he floated the idea of a free concert series that would showcase performers of all genres at all levels, she says, "My face lit up like a 400-watt light bulb!"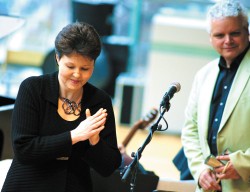 Those were tumultuous days. After 40 years, the COC was finally in the throes of constructing an opera house of its very own, and preparations had been set in motion to stage Wagner's Ring cycle of epic operas for the opening. As if that were not enough, Draganic was also trying to stitch together the concert series, working from an 8x10 computer rendering of the space, since the building did not then exist. "I had no idea what the acoustics were," she admits now.
In anticipation that the design might unduly amplify the sound levels, she thought it prudent to introduce a baffle to muffle the effect. Only during the first run-through did she realize how superbly the acoustics had been designed to carry, with equal clarity, the sound of a violin or the pounding of a taiko drum.
"Having a program in harmony with the space, the clean architectural lines, it's important not to put too much stuff in," she explains. "It's also about creating an ethos around the building, having a building be part of the community."
While the introduction of rush and standing room only tickets now makes mainstage opera far more accessible to the community, still, "opera tickets can be prohibitively expensive," she notes. Staging an opera is also equally and prohibitively expensive. The difficulties of fundraising are legion. An opera easily costs upwards of $1 million to stage, and a new work incurs not just the commissioning fees for the composer and librettist, but also for workshops and rehearsals. In the meantime, how do you nurture and engage both artists and potential audiences? The lobby concert series is, at least in part, the answer.
In envisaging the concert series as a way of opening doors to those who might not be familiar with different genres or might even be intimidated by them, Draganic is very much aware of the need to juxtapose popular programs with challenging ones and to dispel the notion, for example, that new music is inaccessible.
She remembers how Bradshaw used to say that even if there were only ten people in the audience but they were ten people who were fully engaged, he would have considered that successful programming. Of course, these days, people are more likely to be spilling onto the staircases, or actually being turned away at the door.
The commitment to the series meant that a budget would have to be carved out of the COC's operating expenses. The development team is kept on its toes to ensure that various programs are funded as a revolving door of benefactors enter and leave the wings. As the concert series itself has evolved, different donors and sponsors have stepped into the breach.
"It's very much about creating a safe place for everybody," says Draganic, " not just for audiences to try out new things, but also for artists to try out new art forms." The result for audiences has been such rare treats as tenor Richard Margison playing guitar and crooning Gordon Lightfoot's "If You Could Read My Mind," or soprano Isabel Bayrakdarian turning to tango.
In the beginning, Draganic scoured various music competitions, worked her connection with the Glenn Gould School, quizzed friends and colleagues, and begged musicians to be a part of the series. She's still proud of the fact that of the first season's 90 concerts, the youngest performer was a six year old and the oldest, a 73 year old: "It's just that level of diversity."
Now in its seventh season, there's still a dizzying level of diversity in vocal, piano, jazz, chamber and world music, as well as dance. "I know more people now," she says modestly of her gold-plated Rolodex, but the pace she set herself is in no danger of slowing down.
She confers endlessly with friends, colleagues and other programmers. And she's a bloodhound for tracking down that sound she heard on the radio, or the tip that's playing in one part of the city or another. So much so that she admits, guiltily, that she's not at home as often as she would like to be, for her teenagers. While there's always the serendipitous find (she discovered jazz pianist Chris Donnelly at the wedding of a staff member), these days, she's more likely than not to be found wading through a sea of submissions from eager hopefuls.
As for accessibility, it's inadvertently become the source of many a frustration. "There are so many opportunities for sonic disruptions," she points out. Elevator bells that ping, high heels that reverberate on the steps and babies in strollers are some sounds that carry even from the ground floor all the way to the top. "It's important to maintain respectful quiet for the performers," Draganic says. It says a lot about how the space is managed that there are clusters of volunteers waiting to shepherd people and paraphernalia away from whirring elevators at every performance.
But it's more than just quiet she affords, it's the kind of environment that brooks the impossible. When Russell Braun proposed an 11-minute piece for two pianos, the cost of maneuvering two baby grands appeared daunting, but then, her ever-fertile mind wondered, "Which two pianists have I always wanted to play together?" Turns out that Robi Botos and Hilario Durán had also always wanted to tickle the ivories together — and were thrilled to be finally given the chance!
It's not as easy as it may seem to be. "You need to have a plan," Draganic explains. This season alone, juggling the schedules of 400 artists in 77 concerts is a feat in itself, as they vie for the space with the performance schedules, not just of the Canadian Opera but also of the National Ballet.
But she also has a wish list, what she calls a "dreaming document." It's marrying that with the reality that ignites her passion. "You have to be open to anything. If you don't risk, you don't fail ... but you don't have magic."
What continues to keep the adrenalin flowing for Draganic? "It's an ever-changing feast," she says. "There are so many opportunities for collaboration."
She's particularly proud of the new initiative begun by Lawrence Wiliford after Bradshaw's death that's now become the Canadian Art Song Project, which commissions Canadian composers to write for Canadian singers.
While artists of the COC Ensemble Studio have been a mainstay of the concert series, music director Johannes Debus' enthusiastic support for the series means that this season, artists of the COC Orchestra will also be featured as well.
If the opera hall continues to be the COC's crown jewel, the concert series in the lobby amphitheatre is a collection of little gems, and the outreach effort has become a veritable crucible for new creation possibilities, not just in music but also in movement, and in devising new cultural vocabularies.
It's pretty telling of Draganic's role that the man who gave her the job saw himself continuing to do it for himself. As it turns out, it's hard to imagine that he would have done this part of it any better.
Rebecca Chua is a Toronto-based journalist who writes on culture and the arts.