As i sit down staring at a blank screen wondering how to begin this final tome before the summer break, I'm faced with a dilemma: should I look back over the past few weeks, or should I look forward. It's transition time in so many ways. Some bands are winding down their activities for the summer, while others are gearing up for a cornucopia of musical events. Since hindsight is easier to muster up than foresight in this hot weather, hindsight wins the toss.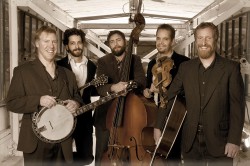 On this, the longest day of the year, there is still not enough time to reflect thoroughly on the varied musical activity that I have experienced. I could use the expression "from the sublime to the ridiculous" to describe the spectrum, but that would be unfair to the somewhat less than orthodox performances. Let's go from the smallest to the largest.
The first is a return visit to the Flute Studio in Markham with flutists Leslie Huggett and Flora Lim. In the 1970s the Huggett Family was synonymous with the revival of early music played on period instruments. Leslie Huggett, his wife, Margaret, and their four children were known across Canada for their tasteful interpretations of music from the medieval, renaissance and baroque periods. In more recent years, while operating the flute studio, Leslie Huggett has held a series of Sunday afternoon reminiscences titled "Reflections of a Part-Time Optimist,"where his humorous recounting of past adventures and misadventures are accompanied by elegant music on piano and flute by Flora Lim.
Then from the intimacy of a pristine studio just off the main street to a very large country barn for an evening of "Bluegrass in the Barn." I know, bluegrass music is quite common, but performed by a chamber choir? That's different. It was quite a departure for the Uxbridge Chamber Choir to switch from their usual repertoire. They are more accustomed to Bach, Mozart, Mendelssohn and the more modern works of Fauré or Orff. Accompanied by the Foggy Hogtown Boys, a well established true bluegrass ensemble based in Toronto, the choir seemed to be enjoying the music as much as the audience. The barn was filled to capacity with many audience members seated outside enjoying the music streaming through the open barn doors.
Now for the really big one. At the other end of the musical spectrum was Mahler's monumental Symphony No. 8, better known as the "Symphony of a Thousand." In its first performance, with Mahler conducting, there were 171 instrumentalists and 858 singers for a total of 1,030 performers. While this recent Toronto performance didn't have those numbers, with over 500 performers on stage or in the balconies above, it was an amazing musical experience. How often do we get to hear eight french horns, four bassoons and a contrabassoon competing for our attention with the assistance of three adult choirs and a children's choir? If these events are harbingers of things to come, the dog days of summer should be soothed by the musical events on the horizon.
While on the topic of getting our attention, I had the misfortune to be sitting adjacent to people who can't stand to be separated from their "personal smart devices" for any significant time. At the Mahler concert the man in front of me was playing a Sudoku game on his device until conductor Peter Oundjian mounted the podium. As for the lady to my left, she didn't stop texting until the baton was raised. The final chord before intermission, one nanosecond before the applause began, was her cue to start texting again. No, these were not teenagers, they were both in the ranks of the baby boomers. However, these distractions were in some ways more acceptable than those encountered at the bluegrass event. Having selected the seat of my choice, there was one seat vacant to my right. Enter a woman with a child. What better way for the child to clean her dirty boots than on my pants. A move to a vacant seat just outside of the barn doors seemed to be a good choice. The lady and her small boy who occupied the adjacent seat were quiet and well behaved. I was, however, somewhat distracted as this doting mother decided to explore in precise detail the entire precincts of his scalp for lice or other invasive species.
Every once in a while I have the pleasure of reviewing new CD releases for this publication. Last week I was accorded the opportunity to conduct a review of a different sort. How does one review a new transcription for band of an orchestral work by a well-known Canadian composer? Why not take the complete set of parts to the rehearsals of two or three bands for a read through and critique? Off to a rehearsal I went, and handed out the parts to the various sections and the conductor's score to the music director. Things were going well until the conductor turned a page. Suddenly the band members were not playing what he saw on his score. It turns out that the conductor's score was missing all even numbered pages. Then, conducting from one of the instrumental parts, the director managed to work through the piece enough to say it is interesting. As soon we get the rest of the conductor's score, it will be off to the bands again. Then the title and composer will be revealed in our review.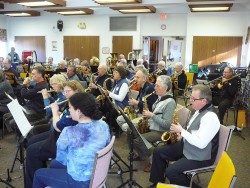 Over the past few years I have had the pleasure of being a volunteer subject for the Rotman Research Institute at the Baycrest Centre in Toronto. A major component of their current research activity is in the study of how musical ability may influence cognitive function and brain activity in general. Next week both members of our household are slated to participate in this latest round of experiments which will be quite different from previous ones. There are new studies being initiated all of the time, and they are always looking for participants. If you have attained a reasonable level of musical proficiency and would be interested, give them a call.
Last month, I mentioned the very successful year end concert of the four New Horizons Bands in Toronto and the busy summer schedule ahead for the Grand River New Horizons Music in Kitchener. Shortly after, I was chatting with a man who had just recently retired and expressed interest in fulfilling a long held desire to take up a musical instrument. However, he lives between these communities and was looking for a group closer to home. Within days of that discussion I learned of another New Horizons Band planned for Burlington. If you live in that area and have that same desire to make music, the new group is slated to begin in September. For information phone 905-637-4992.
While on the subject of new groups, I had the pleasure of attending the end of year concert of Resa's Pieces Strings. As with the other groups which started last year, they have progressed. This year's performance included a violin duet and had a guest trumpet soloist performing Leroy Anderson's Trumpeter's Lullaby. Congratulations on their second season.
If the former town of Markham (it officially becomes a city July 1) is any indicator there will be lots of outdoor music. At the Unionville Millennium Bandstand, no fewer than seven community bands will be performing at 7 pm on Sundays over the summer. We can expect similar offerings at the Orillia Aqua Theatre, Mel Lastman Square, Earl Bales park and a host of other venues too numerous to mention. Please check the listings section for details.
As for what lies ahead on the personal agenda, if the coming Sunday offers any clue, there won't be much time for relaxation. That day begins with a "Decoration Day" service in a cemetery and ends with a concert in a park. Sandwiched in between those two performances are two end-of-season parties for groups which are knocking off for the summer. Otherwise, there isn't much to do that day. Last month I stated my intention to explore The Breathing Gymprogram of exercises for wind musicians. With a weather forecast calling for a humidex of 40° C or 104° F, those exercises will have to wait.
Definition Department
This month's lesser known musical term is: Trouble Clef: any clef that one can't read: e.g. alto clef for most trombonists. We invite submissions from readers. Let's hear your daffynitions. 
Jack MacQuarrie plays several brass instruments and has performed in many community ensembles. He can be contacted at bandstand@thewholenote.com.