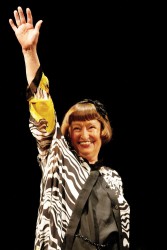 The Lady is a Champ
When women in their eighties contract pneumonia, some take it easy. Not Sheila Jordan. Forced to cancel a Toronto appearance last September, she's back to touring the world. "If it wasn't for jazz music, I wouldn't be alive today," she sings, and means every word. Live jazz is not only Jordan's occupation, it's been her life for nearly seven decades. Brimming with depth, style, sincerity and unabashed joy, her concerts might as well offer a money-back guarantee. She's never had a manager: "I never wanted to be, you know, 'a star'," she once told me. "That's not my purpose, that's not my calling. My calling is to be a messenger of this music, and I'm very happy being that." Generous with her wisdom, she's giving a full day workshop while in town April 2nd and 3rd at Gallery 345 (part of Yvette Tollar's Women in Jazz Series).
New Lungs, New CD!
Canada's Sweetheart of Swing Alex Pangman is one of this country's most adored jazz singers, which is remarkable given that she was born with cystic fibrosis. When her condition became critical in 2008, a lung donor came through just in time. "With new lungs I open my mouth and song comes out, supported by litres of air … it's as if someone took my banged up old student trumpet and handed me a gold Selmer or Monette!" Now recovered, she's promoting organ donation and back into the swing of things, to the delight of all. On April 12 at Hugh's Room Pangman releases her long-awaited new album 33, recorded shortly after her 33rd birthday, featuring tracks famous in 1933.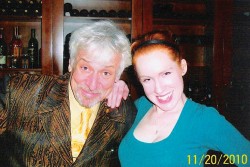 Bee Younger
When JAZZ.FM91's Jaymz Bee isn't busy promoting this city's jazz artists on the air, he's buzzing about the club scene, martini in hand, making friends. He always celebrates his birthday in style. "This party is unique – you only turn 42 for the sixth time once!" Thanks to The Old Mill Inn and an anonymous friend who gave him a cheque to pay for some talent "I can offer up a night of some of my favourite local music to everyone with no cover charge." It's April 13, at The Old Mill Inn, with entertainment by the Eric St. Laurent Trio, the Robert Scott Trio, Barbra Lica, Waylen Miki, Kollage and special guests. Bee there!
Jazz Teriyaki
Upscale EDO on Eglinton West welcomes a new weekly jazz series, Thursdays 8-11pm, with ace guitarist Tony Quarrington leading a different trio each week. "EDO has many skilled sushi chefs, a warm decor, and friendly service," says Quarrington. The restaurant's name is pronounced "eh-dough" in Canadian (the former name of modern day Tokyo until 1868). April guests include vocalist Beverly Taft and and violinist San Murata. (NO COVER CHARGE!)
Jazz Chow Mein
Also on Eglinton is the Cantonese and Mandarin cuisine haven China House with jazz presented by Larry Green every Thursday from 7:30-11:30 since May 2010. Owner Jonathan Wise: "… there is something about a wonderfully vintage and iconic dining room blended with world class jazz. The response has been overwhelmingly positive." Highlights this month include the Bernie Senensky Quartet paying tribute to Moe Koffman as well as the legendary Peter Appleyard Quartet. (NO COVER CHARGE!)