October brings an interesting variety of early music activity: historical instruments performing a range of music from the middle ages to the classical period; philosophies expressed through music and historically interesting pairings of old and new; the celebration of a milestone anniversary and brand new initiatives in the field.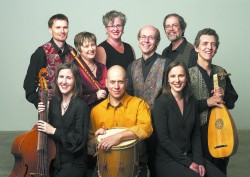 The Toronto Consort celebrates its 40th anniversary this season — no mean accomplishment for an early music group that started relatively modestly. They've weathered many personnel changes in their long history, and therefore also shifts in their sound and to some extent their focus, according to performers and instruments available during any given period. Sadly also, they've seen the recent death of a well-loved co-founder, Garry Crighton. There are also elements of constancy, including the involvement since 1979 of the energetic David Fallis, artistic director since 1990, who has led them through projects such as providing authentic period music for the 10 part television series The Tudors. What better way to celebrate the success of 40 years than with a season opener showcasing masterpieces from the English Renaissance, including music the Consort recorded for that TV series, crowned with the magnificent 40-part motet Spem in alium by Thomas Tallis? To perform this work they will be joined by members of Toronto's Tallis Choir. "The Tudors" is presented at Trinity-St. Paul's Centre on October 19 and 20.
Voice and instruments: Just announced, the University of Toronto's Faculty of Music is establishing an exciting new program in early music that comprises both voice and instrumental components under the direction of countertenor and early music specialist Daniel Taylor. The list of musicians involved as instructors is impressive and includes respected local early music specialists as well as distinguished guests such as soprano Emma Kirkby and violinist Adrian Butterfield. Musicians from Tafelmusik and the Theatre of Early Music (Taylor's own early music choir and orchestra) will appear in concerts this year with the newly formed Schola Cantorum.
In Taylor's own words:"My vision is one which brings faculty and students together. With the support and guidance of my gifted colleagues, we hope to bring what is sacred back into the process of exploring this magnificent yet neglected early repertoire. The U of T offers students an unparallelled opportunity in Canada to study with the most sought after artists in the field of early music. We offer an exceptional program which meets the needs of our exceptional students. Any misconceptions that the study of music written between 1000 and 1800 is limiting in any way will fall away."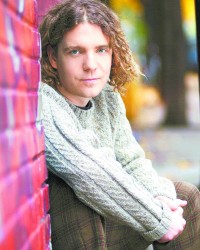 One of the program's first public performances is on October 18, when U of T presents "Songs of Love and War," opera scenes from the Baroque, staged by Tim Albery and conducted by Kevin Mallon, in the Music Room at Hart House.
Some concerts open a window onto a world of ideas, or universal truths. "Hildegard of Bingen and the Living Light" is one. Arising from a deep commitment to the precepts of this 12th century abbess, healer, writer and composer, it's a one woman show created by the American mezzo Linn Maxwell, in which she becomes Hildegard, telling her story and expressing her philosophy of the world through actual songs and writings while providing her own accompaniment on the psaltery, organistrum (an early hurdy gurdy) and harp. This performance, taking place on October 23 and 24 at Regis College Chapel, is a co-production of TrypTych and Opera by Request.
Obviously a man of ideas who operated under an assumed name referring to musical pitches, Pierre Alamire was not only a merchant, a diplomat and a spy for the court of Henry VIII, but also one of the 16th century's most skilled music copyists and illuminators. On October 28, the Toronto Chamber Choir will be projecting some of his beautifully illuminated copies as they perform music by contemporaries Josquin, Ockeghem, de la Rue and Willaert. "Mysterious Pierre A-la-mi-re"is an afternoon Kaffeemusik, one of those presentations given twice a year by the Choir and their music director, Mark Vuorinen, which seek to both entertain and inform.
And though I'm not sure whether I Furiosi's "Losers"exactly falls into the category of universal truth, their October 19 concert explores the theme of loss (they quote Oscar Wilde: "To lose one parent ... may be regarded as a misfortune; to lose both looks like carelessness") — but not necessarily in a vein of melancholy. "We tend to make things just a little bit funny," soprano Gabrielle McLaughlin assures me. The concert featuring works by Froberger, Handel, Purcell and others includes guests, baritone David Roth and harpsichordist Michael Jarvis, and takes place at a new venue, St. David's Anglican Church.
The juxtaposition of old and new turns up more than once this month, in various guises.Here are four events, each with its own take on this concept:
The marvellous violinist, Anne-Sophie Mutter, appears with the Toronto Symphony on October 3 and 4, playing two contrasting works: In tempus praesens written for her by the contemporary Russian composer Sofia Gubaidulina and Bach's A minor Violin Concerto. You will not hear Bach clothed in the pure transparency of period performance style but you will hear a performance of power and conviction played by a master of her instrument who seeks to express the music's truth with great artistry.
If you have a penchant for the charms of the recorder and enjoy hearing what it can do in both early and contemporary styles, you'll be well satisfied on October 9 as the COC presents, in its Richard Bradshaw Amphitheatre series, the terrific recorder quartet Flûte Alors! — four young virtuosos from Quebec who play like a dream. They'll offer an eclectic mix of styles, from the Baroque to contemporary pieces — "Bach to the Beach Boys" as their publicity tells us.
For a time, much of Bach's music was considered old fashioned and virtually forgotten. But the revival of the St. Matthew Passion in 1829 by the young Felix Mendelssohn kindled the realization that this indeed was music of a towering master, consequently spawning myriad compositions inspired by Bach's genius. You can savour some of the evidence of his influence on later composers in the realm of choral music, as the Tallis Choir opens its season with four Bach motets and four beautiful works by romantic composers: Brahms, Bruckner, Rheinberger and Mendelssohn. "Bach & The Romantics" is presented at St. Patrick's Church, Toronto on October 13.
Nota Bene Baroque is the Kitchener-Waterloo region's own baroque orchestra, with an imaginative three-concert season. They have a very interesting idea for their opener on October 21 titled "Something Old, Something New," and that is to keep you guessing (for awhile) whether the music you're hearing is by a baroque or a living composer — there'll be both on the program, but all composed in baroque style. It's the audience's task to discern which pieces have been recently written and which really come from the baroque era. A good chance to hear "baroque" music you've truly never heard before!
A few others: The Cardinal Consort of Viols presents an evening of consort songs and instrumental music, featuring Elizabethan and Jacobean composers such as Byrd, Weelkes and Dowland — but not just any music: it all pays special tribute to ladies both real and mythological. The beautiful genre known as the consort song — voice accompanied by viols — features soprano Dawn Bailey as soloist in "Musicke for the Laydies", which takes place at Royal St. George's College Chapel on October 6.
Despite earthquakes, war and eruptions of Mount Vesuvius, baroque Naples boasted a vibrant music scene. In concerts entitled "Bella Napoli," Tafelmusik Baroque Orchestra collaborates with the Vesuvius Ensemble and percussionist Ben Grossman to celebrate the musical richness of Naples and southern Italy with rarely heard comic opera arias, tarantellas and street songs; but also concertos and sonatas by Leo, Vinci, A. Scarlatti and Durante. For Tafelmusik, a new first: collaboration with an ensemble that specializes in traditional regional music. Performances take place October 11 to 14 at Trinity-St. Paul's Centre.
The Windermere String Quartet on Period Instruments launches their season with the next in their series "The Golden Age of String Quartets." For this they've chosen quartets by Haydn, Mozart and Beethoven, linked both by the composers' admiration for each other and by the fact that each was composed as part of a set of six: the Haydn, from his Op.33 set; the Mozart, one of his six quartets dedicated to Haydn; the Beethoven, one of his Op.18 quartets which were inspired by Mozart's genius in writing for the genre. The concert takes place at St. Olave's Anglican Church on October 14.
For details of all these, and others not mentioned, please refer to The WholeNote's daily listings. 
Simone Desilets is a long-time contributor to The WholeNote in several capacities who plays the viola da gamba. She can be contacted at earlymusic@thewholenote.com.