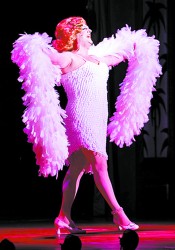 Musical theatre thrives on showstoppers — performances of songs or dances so striking that they interrupt a show to potentially eclipse the entire production. Of these, few impress me more than the solo rendition of "I Am What I Am" at the end of Act One in La Cage aux Folles, the celebrated musical that premiered on Broadway in 1983 and opens October 10 for a six-week run at Toronto's Royal Alexandra Theatre. Its arrival marks the end of a tour noteworthy for sold-out performances and rave reviews, many focussed on Christopher Sieber, the actor playing Albin, a matronly male who morphs into Zaza, a flamboyant drag queen, early in the show and then makes it his own. Sieber's version of "I Am What I Am" is one of the best I have heard, imbuing Jerry Herman's passionate lyrics and indelible melody with a sense of personal conviction worth the price of admission alone.
Herman knew the power of his song when he wrote it, which he reveals in his autobiography, Showtune. As a result, he readily agreed to a suggestion by Harvey Fierstein, who wrote the book for La Cage, to use the number to close Act One. He also realized that by introducing the song at the top of the show, which he intended to do, he risked undercutting Albin's big moment. So he changed the lyric, but only slightly, having the Cagelles, a troupe of men in drag that performs the song at the Riviera, a St. Tropez club (one of the show's main locations), sing in the plural: "We are what we are, and what we are is an illusion. We love how it feels putting on heels, causing confusion." When, at the end of the act, Albin substitutes the singular "I" for the Cagelles' "we," he highlights the isolation he feels after being betrayed by Georges, his lover of 20 years (played by George Hamilton in this production), and Georges' 24-year-old son, Jean-Michel, whom he has raised as his own child. Simultaneously, he emphasizes the show's focus on identity and asserts the defiant stand that informs its politic: "I am what I am/ I am my own special creation. So come take a look, Give me the hook or the ovation."
The musical version of La Cage aux Folles is the brainchild of three gay men — Jerry Herman, Harvey Fierstein and director, Arthur Laurents — whose achievement cannot be overestimated. Originally a play by Jean Poiret (1973) that was made into a film (1978), the musical was conceived and presented during the early days of the AIDS crisis — a time when sexuality, especially in New York City, suffered acute disapprobation, and homophobia ran rampant. To win backers and attract an audience, the creative team agreed to create "a charming, colourful, great-looking musical comedy — an old-fashioned piece of entertainment," as Herman writes. The result was a lavish spectacle, as glamourous as any MGM musical, that broke attendance records, won each of its creators a Tony Award, and grabbed three more for good measure, including one for Best Musical and another for George Hearn, the actor who played Albin.
At the time, I was not impressed. I couldn't reconcile the money spent to feather and sequin the elaborate costumes designed by the legendary Theoni V. Aldredge with the poverty of resources that bedevilled the work of HIV researchers and people dying of AIDS. Fierstein, a gay activist whose play, Torch Song Trilogy, made a Broadway breakthrough in the 1970s, had sold out to the mainstream, in my opinion, and Herman and Laurents were simply playing their politics too safe for my sensibilities. It was with some reluctance, therefore, that I attended a revival of the musical in London in 2009, a production that also won a slew of awards and attracted large audiences.
The London revival of La Cage that was produced at the Menier Chocolate Factory in 2008 created the template both for the production I saw in London's West End and the show that is touring to Toronto. Conceived and directed by Terry Johnson, it is smaller than the original and much more gritty. The Riviera is down and dirty — more back-street boite than upscale nightclub. The Cagelles are definitely men in drag — as opposed to the ambiguous "showgirls" that Laurents felt obliged to present — muscular mecs whose bustiers slip to reveal tattoos (and more) as they execute the lasciviously acrobatic choreography. The Cagelles' aggessively physical opening appearance sets the tone for a production both more provocative and more personal than the original. Albin's betrayal is clearer, and more clearly horrible: Jean-Michel announces his plans to marry the daughter of a virulently anti-gay politician,and demands that Albin absent himself from a family meet-and-greet — in effect, shut himself back in the closet. When Albin subsequently fails to perform a convincingly masculine "uncle" during the visit, questions of "family values" erupt to add freight to the ensuing farce.
For Christopher Sieber, playing Albin is a gift. A gay man who married his same-sex partner last November, Sieber understands the discrimination that Albin protests. In a telephone interview, he makes an (unnecessary) apology for pleading the case for gay rights before he proceeds to discuss his performance. The key to his role, he tells me, is to recognize that it combines two characters in one: "Albin is a needy, emotional, insecure person, but he's also Zaza, an over-the-top chanteuse." Sieber uses the duality to turn "I Am What I Am" into his personal showstopper. "Initially, I played the moment as if Albin feels he has no one but the audience left –he's singing to them. Now I play it differently — as if he is all alone, has no one but himself to rely on, and he's singing for himself. Ultimately, the song is triumphant, and that's why it has become such an anthem. I don't get mad when I sing it, the way some performers have. I use the discrimination as fuel." He pauses to admit a sly edge to his tone. "Sometimes I become a little more fierce than others ..."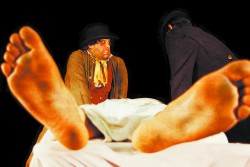 Bloodless: It remains to be seen how Christopher Sieber will play "I Am What I Am" in Toronto. I have no doubt, however, that he'll stop the show — and that his performance will widen a fan base that already is expanding. I also have no doubt that the Toronto premiere of Bloodless: The Trial of Burke and Hare that opens for a limited run at the Panasonic Theatre on October 11, will introduce another talent, new to Toronto, destined for wide recognition. As I mentioned in my column last March, Joseph Aragon wrote the book and lyrics for this wickedly clever show, as well as composed the music. Until now, he has remained relatively unknown outside of Winnipeg, his home town, a situation that Adam Brazier is hoping to change.
Brazier is the artistic director of Theatre 20 (T20) which, with this production, makes its debut as Toronto's newest not-for-profit company devoted to the creation and production of musical theatre. Last winter, in a national search for new scripts, he met with Aragon in Winnipeg. "I had never heard of Joseph Aragon before then," he explains. "Now it is my personal goal for theatre lovers and producers throughout Canada to make sure they know his name."
Brazier's choice of Bloodless is appropriate given that a company goal is "to present story-driven musicals by developing new Canadian works ... " Although the musical premiered at the Winnipeg Fringe Festival in 2008 under the auspices of White Rabbit Productions, since then it has been developed by T20 through workshops with students in Sheridan College's Music Theatre Performance program. For Aragon, "the [present] show is more economical and streamlined than it was in its Fringe incarnation," a change that rehearsals have further refined. "The artists at Theatre 20 are, for the most part, significantly more experienced" than the ones Aragon worked with in Winnipeg, and, as he points out, "now the stakes are higher."
Producing a new musical by a relative unknown is always a gamble. In the case of Bloodless, the stakes are higher than usual because of the subject matter. Based on true events, the book tells the story of William Burke and William Hare, two Irish immigrants to Edinburgh in the early 19th century who, after numerous failed attempts to make a living, resort to selling dead bodies for scientific research. Instead of unearthing the newly deceased, they opt to produce their own corpses. Soon, they are murdering and selling bodies on a daily basis, until their criminal misdeeds are discovered, which leads to "the trial of the century" that Aragon uses to frame his story.
Relying heavily on flashbacks, the book for Bloodless is fast paced and exciting; nevertheless, its story is gruesome, which Brazier took into account while directing the production. "The greatest challenge in creating a piece like Bloodless is making your antagonists human beings we care to watch. Although their conduct and behaviour are deplorable, we work tirelessly to make them relatable and entertaining." The cast of 14, including well-known Stratford performers Evan Buliung ( William Burke) and Eddie Glen ( William Hare), works very much as an ensemble. "One of the things I most like about the piece is that it offers quality roles for everyone involved," Brazier comments. "As an artist-led company we are all highly driven by the text and stories we want to tell."
Aragon banks on the score to keep the audience on side. Noting that it "is based heavily on Irish and Scottish folk music, with some Danny Elfman-like touches to throw things off kilter," he uses it to calibrate the show's tension. With a live band (piano, viola, bassoon, clarinet, flute and cello) under the direction of Jason Jestadt, the music invariably prompts comparisons to the score of Sweeney Todd, Stephen Sondheim's gothic masterpiece. Aragon readily admits the influence. "I'd be lying if I said Bloodless wasn't inspired in some way by Sweeney Todd, and I knew when I started, just by virtue of the subject and setting, that intersecting Sweeney's world would be inescapable. That said, we're doing everything we can to make it as distinct as possible, and in the end, it really is a very different story."
The mention of Sweeney Todd leads the composer and lyricist to acknowledge that Sondheim's work has influenced more than this show; it has impacted his creative process. "Sondheim talks about having a 'puzzle mind' when composing and writing lyrics, and I happen to see the process the same way — a lot of logical problem solving, trial and error, working backwards, setting up and paying off, choosing words that rhyme and scan correctly, all the while ensuring you're telling the story and being emotionally honest. He's also big into content dictating form, and violating structure if the story demands it."
Including "showstoppers," Aragon might have added: Sondheim has written more than a few. It will be fascinating to see if and how the neophyte artist follows his lead.
And speaking of showstoppers, there's more! Political Mother arrives in Toronto for a six-show run at Canadian Stage on October 24. This production has stopped the entire contemporary dance world cold in its tracks, presenting a coup de théâtre that runs for 90 minutes without letting up. Visit thewholenote.com for an extended discussion of this heartstopping show. 
Based in Toronto, Robert Wallace writes about theatre and performance. He can be contacted at musictheatre@thewholenote.com.