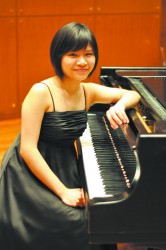 These days, with so much to bring us down — the lousy economy, rampant shootings, political turmoil, crushing poverty, grave threats to the environment, the possibility (even the remotest one) that Mitt Romney might win the upcoming U.S. presidential race or, closer to home, that certain mayors might get re-elected for a second term — who isn't looking for a reason to lift the spirits and celebrate something ... anything. Any excuse for a party, right?
Fortunately for us, in October and early November there's some serious (and eclectic) celebrating going on by several orchestras: from the CAST (Chinese Artist Society of Toronto) Philomusica Orchestra's commemoration of the 15th anniversary of Hong Kong's accession to China, and the Korean Canadian Symphony Orchestra's celebration of its 25th anniversary, to the Ontario Philharmonic's recognition of violinist Shlomo Mintz's 50 years on stage, and the curiously-named Medical Musical Group Chorale and Symphony Orchestra's acknowledgment of "200 years of peace and friendship" with an "American-Canadian Friendship Concert." I did say eclectic.
At the other end of the musical spectrum, the art of the solo piano is being celebrated by a number of presenters, covering the gamut from Bach to John Cage (who's also being celebrated in honour of the 100th anniversary of his birth, well-noted in last month's issue). You'll find those listed below in the Quick Picks.
All in all, there's some pretty compelling and unusual music making this month to take your mind off the woes of the world, if only for the length of a concert. Let the celebrations begin!
A Banner Month for Anniversaries
15 years: 1997 marked the year of Hong Kong's accession to China (after 156 years under British rule) and its establishment as a "Special Administrative Region." The Chinese Artist Society of Toronto (CAST) and the Multi-Culture & Folk Arts Association of Canada are honouring the 15th anniversary of this historic juncture with a concert on October 28 at the Richmond Hill Centre for the Performing Arts. On the varied program: Schumann's Piano Concerto in A Minor; Mozart's (unfinished) Concerto for Violin and Piano in D Major K.anh.56 (315f); Chinese music for violin and piano; narration with music arranged from songs that evoke images of Hong Kong; and a violin ensemble of 100 children performing popular Hong Kong songs.
The concert features 20-year-old Hong Kong pianist Rachel Cheung, making her Canadian debut. Also performing are well-known local soloists (with Hong Kong connections) Conrad Chow, violin, and Ka Kit Tam, piano, and the CAST Philomusica Orchestra. Erhei Liang, who wears many hats including one as president of CAST, another as composer-in-residence of the Hong Kong City Choir and yet another as an associate composer of the Canadian Music Centre, conducts. The evening gets underway at 7:30pm.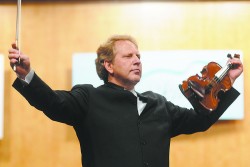 25 years: On its website, the Korean Canadian Symphony Orchestra states that its mission is "to present the highest quality classical music to our audience, many of whom are not regular concertgoers, to present Korean-Canadian soloists and composers and provide work and experience to young musicians from the GTA." On October 20, regular and "non-regular" concertgoers can see that mission executed as KCSO presents its "25th Anniversary Gala Concert" at the Toronto Centre for the Arts' George Weston Recital Hall, beginning at 7:30pm. While the program does not contain any Korean works, it does offer Mozart's Andante in C K315 and Rondo in D K184, the first movement of both Chopin's Piano Concerto No. 2 in F Minor and Grieg's Piano Concerto in A Minor, as well as Symphony No.7 by Beethoven (in full). Korean-Canadian musicians Sylvia Kim, flute, and pianists Jason Lee and Donna Lee will perform under the baton of Richard Lee who, in addition to being the KCSO's music director, is also an assistant music director of the Winnipeg Symphony Orchestra.
50 years: The Ontario Philharmonic (OP) must be getting pretty pumped about their upcoming set of concerts titled "Shlomo Mintz, Violin Legend: Celebrating 50 Years on Stage." I don't know when it was that Mintz last performed in Ontario (or with the OP), but his early November engagement with the Oshawa-based orchestra is being billed as a "long-awaited return."
Interestingly, both the OP and Mintz were born in 1957 (which means Mintz must have had his first stage appearance at age five). Mintz, considered one of the greatest violinists of our time (and who, at age 18, added the role of conductor to his long list of achievements), has had a celebrated career, beginning with his Carnegie Hall debut at age 16 with the Pittsburgh Symphony. We are lucky to have him in the GTA for two performances: the first, November 3, is at Oshawa's Regent Theatre; the second, on the 6th, is at Koerner Hall and is part of the OP's special Great Soloists Series which showcases some of the world's most distinguished artists.
It's an all-Tchaikovsky program for each concert with Mintz performing the Violin Concerto in D Op. 35 and Marco Parisotto, OP music director, conducting the orchestra in the Symphony No. 5 in E Minor Op.64. Both concerts begin at 8pm.
200 years: I simply could not resist including the Medical Musical Group Chorale and Symphony Orchestra's "Canadian-American Friendship Concert: 200 Years of Peace and Friendship!" in this collection of celebratory concerts. Based out of Washington, DC, the 200 members of MMG are "healers: doctors, nurses and others from medical centers and schools all over the USA." Their mission? "To perform 'Music with a Message' — of healing, hope, inspiration, patriotism and peace at home; and peace and international friendship overseas." MMG is the largest musical medical group in America — there are many such groups, as I discovered at www.doctorshobbies.com; who knew? — and performances have taken the group to Carnegie Hall, the Kennedy Center, the United Nations and the White House, as well as to overseas destinations such as Denmark, France, Greece, Ireland, Portugal, New Zealand and Russia.
The repertoire for MMG's November 7 concert will include everything from Foster's The Prayer and Haydn's The Heavens Are Telling to von Suppé's Light Cavalry Overture, McCrae's In Flanders Fields and Tchaikovsky's 1812 Overture Finale; plus another eight or so pieces as well as a "Beautiful Tunes Collage" of theme melodies. And as an extra special treat, Dean Martin's daughter, Deana Martin, will be on hand to sing some of her father's songs. In addition, there will be the narration of verse intertwined with music.
Joining the MMG for the evening will be tenor Mark Masri and soprano Lacey Purchase, while our very own Kerry Stratton will be among the seven narrators; that's right, the busy conductor will not be the one with the baton this time. That honour will go to MMG founder and music director, Victor Wahby, MD, Ph.D., otherwise known as the "medical maestro." Church on the Queensway is the "operating" theatre; "scrub in" is at 7:30pm. (sorry)
Quick Picks: Art of the Piano – Soloists in Recital
October 7 3:00: Hart House Music Committee. Sunday Concert: 653rd Concert. Works by Beethoven, Brahms, Shostakovich and Gershwin. Mauro Bertoli, piano. Great Hall, Hart House.
October 13 8:00: Kitchener-Waterloo Chamber Music Society. Eric Himy, piano. Debussy: Ondine; Ravel: Ondine; Schubert: 3 Impromptus Op.90; Gershwin: American in Paris; Rhapsody in Blue; and other works. KWCMS Music Room, Waterloo.
October 18 1:30: Women's Musical Club of Toronto. Music in the Afternoon. Schubert: Sonata in c D958; Sonata in A D959; Sonata in B-flat D960. Paul Lewis, piano. Walter Hall, Edward Johnson Bldg.
October 28 3:00: Campbellville Chamber Concerts. The Art of the Concert Pianist. Works by Chopin, Liszt, Ravel and Rachmaninoff. Alexei Gulenco, piano. St. David's Presbyterian Church, Campbellville.
October 30 8:00: Music Toronto. Piano Series: John O'Conor. Beethoven: Six Bagatelles Op.126; Sonata in D Op.10 No.3; Schubert: Sonata in c D958. Jane Mallett Theatre, St. Lawrence Centre for the Arts.
October 30 8:00: Les Amis Concerts. The Art of the Piano:
Nada Kolundzija, piano. Cage: Sonatas and Interludes (1946–1948). Gallery 345, 345 Sorauren Ave.
November 4 3:00: Gallery 345. The Art of the Piano: Darret Zusko. Works by Bach, Beethoven, Debussy, Chopin, Liszt, Buczynski and Kapustin. Gallery 345.
So, whatever your reason to celebrate, take yourself out to a concert for the occasion, and may your spirits be lifted! 
Sharna Searle trained as a musician and lawyer, practised a lot more piano than law and is listings editor at The WholeNote. She can be contacted at classicalbeyond@thewholenote.com.