What is a song? When I started these columns, I realized that I had to make some attempt to decide what to include and what to exclude. I decided that opera, whether staged or in concert, was not part of my beat, although I could include vocal recitals that contained arias as well as songs. Similarly with choral music: it belongs in Benjamin Stein's column, but I might talk about vocal soloists in such concerts (and have done so). Yet it was clear to me that the main emphasis should fall on songs (Purcell, Britten), lieder (Schubert, Wolf), chansons (Fauré, Poulenc).
The Aldeburgh Connection: We are lucky in Toronto to have the Aldeburgh Connection, an organization founded and led by Stephen Ralls and Bruce Ubukata, pianists who first met when they coached at the Britten-Pears School in Aldeburgh on England's east coast. Subsequently, they founded the Aldeburgh Connection, which had its first concert in 1982. Over the years many distinguished singers have performed with the group and many young singers have sung there at an early stage in their careers. The performers have always been Canadians. Programs are never a series of individual items thrown together; they are always carefully constructed around a central theme. This season begins with "The Lyre of Orpheus: Robertson Davies and Music," a program of works that Davies referred to in his novels or that he liked to sing and play. The soloists will be Miriam Khalil, soprano, Allyson McHardy, mezzo-soprano, and Geoffrey Sirett, baritone at Walter Hall, Edward Johnson Building, October 21.
We can also look forward to their concerts later this season: "Madame Bizet" in December, "Valse des fleurs: Music in Imperial Russia" in January and the annual Greta Kraus Schubertiad in March.
One of the singers who has performed with the Aldeburgh Connection is the soprano Shannon Mercer. You will be able to hear her this month in a concert of contemporary music given by Soundstreams, in which she will sing Analia Llugdar's Sentir de Cacerolas and Fuhong Shi's The Mountain Spirit at Koerner Hall. This may be your last chance to hear Mercer in 2012, since, immediately after this concert, she will start a European tour with the Queen of Puddings Music Theatre in a series of performances of Ana Sokolovic's Svadba (The Wedding). Butshe will be back in the spring and one of the events in which she will sing is a Benjamin Britten concert with, you guessed it, the Aldeburgh Connection, May 7; it's part of a series of three concerts titled "A Britten Festival of Song."
Canadian Voices: Although it is regrettable that Koerner Hall no longer has a vocal series, we can welcome "Canadian Voices," a series at the Glenn Gould Studio mounted by Roy Thomson Hall, now in its second year. These concerts are designed to showcase young Canadian singers and are therefore a perfect complement to the series presented by the Aldeburgh Connection, although they would seem to be concerned more with singers who have an established reputation. By contrast, Ralls and Ubukata are always careful to balance well-known singers with emerging talents.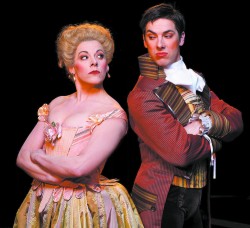 The first concert in the "Canadian Voices" series will be performed on October 28 at 2pm by Phillip Addis, baritone, and Emily Hamper, piano. The program includes Ravel's Histoires naturelles, Vaughan Williams' Songs of Travel, four songs from Op.38 by Tchaikovsky, Fauré's L'Horizon chimérique and three folksong arrangements by Benjamin Britten. Addis is coming off a very busy and very successful season: in September 2011 he performed Count Almaviva in Mozart's The Marriage of Figaro with l'Opéra de Montréal; this was followed by a performance of the title role in Mozart's Don Giovanni for Opera Atelier in Toronto in October; in March he sang Roderick Usher in Debussy's Fall of the House of Usher in Paris and this was followed by another Debussy role, that of Pelléas in Pelléas et Mélisande, in a concert performance in London. That was in July and in that month he also sang Demetrius in Britten's A Midsummer Night's Dream in Rome.
There will be three further concerts in this series later this season: David Pomeroy, tenor, will sing on February 24 and he will be followed by two mezzo-sopranos, Wallis Giunta, on March 24 and Allyson McHardy on April 14. These three singers are all former members of the Canadian Opera Company Ensemble Studio. Like Addis, they are largely known for their work in opera and it will be interesting to hear them in recital. Pomeroy is world famous for his portrayal of the leading tenor roles in 19th century opera: Hoffmann (Offenbach), Faust (Gounod), Alfredo and the Duke of Mantua (Verdi), Rodolfo and Cavaradossi (Puccini). But he has also performed in lesser known works such as The Two Widows by Smetana and The House of the Dead by Janáček (in a memorable production mounted by the COC in February 2008). Giunta sang Cherubino in Mozart's The Marriage of Figaro in Fort Worth last year and she will be singing the role of Annio in another Mozart opera, La clemenza di Tito, for the COC later this year. I first heard McHardy in 1997, as the Drummer Girl in Ullmann's The Emperor of Atlantis, a performance of which I have a very vivid memory. Last year she sang Juno and Ino in Handel's Semele for the COC. She also performed the title role in Bizet's Carmen for Pacific Opera in Victoria. (Now that is something I would like to have seen!) In December she will sing the alto part in the Tafelmusik Messiah.
Other events in the GTA: On two consecutive Thursdays the University of Toronto, Faculty of Music, will present two performance classes for singers at Walter Hall. On October 11 at 12:10pm soprano Elizabeth MacDonald and pianist Steven Philcox perform "Women on the Verge," with music by Mozart, Liszt, Schubert, Duparc and Libby Larsen. On October 18 in the Music Room, Hart House, there will be two performances of "Opera Scenes: Songs of Love and War" at 1pm and 7:30pm. Leigh-Anne Martin, mezzo-soprano, will be one of the soloists in a concert given in memory of Gustav Ciamaga, also at Walter Hall. Admission to these events is free.
The Canadian Opera Company has announced three events for October in its Vocal Series: on October 3 Sandra Horst and Michael Albano offer a preview of the 2012/13 season of the University of Toronto's Opera Division; on October 11 members of the COC Ensemble Studio will perform highlights from Johann Strauss' Die Fledermaus; on October 16 Ileana Montalbetti, soprano, Peter Barrett and James Westman, baritones, and Robert Gleadow, bass, all former members of the COC Ensemble Studio, will perform. These free concerts are in the Richard Bradshaw Amphitheatre at the Four Seasons Centre at noon
On October 11 Tafelmusik will team up with the Vesuvius Ensemble in "Bella Napoli," a combination of refined concertos and traditional Southern Italian music. Francesco Pellegrino will be the tenor soloist at Trinity-St Paul's Centre at 8pm; to be repeated on October 12 and 13, also at 8pm, and on October 14 at 3:30pm.
The Royal Conservatory presents a series of seven concerts in Koerner Hall called "Montréal à Toronto" (MàT). The first of these, one of three in a mini-series titled in impeccable Franglais, "Chansongs," is given by two Canadian singer-songwriters, francophone Mario Chenart and anglophone Elizabeth Shepherd, on October 12 at 8pm. Next in the MàT series, on October 28 at 3pm, is a recital by Marie-Josée Lord, a soprano born in Haiti who grew up in Lévis and now lives in Montreal.
Two vocal concerts have been announced at Gallery 345, 345 Sorauren Ave.: on October 12 at 8pm Donna Linklater, soprano, is the soloist in a program of music by Weill; on November 2 at 8pm Leigh-Ann Allen, soprano, and Michelle Garlough, mezzo-soprano, will sing in "Lovers and Coquettes: An Evening of Opera and Song."
On October 14 the Off Centre Music Salon kicks off its season with its "Annual Schubertiad." Soloists Allison Angelo, soprano, and Lawrence Wiliford, tenor, perform at Glenn Gould Studio at 2pm.
Several of the "Music at Midday" concerts at York University will feature vocal music. In "Singing our Songs," arias and lieder are performed by classical voice students, October 23, 25, 30, and there is a masterclass with James Westman October 26. These free events are in the Tribute Communities Recital Hall, Accolade East, at 12:30pm.
On October 30 the Talisker Players will present a concert of music by Barab, Füssl, Handel, Plant, Rubbra and Weill with soloists Anita Krause, mezzo-soprano, and Lawrence Williford, tenor, at Trinity-St. Paul's Centre, 8pm; the concert is repeated on November 1.
And beyond the GTA: The "Music at Noon" series at Wilfred Laurier University's Maureen Forester Recital Hall includes three free vocal concerts: Kimberly Barber will be the soloist in the first two on October 4 and 11; Jennifer Enns-Modolo will perform in the third on the 18th.
Penelope, a song cycle based on the Odyssey, composed by Sarah Kirkland Snider and with lyrics by Ellen McLaughlin, will be performed by the Kitchener-Waterloo Symphony with soloist Shara Worden, at the Conrad Centre for the Performing Arts, October 11 and 12 at 7:30pm.
On October 24 at 8pm, arecital by Suzie LeBlanc, soprano, and Robert Kortgaard, piano, "'Tis the Last Rose of Summer," consisting of music ranging from Schubert to Gershwin, will take place in the Kitchener-Waterloo Chamber Music Society Music Room, Waterloo.
A postscript: A few weeks ago my 11-year-old daughter Saskia (herself a singer and a member of the Canadian Children's Opera Company) dragged me off to a pop concert sponsored by KiSS 92.5. Although I disliked the way the DJs whipped up the audience — mainly very young girls — into a frenzy, I found that I actually liked some of the songs. They certainly represent a different take on the Art of Song. 
Hans de Groot is a concert-goer and active listener who also sings and plays the recorder. He can be contacted at artofsong@thewholenote.com.