Last year, in October, flush with the excitement of the new season in full swing, I wrote about some recent artistic appointments, focussing particularly on conductor Uri Mayer's new role as artistic director and principal conductor of the Toronto Philharmonia Orchestra. Mayer had exciting and ambitious plans for the ensemble. Fast forward to this past October and its future appears significantly different than the one Mayer had envisioned. Like so many arts organizations (both large and small) plagued with money worries in these economically difficult times, the Toronto Philharmonia's very survival is now in jeopardy due, in great part, to its ongoing financial problems.
In an interview with John Terauds (see musicaltoronto.org) October 16, the TPO's president, Milos Krajny, said: "We are not opening the season because we couldn't raise enough money." According to Terauds, Krajny sent out an urgent plea to the orchestra's patrons and friends on September 10 but the appeal came up short of the $150,000 required to open the season.
As for the organization's uncertain future, Krajny told Terauds of the two options "on the table": putting the season opening on hold to January 25 ... or contemplating shutting the orchestra down. Hopefully, the latter does not come to pass; Toronto's musical community would be the poorer for it, if it does.
A Clarion Call: In the meantime, as we acknowledge these disappointing and challenging times for the Toronto Philharmonia, and wish the organization the best possible outcome, let this be our clarion call to action: to steadfastly support our local and regional orchestras; to go out and hear this great music performed live; to buy concert tickets and season subscriptions, not just for ourselves but also for our friends and relatives; to attend fundraisers and make regular (or irregular) donations. There's no mistaking that we've got to do our part if we want to see these orchestras through to their next season and the next ...
In November and early December, there are no less than 18 orchestras performing over 30 concerts. All, no doubt, would welcome our support (and our bums in their seats). Here, in no particular order, are a few suggestions as to where you may choose to spend your money, and you'll find several more in the Quick Picks at the end of the column: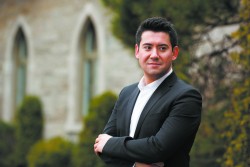 My first piece of writing for The WholeNote appeared in the November 2010 issue, when I reviewed pianist Ian Parker's debut CD of works by Ravel, Stravinsky and Gershwin; I thought his recording of the Ravel Piano Concerto in G just shimmered. So, those lucky enough to catch him playing the Ravel in his debut with the Hamilton Philharmonic Orchestra, November 10, are in for a treat. Conductor Marcello Lehninger will also lead the orchestra in Ravel's Mother Goose Suite and Shostakovich's Symphony No.5. The 7:30pm concert is at Hamilton Place.
Competing for those hard-earned dollars of yours, a week later on November 17, the Oakville Symphony Orchestra features its concertmaster, Joseph Peleg, in the glorious Brahms Violin Concerto, Op.77. The ensemble will also perform Mendelssohn's Symphony No.3, the"Scottish," under the baton of its music director, Roberto De Clara. The concert begins at 8pm at the Oakville Centre for the Performing Arts and will be repeated the next day, on November 18.
In its mission to "bring music to the people," the Toronto Concert Orchestra, its website tells us, "goes beyond the geographic boundaries of the Greater Toronto Area, beyond the boundaries of age, cultures, socio-economic divides and the accepted mores of a symphony orchestra to offer classical music with edge; preludes with personality ... symphony for fun." You'll have more than one opportunity to check out the fun when the TCO performs its program of all-Scandinavian works over a four day period, in four different locations. On November 2, 3, 4 and 5, TCO founding maestro, Kerry Stratton, conducts Grieg's Piano Concerto in A Minor, Op.16, featuring Swedish pianist Carl Petersson, Lars-Erik Larsson's Pastoral Suite and Dag Wirén's Serenade, in Milton, Barrie, Orillia and Toronto, respectively.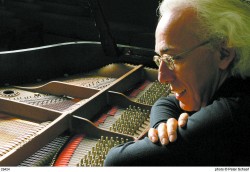 TSO at home and on the road: Speaking of road trips, the Toronto Symphony Orchestra will be taking one right after its November 14 and 15 Roy Thomson Hall performances of Beethoven's Concerto for Violin, Cello and Piano in C Major, Op.56, the "Triple" Concerto, Shostakovich's Symphony No.12, "The Year 1917," and Pierre Mercure's Triptyque. On November 17, 18 and 19, respectively, the orchestra takes the program to Brockville, Montreal and Ottawa; in Montreal, the TSO will perform in the new Maison symphonique de Montréal for its first time; in Ottawa, the orchestra returns to the National Arts Centre for its annual gig.
Three of Canada's most esteemed (and in demand) soloists have been brought together to form the "piano trio" for Beethoven's majestic "Triple": TSO concertmaster Jonathan Crow, pianist André Laplante and cellist Shauna Rolston — no small feat given their incredibly busy schedules! I spoke with TSO music director, Peter Oundjian, who described the Beethoven as "a sublime piece," and reported that "all three musicians were very pleased to be asked to play it together." Oundjian wanted a "fully Canadian cast." And true, it's not often that soloists are put together like this, and an existing trio could have been asked just as easily ... "or these three." I could hear the satisfied smile in his voice.
"They will find their common thread in their own special way," he told me. And while he can't say exactly what to expect — after all, they've never done this before — he knows that what's being created here is a "very exciting situation," an "unpredictable meal." For Oundjian, there's also another level of connection, making this an even more meaningful collaboration: he and Laplante were at Juilliard together; Rolston (who is at the U of T and has played quite regularly with the TSO) he's known since she was 16; and Crow, of course, is his concertmaster. It's indeed a "collaboration of virtuosos," as noted in a recent TSO press release, with each performance destined to be a thrilling event.
I was also intrigued by the choice of the Shostakovich No.12 on the program given that the TSO had just performed his No.11, "The year 1905," one late night back in June, at Luminato. "It is an immensely powerful piece," Oundjian said of the Twelfth, "a good tour piece"; as opposed to the Eleventh (which clocks in at 62 minutes), the Twelfth is a "condensed 40 minutes," and Oundjian felt that it, along with the Beethoven and Mercure's "brilliantly conceived" Tryptique, just "fit in."
It's an impressive and diverse program, the only way Oundjian would have it: "I like to really create eclectic programming. There's a responsibility to keep things as interesting as possible for everyone." And, clearly, to keep us wanting to come back and hear the next exciting concert and the next.
I had the privilege and pleasure of asking Peter Oundjian a few questions. Perhaps you'll have yours during the Q&A led by Oundjian, with the soloists on hand, following the November 14 and 15 concerts. With so much more to learn, I'm definitely staying for this one!
Oundjian on Perlman: Itzhak Perlman is back! Yes, just a little over six months since his five-day residency with the TSO at the end of April, the celebrated violinist returns to Roy Thomson Hall, this time for an afternoon recital, November 18. John Terauds calls it "one of the most significant dates of the season." (And by the way, while it might not be an orchestra in need, the Corporation of Massey Hall and Roy Thomson Hall also depends on our support through ticket sales, even when it presents a legend like Perlman.) With pianist Rohan De Silva, Perlman will perform Mozart's Sonata in A K526, the Sonata No.1 by Fauré and Stravinsky's Suite Italienne.
Peter Oundjian and I also spoke about his dear friend, colleague and former teacher, Itzhak Perlman. First, he confirmed something for me that I hadn't been absolutely certain about when he and Perlman played the splendid Bach "Double" Violin Concerto, in April: it was the first time they had ever shared the stage together as violinists. The evening was an historic moment in time, and the regard and affection that each holds for the other was palpable. That this was also Oundjian's first public appearance on the violin in 16 years, made it all the more special. As an aside, and with a quick laugh, Oundjian said that it was "probably the last time" he'll play publicly. We'll see.
In the meantime, he offered this of his good friend:
"Something extraordinary happens to people when Itzhak steps on stage: [people respond deeply to] his personality, his aura, his heartwarming, beautiful playing; the way he relates to all the musicians on stage. And by himself, in recital, there's an even greater focus on his very special personality."
Oundjian said that people had this type of reaction to Perlman even when he (Perlman) was a youngster. And while the two met at Juilliard in 1975, Oundjian remembers, as a youngster himself, listening to Perlman in the late 1960s. He said that the "memory still excites me and it was well over 40 years ago!"
Oundjian suggested that Perlman's playing in recital may not be as rare an occasion as I might have thought, and he was right: for example, just prior to his arrival in Toronto, Perlman will have performed several recitals in South America, also with Rohan De Silva; and he's scheduled to do others in 2013 (including one here in March, in collaboration with Cantor Yitzchak Meir Helfgot; another story for another column). Clearly, the man is tireless, yielding as ever to his irrepressible joy in making music. And, fortunately for us, he's been bringing that joy to Toronto for over 30 years.
I asked Oundjian about the difference in preparing for a solo recital versus a concerto. He offered that while they are "very different activities in many ways," in the end, "you have the violin, the technique, the ability to inspire." He then mentioned reading a novel about performing wherein the author "wrote something like, 'a good artist expresses feelings; a great artist evokes feelings in others.'" And so it will be when the great Itzhak Perlman steps on stage November 18.
In addition to Perlman's highly anticipated recital and the other concerts I've noted, there are dozens and dozens more to explore and discover in the listings. So, let's all do our part to ensure the future of live, classical music performance, whether by a symphony, a soloist, or something in between. You know what to do: Choose. Spend. Enjoy!
ORCHESTRAL QUICK PICKS
November 04 2:30: Orchestra Kingston. In Concert. Salvation Army Citadel, 816 Centennial Dr., Kingston.
November 04 3:00: Toronto Symphony Youth Orchestra. In Concert. Centre for the Arts, St. Michael's College School, 1515 Bathurst St.
November 10 8:00: Cathedral Bluffs Symphony Orchestra. In Concert. P.C. Ho Theatre, 5183 Sheppard St. E., Scarborough.
November 10 8:00: NYCO Symphony Orchestra. Season Premiere. Centre for the Arts, St. Michael's College School, 1515 Bathurst St. 7:30: Pre-concert chat.
November 17 8:00: York Symphony Orchestra. Mozart's Vienna: City of Music and Dreams. Trinity Anglican Church, 79 Victoria St., Aurora. Also Nov 18 (7:30, Richmond Hill).
November 18 3:00: Georgian Bay Symphony. Two Clarinets and Some Strings. Meaford Hall, 12 Nelson St. E., Meaford.
November 21 8:00: Kitchener-Waterloo Symphony Orchestra. Haydn's Wife? First United Church, 16 William St. W., Waterloo. Also Nov 23 (Guelph), Nov 24 (Cambridge).
November 24 8:00: Mississauga Symphony. An die Musik. Living Arts Centre, 4141 Living Arts Dr., Mississauga.
November 30 8:00: Ontario Philharmonic/Mooredale Concerts. Majestic Brahms. Regent Theatre, 50 King St. E, Oshawa. Also Dec 4 (Toronto).
December 01 7:00: Scarborough Philharmonic Orchestra. Festive Music from Around the World. Salvation Army Scarborough Citadel, 2021 Lawrence Ave. E., Scarborough. 7:15: Pre-concert chat.
December 01 8:00: Counterpoint Community Orchestra. In Concert. Saint Luke's United Church, 353 Sherbourne St.
December 07 8:00: Etobicoke Philharmonic Orchestra. Winter Wonderland. Seasonal and classical favourites. Humber Valley United Church, 76 Anglesey Blvd., Etobicoke. 7:00: Silent auction. 
Sharna Searle trained as a musician and lawyer, practised a lot more piano than law and is listings editor at The WholeNote. She can be contacted at classicalbeyond@thewholenote.com.