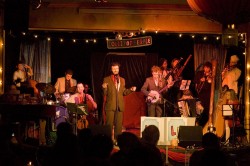 When the students of the Regent Park School of Music took to the stage with Pink Floyd's Roger Waters at Toronto's Rogers Centre this past June, they were performing for an audience of 40,000 — no mean feat for 15 students from a little community music school. Not that these particular students are strangers to large crowds. After all, they've performed at Blue Jays openers before. But this time around, their rousing rendition of Another Brick in the Wall was, in fact, a reprise of several sold out concerts two years ago.
That first time, when Waters contacted the school in 2010, they were given such short notice that, armed only with a copy of the lyrics and a YouTube video, the students virtually practised in the bus on the way to the concert at the Air Canada Centre. Still, that was a demonstration of the kind of sterling professionalism (and gusto!) worthy of any serious musician — and the kind of challenges that these students have surmounted before.
For the children of Regent Park, the challenges have never been simply, or even predominantly, financial. When the music school first began almost on a hope and a prayer in 1999, the neighbourhood's name was widely used as a synonym for "gangs and drugs." As a scenario it was not so very different from the slums of Caracas in Venezuela in 1975, where one of the giants of music education in our time, Jose Antonio Abreu, hit on the plan of luring children of poverty away from crime by providing free musical training.
El Sistema, the voluntary music education program Abreu founded, and for which he was awarded the Glenn Gould Prize in 2009, began dismally, with just 11 students. Today, it has close to 370,000 students and boasts 125 youth orchestras, 31 symphony orchestras and the celebrity of alumni like conductor Gustavo Dudamel. What's more, it's an enduring testimony to the transformative power of music.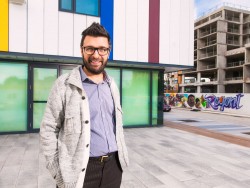 While there's no denying that El Sistema started out as a social rescue program aimed at the most vulnerable members of society, Abreu would argue that it is far more fundamental than that: as a microcosm of social life, it develops self esteem and counts on individual contributions to achieve collective goals.
Richard Marsella, director of the Regent Park School of Music, and the focus of this month's column, would be the first to scoff at being compared to Abreu. But on one thing they agree: "Music could save lives. If you connect with a child, that could change their life!"
Within days of opening its doors in a church basement 13 years ago, 71 children had been enrolled in the Regent Park School of Music. Fast forward to 2012 and 800 children are taking lessons, not only at Regent Park but also at satellite locations, Parkdale, Jane and Finch, and Lawrence Heights, in collaboration with local schools and both York and Toronto universities.
Marsella has written an ambitious five year plan that would see 3,000 students by the year 2015. "Ten years from now, we could have another hub at Lawrence Heights," he muses. This is a man who is not afraid to dream big — and with good reason. After all, he has just shepherded the Regent Park School of Music into its spanking new state-of-the-art home, in the Regent Park Arts and Culture Centre, at the heart of a reconceived, revitalized, you-won't recognize-it-now neighbourhood.
It's a home he had a hand in designing. Jennifer Mallard, Diamond and Schmitt's project architect for the Arts and Cultural Centre, where the music school is tucked away on the second floor, recalls his infectious enthusiasm about every detail, from which direction the doors should face, to whether a storage room would better serve as a studio (since it has the right acoustics anyway). He's the kind of hands-on guy who measures the size of the screws to fit the shelves in his office and thinks nothing of driving to Staples to pick up a few supplies.
You might think that screws and nuts and bolts are not the stuff of music making, but you would be wrong. In 2001, Marsella spent three weeks at Queen's University with composer R. Murray Schafer, his former supervisor in the Masters program at the University of Toronto, building a museum of smells, going on a blindfolded walk and working on what Marsella candidly describes as "a bizarre production of Snow White." To this day, he's not sure if what Schafer was doing was necessarily music education, "not in the standard sense anyhow," although it certainly resonated for him and developed in him a healthy respect for the completely unorthodox.
It was Schafer, after all, who introduced not just the notion of soundscape but the very word into our vocabulary. There are, according to Schafer, three elements to a soundscape. First there is the keynote, which is created by geography and climate (sounds like the wind, or other hardly noticed ambient noises, or sounds that are more intrusive, even if always in the background, like traffic). Second are sound signals, which are in the foreground and are obvious, like bells, horns and sirens. And finally there is the soundmark, the sonic equivalent of a landmark, which is what is unique to what Schafer calls "the acoustic life of the community."
For the then Brampton-based Marsella, it was a formative experience for what he was already plotting: a "constructive anarchist event with 700 grade four students" that was eventually christened "The Parade of Noises." Over a period of five years, Marsella would lead this annual procession of children brandishing such home made musical instruments as styrofoam guitars, shoebox banjos, water bottle drums, tin can bongos, whoopee cushion organs, clay ocarinas and plastic trombones, marching through the main street of Brampton, making joyful music in conjunction with a hundred professional musicians he'd persuaded to come along for the ride.
Marsella had a great team in his corner. Henk de Graauw, a man who built his own mechanical organ and whom Marsella affectionately calls a retired Nortel genius, helped out. One year, Schafer himself got involved in some of the planning meetings, and, of course, Marsella could count on the music faculty at U of T, where he was a student. Then there were the teachers of the 35 schools that turned up every year and their equally enthusiastic students, not to mention the staff at the Brampton Theatre, the Peel Board of Education and the Mayor of Brampton, who actually marched in the parade herself.
Yes, it takes a village: "To engage with a community, you need to include everybody, from parents and children, to the local garbage man, to the water-bottling plant," acknowledges Marsella. "From restaurants, we were given sauce cans by the hundreds, from the bottling plants, 18L water buckets that we'd transform into drums and from Waste Management, everything from pipes and buckets to heating grates. Everything turned into music, led by the imaginations of 700 nine–year-olds."
Marsella's role then, as now, was never far from the "nuts and bolts" end of things: things like spending many a night in his tool shed deburring the ends of copper pipes, to ensure that no children lost any fingers while making their instruments.
Nor has he ever forgotten what it means to engage with community. To that end, he sees the value of diversifying the school's programs and moving away from what he calls the Royal Conservatory model. This entails adopting a group approach, without entirely abandoning one-on-one classes. The school works with both paid staff and volunteer teachers from the community. A member of the local church makes phone calls to connect with students past and present. Graduates of the school come back to teach, mentor or just help out.
Connection is what Marsella does best. In 2010, before he took the helm at the school, he organized the Olympic Torch Relay on Parliament Hill and was able to connect with both the prime minister and the governor general.
In the same year that the Regent Park School of Music opened its doors, he started the Brampton Indie Arts Festival, booking artists who might have been considered, in those days, unusual, unconventional, even controversial. In the intervening years, it has showcased such acts as the Nihilist Spasm Band, Marc Ribot, Ron Sexsmith, the Rheostatics and Scott Thompson.
Friendly Rich: Many musicians make no secret of the fact that the only reason they have a day job is to enable them to indulge their real passion for music. Marsella makes no such distinction, but feeds his musical passions both day and night. As Friendly Rich, he fronts his own band, the Lollipop People, which this summer "began an eight-year Tuesday residency" at the Cameron House on Queen St. W. in downtown Toronto.
Visiting the Cameron on a recent Tuesday night, it was not difficult to imagine a consistent philosophy of musical connection at work. In between songs, a member of the opening band, the House Plants, ribbed him about his hirsute resemblance to the Mexican painter Frida Kahlo, then proceeded to sing a song about being dumped by a girl. And when the Lollipop People took to the stage, it prompted the audience to spontaneously hug each other in a wildly rhythmic paroxysm of applause, jumping up to bop. When the late night hurdy gurdy man sang, it sounded the way opera would if Elvis sang I Pagliacci, except that it was in English and irreverent, with rude references to people and places and events we all knew and some we didn't. It was soaring and wild and infectious and the crowd cheered for more.
It's what he calls "a culture of artistic risk taking" and he has brought it with him to the Regent Park Music School, where as he sees it "delivering quality music education means recognizing that experimentation leads to innovation, fostering volunteerism and community involvement."
That, one might say, is the nuts and bolts of it. 
Rebecca Chua is a Toronto-based journalist who writes on culture and the arts.