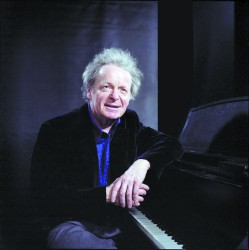 There was Anton Kuerti, with his nimbus of unruly hair, in the auditorium of Walter Hall on a balmy Sunday afternoon looking for all the world like a latter-day Einstein. Except this was no theoretical physicist nor amateur musician but a man who has been called one of the truly great pianists of this century, a pianist who has been lionized in practically every one of the almost 40 countries he has played and whose name is very nearly synonymous with Beethoven's great "Emperor" Concerto.
Surrounded by the principal players of the Toronto Symphony Orchestra as they deftly performed excerpts from Schubert's Octet and Spohr's Nonet, he surveyed the forest of hands that shot up in answer to his gently probing questions and fielded a volley of eager responses from young children and their families. It was quite an introduction to the first concert in Mooredale Concerts' Music & Truffles series, one specifically designed to acquaint first-timers with classical music.
It is easy to forget, in taking a measure of the man — when that man is Anton Kuerti — that he is not simply a concert pianist par excellence. Impresario, talent scout, chief copywriter, principal website and ticketing strategist, entrepreneur: these are just some of the hats he has added to his repertoire after assuming the mantle of artistic director of Mooredale Concerts five years ago following the death of his wife, the cellist Kristine Bogyo.
The genesis of these concerts began in 1986 when their son Julian was ten years old and Bogyo was looking for a youth orchestra where the young violinist could further hone his skills. Then, as now, notes Kuerti dryly, "it's very important and worthwhile to have as part of music education (but) there's a scarcity of chamber music opportunities for outstanding young artists."
By the second year, the ten children Bogyo started with when she decided to grow her own youth orchestra in the family's living room, had trebled, prompting a move to Mooredale House. "Kristine had the knack for making young people love music and understand it," Kuerti says, citing the letters parents and the young musicians themselves continue to write, even after they go on to professional careers.
In the intervening years, the single orchestra has blossomed into three. Clare Carberry, a fellow cellist, joined Bogyo 21 years ago and now conducts the intermediate orchestra. Bill Rowson conducts both the junior and senior orchestras while Kuerti himself leads the senior orchestra's summer concert. Mooredale Concerts continues to provide opportunities and bursaries for those who need them.
The youth orchestras have an enviable reputation not just among the music teachers who entrust their young charges but among the young musicians themselves who, says Carberry, "experience the joy of performing but also make friends as well." Bogyo's sister Esther, whose own children have been a part of the orchestras, agrees: "It lets the kids see each other as very cool and that it's okay to love music."
Bogyo realized, from the outset, that it was crucial to the growth and development of the fledgling musicians not just to play, but also to listen. "Take Beethoven's Fifth," says Kuerti, "To you and me, it's perhaps too well known, but everybody hears it for the first time. And every music lover should have a chance to hear it live."
Thus was born the Concert Series as an opportunity to showcase home-grown talent, providing a platform for collaboration with artists such as Isabel Bayrakdarian and Measha Brueggergosman long before they became well known. Kuerti continues this fine tradition by inviting the winners of the Young Canadian Musicians Award, on which jury he sits, to perform in concert.
Whereas Bogyo concentrated on home turf with special attention to the Canadian landscape, Kuerti works from a broader palette, deepening the variety and range of works presented. When he invited nine of the Toronto Symphony Orchestra's first chair players to open the current season in what would turn out to be a sold-out concert, they already had their work cut out for them. It was Kuerti who suggested that they play Schubert and Spohr.
"He's a music scholar many times over," says Christina Cavanagh, Mooredale Concerts' managing director. Kuerti views his task as not merely one of programming an audience favourite such as Schubert, but giving an overlooked master like Spohr his due. "He was an incredible violinist himself and there is a lot of virtuoso writing in the Nonet," Kuerti points out.
Only two words guide Kuerti's programming: "Great music." As an artistic director he is intent on "presenting something people will buy and love: some Canadian, so far as it's really good, but also 20th and 21st century music." And as with any impresario worth his salt, he also keeps a canny eye on breaking new ground.
A case in point: booking the Dali String Quartet for a concert next February. This young group, schooled in Venezuela's El Sistema, focuses on Latin American music, in particular the work of Brazilian composer Heitor Villa-Lobos, but plays the traditional string quartet repertoire as well. Kuerti is just as enthusiastic about Pierrot Moonstruck, where poetry and mime will, for the first time, be married to piano music and the soprano voice in a program that evokes turn of the century Paris using music by Chopin, Fauré, Debussy and Ravel.
On December 4 Mooredale Concerts subscribers will be ushered into Koerner Hall to hear Kuerti play yet another concerto, Brahms' Second, as part of an a program that also includes the composer's Symphony No.4,when he reunites with Marco Parisotto and the Ontario Philharmonic. It will be another tribute to his stewardship of what began a quarter of a century ago as a mother's quest and one woman's act of creative imagination: the opening salvo in a continuing celebration of great music. 
Rebecca Chua is a Toronto-based journalist who writes on culture and the arts.